Wolcott Historical Society News - June 2010
By Florence Goodman
In this edition I will discuss the farms in Wolcott District. This district covered a very large area in the center of town, but it also included land extending over to the eastern border of Wolcott and that is my area of concentration this month. They are Bergen's SunnyHill Dairy, Captain Nathaniel Lewis Farm, Merriman's Farm, Samuelson's Farm, and King's Turkey Farm.
Bergen's SunnyHill Dairy Farm, which covered 137 acres of land, was located on Ransom Hall Road. The farm bordered Woodtick and County Roads and Evers Drive. James and Mary Bergen purchased the farm in August of 1904 from Ransom Hall, son of Heman W. Hall, whose family were early settlers in Wolcott. It is believed that this house was built in the mid 1800s.
When the Bergens purchased the land, the farm consisted of the large house with an inside well and two wood burning stoves, an outhouse, orchard, woodshed, tool house, chicken coop, milk house, icehouse, barn, silo and later a garage. At first, they had one horse that was used for plowing. They started out planting several fields with potatoes and corn and eventually they bought twelve dairy cows and were able to start a milk route; thus SunnyHill Dairy was born.
Originally when the milk was delivered, customers would put a container on the porch and Mr. Bergen would fill it with a quart dipper. He soon changed to glass bottles that Mrs. Bergen washed and sterilized before they were filled with the milk. They later enlarged the milk house to make room for a newly developed pasteurizer.
The milk was delivered in a covered milk wagon drawn by two workhorses. Later, the wagon was also used to peddle potatoes and corn that were grown on the farm.
Mr. Bergen sold cut wood and raised chickens on the farm for family use. They cut and collected the hay and corn stalks for their own use. The hay was stored in the barn while the corn stalks were chopped with a "corn chopper," which also blew the chopped corn into the silo. In the winter, they cut ice from the pond and stored it in the icehouse on the property. James Bergen also built a small building on the property to smoke hams.
The Bergens raised five children on this farm: Arthur, Dorothy, Harry, Edward and Mildred. When the children were old enough, each had their own chores to do to help maintain this large farm. They had to feed the chickens, pick up all the eggs, check to see that their nests were all right, feed and brush the horses, clean the stables, feed and milk the cows, and clean the troughs and stalls.
In time, James and Mary Bergen sold off several building lots to their children and friends and in 1940, they sold the farm to a Mr. Shapiro. In 1945, Mr. Shapiro sold the property to Mr. Evers who again sold several building lots on County Road and in 1960, he sold the farm to Dr. Forgione with about 126 acres of land. In 1970, the horse barn was remodeled and turned it into apartments. Dr. Forgione's daughter, Louise and her husband, James Costello, purchased the house and some of the land in 1970, which included the nine-acre Evers Pond. Louise still owns the property today.
The Captain Nathaniel Lewis Homestead was located on the property where Farmingbury Golf Course on East Street and County Road is located today. The house, cow, and horse barns were built circa 1760-1765 and remained in the possession of the Lewis family until after his death in 1839. At a later date, the barns were enclosed to accommodate a blacksmith shop.
In 1886, the property was sold to Edward Holmes and on February 15, 1904, it was destroyed by fire. This land was later the location of Merriman's Dairy Farm, which was located on the lower end of County Road near the green where the golf carts cross the road.
Samuelson's Farm covered a large area along Central Avenue and East Street and down to Hitchcock Lake. The homestead was located on the corner of Central Avenue and East Street and the red barn next to it was their cow barn. They also grew various crops and sold them to local residents.
In the 1920's, John Samuelson subdivided and developed a 24-acre tract of land in this area. Two of the early houses that he built for his daughters are located at 206 and 236 East Street. Residents that purchased parcels of this property had written in their deeds, "This property must allow a right away for Samuelson's to walk their cows to the lake."
King's Turkey Farm was found on the corner of Ransom Hall Road Ext. and Woodtick Road. It was owned and operated by Raymond King, who was at one time a tax collector in the town. Mr. King ran this successful turkey farm in the 1950's and the locals knew it well. The house and land were later sold to the Hamel family who lived there for many years. Next month I will complete the old farms found in this district of town.
If you have pictures or information about any Wolcott farms, please contact me at 203-879-9818 of email me at fjgtdg at gmail.com
(Information for this article was taken from interviews with Louise Costello, Barbara Hamel, Dom Spataro, Joan Polowitzer, and Nancy Robillard, from Life on the Farm by Dorothy F. Bergen Nodine, 1997, from The History of Wolcott, Connecticut from 1731 to 1874 by Samuel Orcutt, and 1986 Historic Resources Inventory by Paul Loether.)
Our Schoolhouse Museum is open by appointment only during the winter, spring, and summer months. Anyone interested in visiting the Museum, please call Loretta Leonard at 203-879-4310 or Flo Goodman 203-879-9818. Our meetings are held on the first Thursday of each month at the Old Stone School on Nichols Road at 6:30 PM.
Our Annual Garden Tour will be held on July 10 with a rain date of July 11. You will be able to view beautiful gardens in Wolcott. Tickets ($10.00) will be sold the day of the tour and beforehand. Call Flo Goodman for information (203-879-9818).
---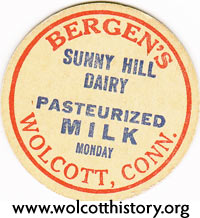 Bergen's cardboard milk bottle cap.
---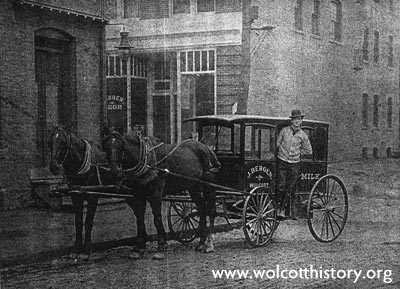 James Bergen with his milk wagon.
---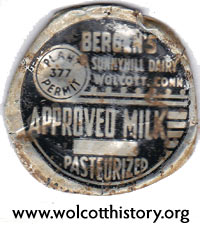 Bergen's metal milk bottle cap.
---
Captain Nathaniel Lewis Homestead. The barn was later enclosed for a blacksmith shop.
---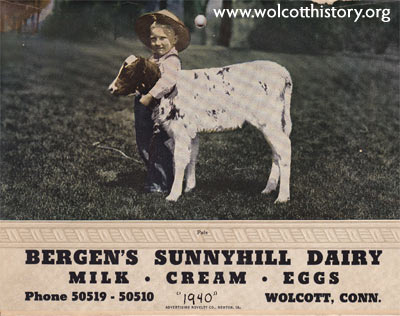 Bergen's Dairy 1940 calendar.
---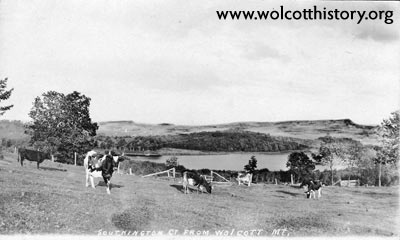 View of Southington Reservoir from the east where Farmingbury Golf Course is located today.
---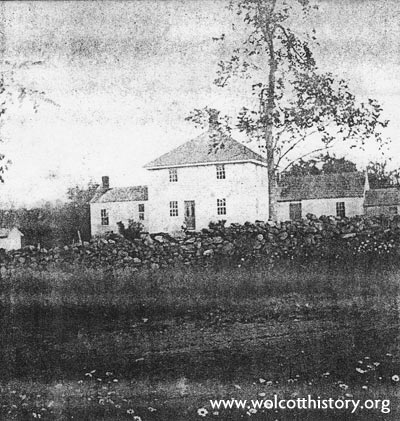 Heman Hall House built circa 1826. James and Mary Bergen purchased the farm in August of 1904 from Ransom Hall.
---
To view past installments of the Wolcott Historical Society News, click here.