Wolcott Historical Society News - February 2021
By Florence Goodman
The Edgewood or Evergreen Cemetery located on Bound Line Road has always held a special place in my heart since the mid-1950s when my friend Nancy and I walked by it on our weekly jaunt to the town library. At that time it was not the cemetery of choice for residents burying their loved ones. Thus as we passed this cemetery it was always a bit scary; the tall evergreens bordering the road, hung below the stonewall and cast an eerie feeling upon it. Sometimes we would stop to look at the old tombstones, but most of the time we quickly ran past it. Over the years the Cemetery Association brought this historic 1764 cemetery back to life and residents once again began burying loved ones there. The demand for plots increased to the point that the association needed to purchase more land surrounding it. It was finally getting the appreciation it deserved and that much needed upkeep began and has continued.
Several years ago after a childhood friend Rear Admiral Kevin Delaney passed away, his daughter, Kelly sent me a wreath in December from "Wreaths Across America." I knew exactly where I wanted to place that wreath; I placed it on the anchor at Edgewood Cemetery. I told his daughter that it was my way of remembering Kevin who was an amazing person who loved his hometown as well as his country. Kevin graduated from Wolcott High School in 1964 and went on to the U S Naval Academy. He served his country for 34 years flying 686 combat missions in the Mekong Delta during the Vietnam Conflict. Kevin died in 2015 at the age of 68 from lung cancer caused from Agent Orange. Kevin was instrumental in getting this anchor for the cemetery that serves as a memorial to those who served their country at sea.
After I placed the wreath on the anchor that December morning I posted the pictures on my FaceBook page acknowledging Kelly and her dad. From that post, I learned that 2020 would be the first year for the Edgewood Cemetery to participate in "Wreaths Across America." That was music to my ears because I had wished we could participate and was happy to learn that Kevin Huber was able to organize it for December 19th. After the ceremony I spoke with Kevin and he agreed to give me the information that brought this beautiful day to fruition.
Kevin had a high school friend whose father was buried in Arlington Cemetery. He loved the beautiful pictures she showed him of the thousands of the wreaths decorating these veteran's tombstones and asked how to go about doing something like that in our town. She told him about the wreathsacrossamerica.org website and how you could apply to have a cemetery participate. Kevin completed the online application for Edgewood Cemetery with a goal for 235 wreaths. He received enough donations to purchase 205 wreaths. The cost of a wreath was $15 or if you bought two you received one free. Wreaths Across America then set up a page on their website for each participating cemetery and residents were able go online to purchase them. Once Kevin received approval for participation, he was able to enlist Nancy and Roger Picard to help. They were able to get several local businesses to make donations as well as friends and family. Kevin also received help from Boy Scout Troop 230 under the supervision of Pete Grasso as well as Al Podzunas and scout parents. Members of the American Legion and VFW Posts participated in the opening ceremony, which included remarks from Mayor Dunn. This beautiful day is now entwined in our history, which I hope will continue for many years to come.
Kevin's goal for next year is to include Woodtick Cemetery as well in this event, which is always held on the third Saturday in December, so save this date: December 18, 2021. Be on the look out for donation information in late fall regarding Wreaths Across America at Edgewood and Woodtick Cemeteries. There will be a link where you can make a donation or purchase wreaths. Let's support this amazing tribute to our veterans who served their country well.
I personally want to thank Kevin and everyone who helped to make this wonderful day happen at Edgewood Cemetery last December and I look forward to seeing it grow and become a tradition each December in Wolcott.
(Information for this article was taken from a phone interview with Kevin Huber; a FaceBook response and photos from Roger Picard, Rob Pierpont and Flo Goodman)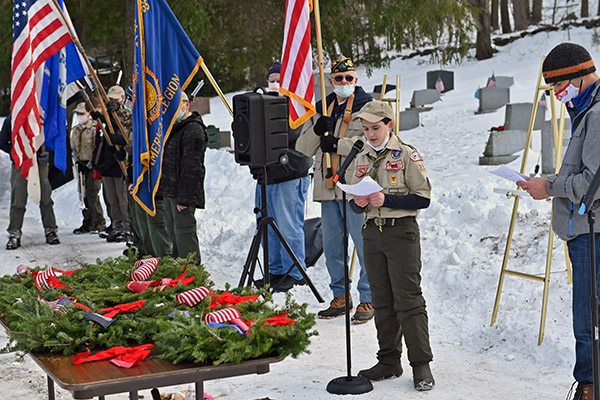 Boy Scout Troop 230 participating in the ceremony at Edgewood Cemetery. (Roger Picard photo)
Handing out wreaths at the cemetery. (Roger Picard photo)
Wreaths placed on the veteran's graves. (Roger Picard photo)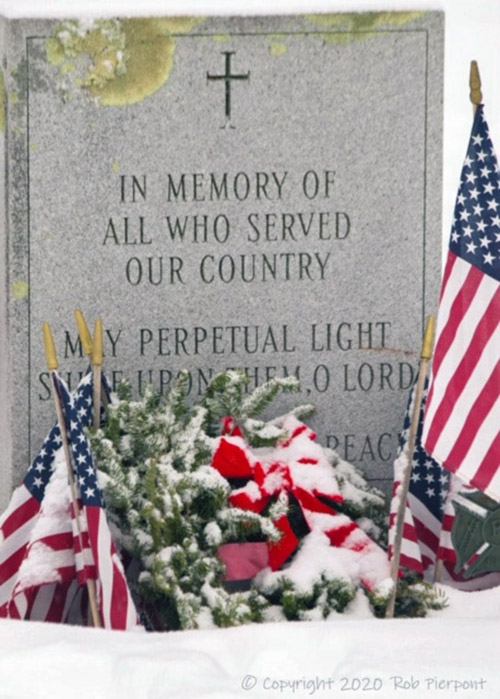 Wreath placed on the Veteran's Memorial stone. (Rob Pierpont photo)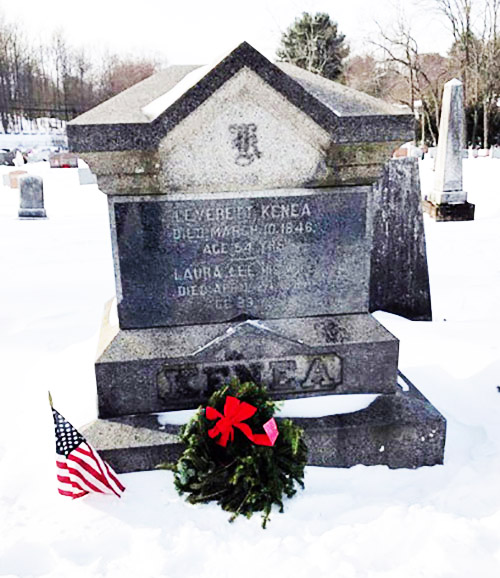 Wreath placed on the Kenea tombstone. (Flo Goodman photo)
---
To view past installments of the Historical Society News, click here.
---