Wolcott Historical Society News - December 2009
By Florence Goodman
This month's article will deal with the history and development of the Woodtick reservoir region, as well as the development of a horse track in that area.
Judah Frisbie was probably the first settler in this region, purchasing land in the fall of 1773. He was married in 1779 and his account books indicate that he had a crude log house for his wife when they married; he later built a larger house on the same land.
As early as 1776, records indicate that Judah Frisbie and Elnathan Thrasher, his brother-in-law, owned a sawmill near the intersection of Nichols and Wolf Hill Roads on the Mad River. Their sawmill was in operation until 1790. At that time, the area became known as the Upson Millpond because the water rights of the Mad River were acquired and developed by members of the Upson family.
In 1795, Isaac Upson built a house on the north side of Nichols Road next to the Upson Millpond. In 1801, records indicate that Harvey Upson, Captain Samuel Upson and Samuel Upson, Jr., owned the sawmill, which was on the south side of Nichols Road. Issac Upson sold his house and lot, which also included a blacksmith shop, to his daughter and her husband, Lyman Higgins in 1809.
About the same time, the Atkins gristmill, which was originally located below the Great Falls, just south of Center Street, on the Mad River was taken down and rebuilt in the Woodtick area. Soon afterward, Charles Kirk operated a clock factory in this vicinity where he manufactured brass clocks.
In 1846, the building and equipment were leased to Bennett Upson. The mill was enlarged and changed into a paper mill owned by Mr. Emerson M. Hotchkiss from Southington.
In 1857, Hezikiah Todd and a group of men from town formed a joint stock company and acquired the millpond land and began to produce high quality paper at this site. This company was in existence for about ten years. Because of the Mad River and the millpond associated with it, this region developed into an important manufacturing district during the late 18th Century through the 19th Century.
In 1872, Gustave Cornelis and his brother, Clement, emigrated from Belgium to Waterbury. They brought with them the secret of producing seamless tubing. Gustave first worked in Waterbury and learned the art of silver plating. He later moved to Wolcott and purchased a mill at Woodtick. His business began as a rolling mill where they cold-rolled silver plate on copper, which was used to make reflectors for automobile headlights. He later expanded the production to drawn tubing.
In 1890, the mill was destroyed by fire; Mr. Cornelis rebuilt it as a one-story brick building and continued production of copper and brass tubing. Water was the main source of power, thus many mills were built along the Mad River. Mr. Cornelis constructed a dam at the Nichols Road mill site with four wooden flumes to carry the water across the road. A water wheel supplied the required power to operate the mill. At a later date this power source was used to generate electricity for his factory and home long before other residents had such conveniences.
Gustave Cornelis became the area's most prominent landowner; his estate included the land from the mill site to the corner of Woodtick Road.
This hard-working man had a love for trotter horses and horse racing. In 1891, he built a stable and sulky racetrack on his property for training them. He owned at least 16 thoroughbred horses at all times, and he bred, trained, sold, and raced them. The headlines in the February 27, 1892, edition of the New England Homestead Farm Journal read, "Wolcott Gets Racetrack."
Henry L. Norton built the one-half-mile oval track for Mr. Cornelis. It was located in the vicinity of the parking lot where the Woodtick Recreation area is found. The track was wide enough for two sulkies, a lightweight cart having two wheels, to race.
Skye McBroom, a former student of mine, interviewed Mr. Alfred German, by mail in 1990, about working for Mr. Cornelis at his mill and here are some of his comments.
"I was fourteen when I started to work at the mill in February of 1911. The building was a brick structure, rectangular in shape, about 50 to 60 feet long and 30 feet wide. Inside, it was dirty, greasy, and noisy. At one end was a wood fired muffle furnace used for annealing (heating, then cooling) metal tubing. The rest of the factory contained a rolling mill and two draw benches. Power for running the machinery, especially the rolling mill, was produced by an undershot waterwheel (driven by water passing underneath)."
Mr. Cornelis later sold his business to a New Jersey firm and in 1921, the mill was the home of the Wolcott Fastener Company. It later moved to Waterbury and became the Eyelet Specialty Company.
Gustave Cornelis died in 1934. The horse track and stables were leased to the Brookside Riding Club, a private club made up of Waterbury businessmen. The coming of World War II brought an end to this establishment and today, with the exception of his home that is owned by William Gniazdowski, Jr., little remains of the racetrack, great barns, and factory building.
In a matter of one hundred years, this small area became an important manufacturing center where many local residents left their mark, but one in particular left the greatest imprint, and that was Gustave Cornelis.
(Much of the information for this article was taken from the Wolcott\u2019s Racy Past by John Washburne, The Woodtick Dam and Reservoir by Skye MacBroom, The History of the Town of Wolcott, Connecticut From 1731 to 1874 by Sameul Orcutt, and The 1986 Historic Resources Inventory by J.P.Loether).
Our Schoolhouse Museum is open by appointment only during the winter months. Anyone interested in visiting the Museum, please call Loretta Leonard at 203-879-4310 or Flo Goodman 203-879-9818.
---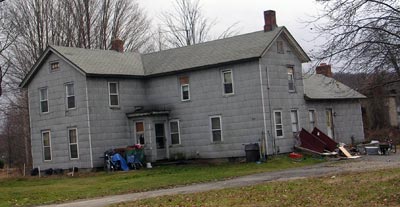 The John T. Harrison House located at the corner of Nichols and Woodtick Roads, built circa 1869-70. The land was part of the Cornelis Estate from the early 1900s until 1922 when it was sold to James A. Bergen.
---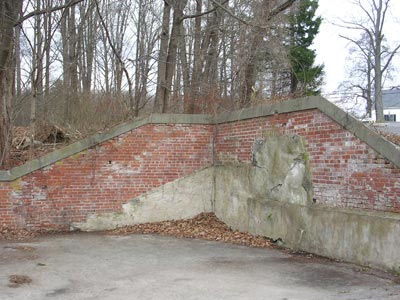 Remains of the Cornelis Mill located next to the parking lot for Woodtick recreation area.
---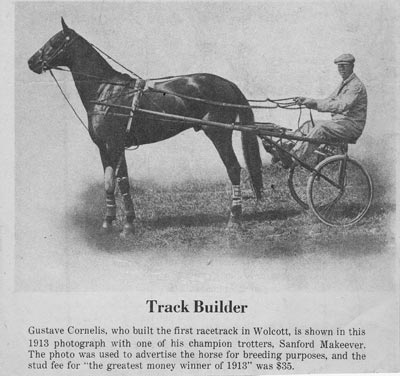 Mr. Cornelis in a sulky racer.
---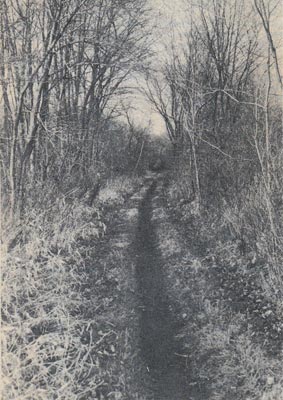 The sulky racetrack built for Mr. Cornelis by Henry L. Norton.
---

Wolcott Historical Society Holds Their Annual Dessert Card Party at the Reitdyke Senior Center

By Florence Goodman
If you have never attended the Historical Society's Dessert Card Party, you don't know what you are missing. For a small donation at the door, you get quite a deal. It includes a variety of pies from Roger's Orchard, homemade breads, coffee, tea, and apple cider! There are door prizes, a penny auction, and if you don't want to play cards, bring your own board game to play. It is a wonderful time to socialize with friends and family and just have fun!!
Door prizes come from the following merchants and we wish to thank them publicly: Bill & Sam's, Carlucci's Pizza, C C's Ice Cream, CT Antique Appraisals, Denise's Hair Affair, Dunkin Donuts - Wolcott Road, Eagle Cleaners, Farmingbury Floral, Fascia's Chocolate, Granny's Got It, JD's Roadhouse Grill, Hitchcock Pizza, La Fortuna's, McBride's Pizza, Pat's I.G.A., Portofino, Orchid Florist, Print Shop, Raymond's Lumber, The River Restaurant, Sandy's T.V., Scully's Travel, Shear Artistry, Snips & Tips, Sovereign Bank, Walsh's Market, Webster Bank, and Wolcott Pizza. We would also like to thank Amelia Upton and Flo Ayers for all their hard work with our Penny Auction. They make it a yearly success; thank you ladies!!
So if you missed it this year, mark your calendar for the first Friday in November next year. This is our main fundraiser and membership drive and we do appreciate all those members who attended the Card Party and/or joined the Society.
---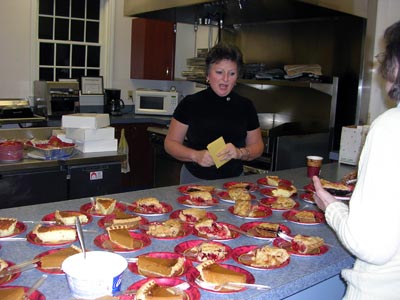 Deborah Dubois working in the dessert department.
---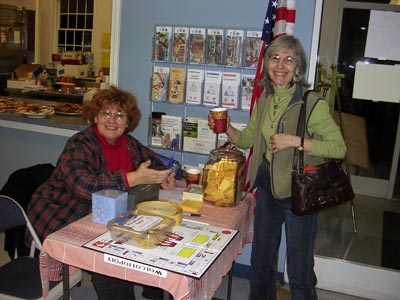 Jeanette Horzepa and Laurie Horzepa working in the admission department.
---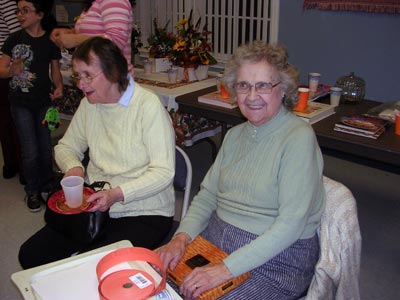 Flo Ayers and Amelia Upton working in the prize department.
---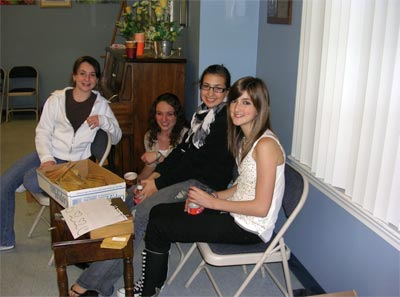 The young ladies who worked in the delivery department.
---
To view past installments of the Wolcott Historical Society News, click here.