Wolcott Historical Society News - October 2008 <! 200802>


By Florence Goodman

Much of our local history can be learned by visiting our town cemeteries. Cemeteries can reveal facets of family's and town's histories. They can give the viewer information about the life span of residents, wars, epidemics, or natural disasters that might have affected the town and its people. Early tombstones had many intriguing inscriptions and designs carved into them. Symbols found on these stones portrayed a variety of meanings. For example, the tulip and urn symbolized immortality, a weeping willow tree signified perpetual mourning or grief, and the peacock symbolized eternity. Symbols could also have different meanings depending on their geographic location.

Tombstones carved prior to 1800 were considered an art form. Early New England stonecutters made stones with a variety of designs and symbols, but early tombstones were time-consuming to produce; thus as time went on, designs and stones became more simplified. This is obvious as you look at stones produced after 1805. Wolcott has five cemeteries located within its town boundaries and in this edition, I would like to give you a brief history of each.

The Edgewood or Evergreen Cemetery is located on Boundline Road near the center of town. This burying ground was established in 1764 at a town meeting held on December 10th in Waterbury. At this meeting, Captains George Nichols and Stephen Upson, Jr. were chosen to view and purchase a half-acre of land that would be convenient for a burial ground. In 1776, Mr. John Barrett was appointed as the gravedigger. At another town meeting in Wolcott in December 1798, it was agreed to increase the burial ground to three-fourths of an acre. By 1870 this cemetery was again too small, so it was enlarged to almost two acres. Today, this cemetery is still in use. If you visit this cemetery it is very obvious that the original section is on the right as you enter the cemetery. It has been enlarged again and recently land on Old Boundline Road has been allocated for another addition to this cemetery; it will be called the New Edgewood Cemetery. A cemetery association maintains Edgewood Cemetery.

The Southeast Burial Ground was established by the Society of Farmingbury in 1772. It is located on the property of the Southington Reservoir. Over the years, two residents of Wolcott, Gary Gemino and Jay Crocco, have dedicated numerous hours to restore the broken stones, uncover buried stones, and return the landscape to its original state. These gentlemen can tell you all about the families that are buried there and even give you a history of the cemetery and David Frost, the original gravedigger, who was appointed in 1776.

The Pike's Hill Cemetery was laid out circa 1774 and was the first cemetery in the northeast section of town. In 1776, Mr. Zodac Bronson was appointed as gravedigger. This burial ground, which was also referred to as "Rose Hill," consisted of only a small number of graves, many of which were removed and placed in the larger Northeast or Beecher Cemetery in 1805. There are still six stones remaining in this cemetery today, but the names on the stones are hard to read because of erosion. Many years ago, the Boy Scouts placed a fence around this cemetery and cleared a path into it, but today it is in need of repair. Hopefully, it will soon get some much-needed attention from a future Eagle Scout.

The Northeast Cemetery is located at the end of Beecher Road, just past Hillside Equestrian Stables. This cemetery was originally referred to as the "New Northeast Burial Ground" because Pike's Hill or Rose Hill was the first cemetery used in that part of town. On April 8, 1805, at a town meeting, the selectmen authorized the purchase of land for a new burial ground in the northeast quarter of town. This cemetery was in use until the late 1920's. The last burial date found on a tombstone located in the cemetery was January 18, 1927. It was for Benjamin L. Bronson. Over the years, this cemetery has been vandalized on numerous occasions because of its remote location. Vandals have broken or totally destroyed many of the tombstones and there is a bullet hole through Joel Alcott's stone. The town has tried to maintain the grounds and most recently, Mayor Dunn and the Town Council allocated funds to the Historical Society to oversee some much-needed repairs. To date, the fencing around the cemetery has been replaced, and in October, the Boy Scouts will have a clean-up day there. We hope to place a sign at the entrance explaining the historical significance of the cemetery. We are also hoping to have two Eagle Scout projects improve the entrance of the cemetery.

The Woodtick Cemetery is located on Woodtick Road near the corner of Todd Road. This cemetery is sometimes referred to as the "Southwest Burial Ground." At a town meeting held on November 20, 1807, it was agreed upon that the southwest section of town was in need of a cemetery; thus the Southwest Burial Ground came into existence. This cemetery is still in use today and a cemetery association also maintains it. The cemetery entrance is located just south of the Woodtick Memorial. The original old section of this cemetery is obvious as you first enter the cemetery. These cemeteries are integral parts of our town's history and should be treated with respect and maintained for future generations.

Our membership drive starts in October. Dues and our card party are our main source of income that maintains the schoolhouse museum. Our Annual Dessert Card Party will be held on November 7th from 7:00Ð9:30 PM at the Senior Center. Enjoy an evening of card playing, great pies, coffee, tea, apple cider, and a penny auction. Local merchants donate our door prizes.

Our meetings are held on the first Thursday of each month at the Old Stone School on Nichols Road at 6:30 PM. Anyone interested in visiting the Stone Schoolhouse Museum, please call Loretta Leonard at 879-4310 or Flo Goodman at 879-9818. The Schoolhouse Museum will continue to be open to the public on Sunday afternoons from 1:00-3:00 PM during the months of September and October. We have had many interested visitors and hope the news is traveling. If you attend Touch A Truck at the BAW Field on October 19th, stop by the schoolhouse museum and see our 1904 fire truck.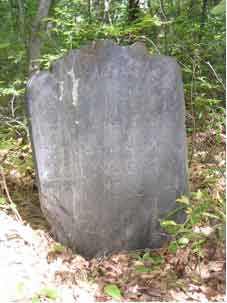 Tombstone found in Pike's Hill Cemetery. Lyman Allcox, son of Jesse and Patience Allcox, age 16.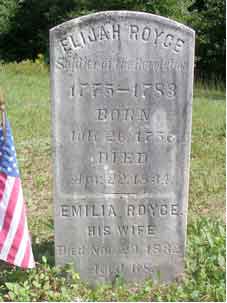 Tombstone of Elijah Royce. Found in Northeast Cemetery.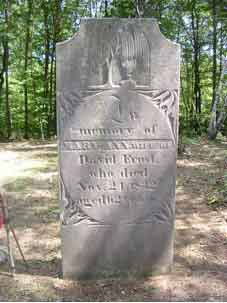 Tombstone of Mary Ann Frost, wife of David Frost. David Frost was the first gravedigger in the Southeast Cemetery. He was appointed in 1776.
To view past installments of the Wolcott Historical Society News, click here.