Wolcott Historical Society News - August 2023
By Florence Goodman
The Wolcott Historical Society's Annual Garden Tour was a huge success thanks to everyone who supported it!! The funds raised from this event are used for our yearly scholarship which is given to a graduating senior from Wolcott High School so we are always pleased when we are able to reach our goal and then some. THANK YOU again to everyone and especially our gardeners for making this happen.
This month's article is going to be a bit different from my usual, but I think you will enjoy it. Often, we receive questions from people all over the country who are doing research on family history or artifacts that might have been from our town and we try to respond to help them out if possible. Last month a man from California emailed me about an antique hammer that had the words "Bailey & Wolcott" and "cast steel" on it. He was wondering if there might have been someone by the name of Bailey in Wolcott that had a forge and was a blacksmith. I knew we had the David Bailey House circa 1844 on the Town Green and thought at one time there was a blacksmith shop there so I contacted the owner, John Olsen. I asked him if he might help me out and sure enough, he agreed that there was a blacksmith shop on that property at one time. I was very excited to have solved that problem until I sent pictures of the hammer and the information to the members of the Society and our webmaster and former president, Stan Horzepa responded with information that changed my mind. When Stan saw the ampersand, which is a sign for the word "and" between the words Bailey and Wolcott he said that symbol indicates that it was the name of a company. So, he googled the name and found out that "Bailey & Wolcott" was located in the Griswoldville section of Wethersfield. There was even an article on the Wethersfield Historical Society's website that included information about the company. Here is an excerpt from that article on their website: "In 1827 Albro Griswold and his brother-in-law Elisha Wolcott formed a company to manufacture woolen goods. They were able to raise only enough money to build the first story of their building, further upstream from Jacob Griswold's mill. Unfortunately, their company failed. Arnold Bailey utilized the building making hand forged hammers and axes, under the watchful eye of blacksmith Albro Griswold.  Arnold Bailey and Oliver Wolcott formed the "Bailey and Wolcott Co." and utilized the Old Fulling Mill, which they bought from Jacob Griswold in 1840." So, thanks to Stan Horzepa we were able to solve the mystery of the hammer and even though there was a Bailey living in our town, he did not make the hammer that the man from California was asking about. It's always fun to research these questions and even better when someone can dig a bit deeper and find the correct answer! Thanks, Stan, mystery solved.
Another interesting part of overseeing the Historical Society and our two museums is the artifacts and furniture that have been donated to us over the last fifty plus years. We have been so very fortunate to have acquired articles that depict so much of Wolcott's past and then to have two buildings in which to display them. Last month we had several people donate things to the Society. Deb DuBois, museum curator and active member of the Society donated a beautiful dropleaf table, an oak dresser and an old electric mixer that was used by her mom and herself from 1950 to 2020. Fran Masi, a former teacher in town donated a wooden/steel twelve-bottle milk crate from Peterson's Dairy. Tom Brundage donated a full case of X-TRA cola soda. Lastly, another member and former teacher, Bonny Hartigan donated several interesting artifacts: an old egg scale, a wooden butter form, an old bread/cake storage container, a wooden grain funnel, books, and several other interesting items. I will share photos and descriptions of a few in these articles with you.
Thank you to everyone who loves local history and has graciously donated and shared information and articles with the Wolcott Historical Society. Please remember that you can visit our museums by appointment by calling me at 203-879-9818.In July of each year the Wolcott Historical Society holds its Annual Garden Tour. The funds raised from this event are used for our yearly scholarship which is given to a graduating senior from Wolcott High School. I always use my July article to share information about the gardens in the tour and add a history of the land on which these gardens are found. This year we have two new gardens on our tour and several that have been regulars.
Anyone that would like to tour our Stone Schoolhouse Museum or Center School History Museum, please email me at our wolcotthistory.org website and I will gladly open up the buildings for you.Last month at the Congregational Church's 250th celebration planning meeting I was asked about the history of stone chapel on Nichols Road. This month I will revisit the history of the old and new Woodtick Chapel, which today is part of the Charles Rietdyke Senior Center.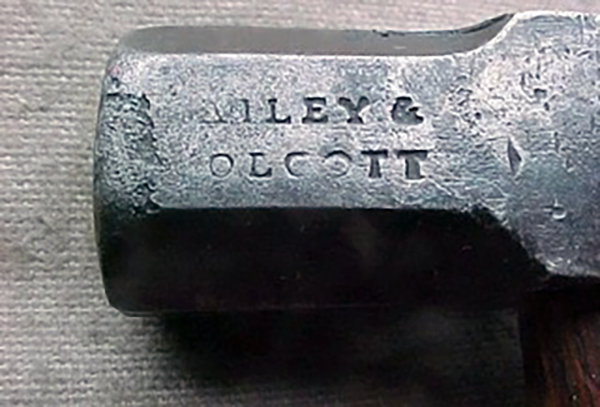 Old hammer made in Wethersfield, CT.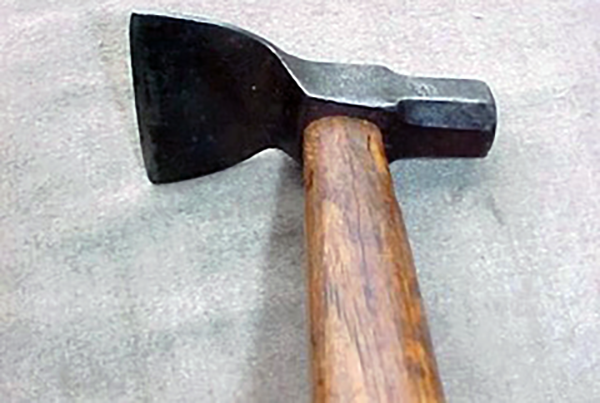 Full view of the hammer.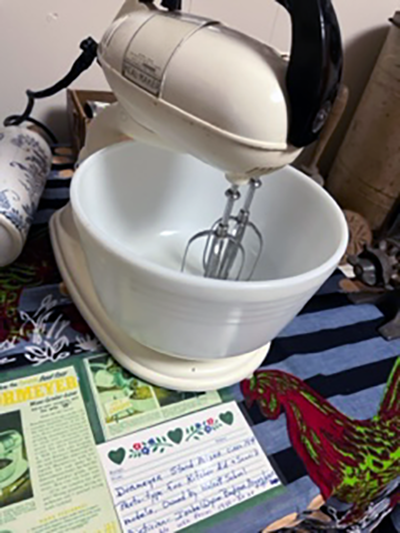 Old mixer used from 1950-2020 donated by Deb DuBois.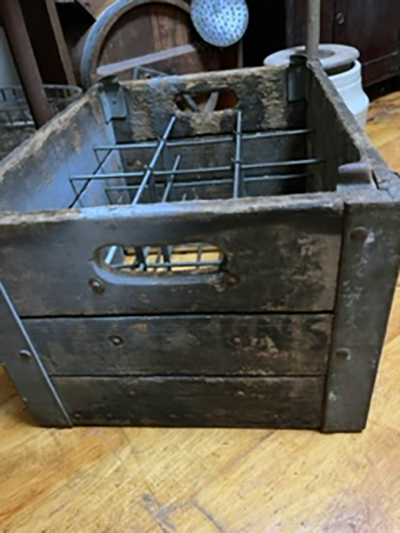 Old wood/steel milk crate donated by Fran Masi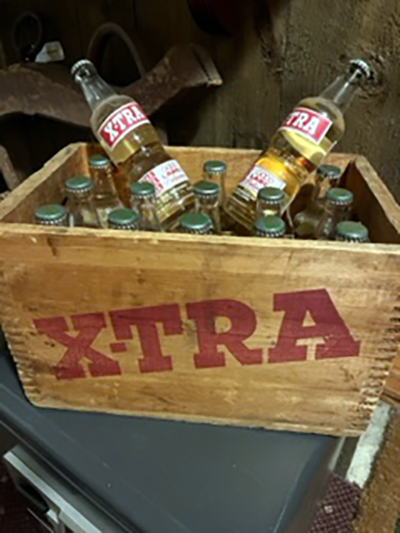 X-TRA cola wooden case and full bottles donated by Tom Brundage.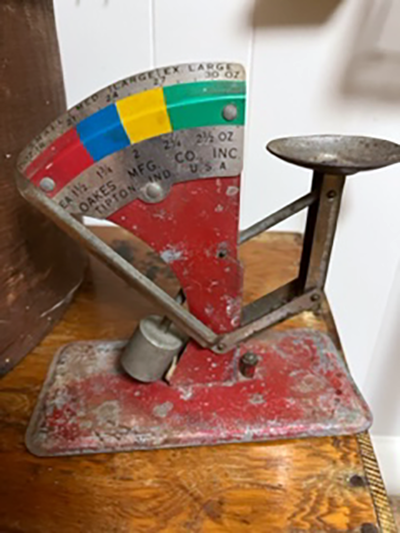 Egg scale donated by Bonny Hartigan.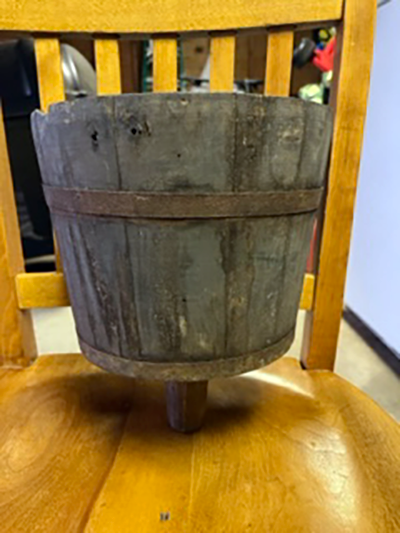 Wooden funnel donated by Bonny Hartigan.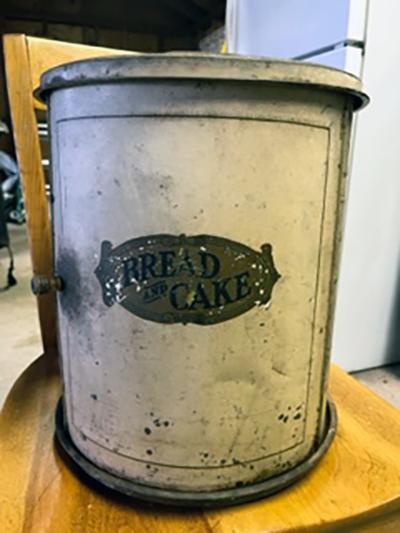 Cake/bread storage container donated by Bonny Hartigan.
---
To view past installments of the Historical Society News, click here.
---