Wolcott Historical Society News - November 2022
By Florence Goodman
My first train ride to New York City is still a memorable one. Since that time, I have always been fascinated by trains and train stations. Several months ago, I received an email from a train enthusiast (Robert Bellertzkie) who sent me an article about a "Backyard Train" that was in our town in the early 1980s. I had no recollection of it since I was not living in Wolcott at the time, but it piqued my interest. I recognized the name and location of where the train tracks would have been and decided to contact a former classmate with the same last name. I was pleased to receive his email with this response, "...Yes Ma'am, the back-yard train engineer was indeed my father, Ray Wilson, and the back-yard railroad was just what it calls itself." This month I will share this great history of Ray Wilson's Backyard Train.
Ray's son, John shared an interesting story about his dad's interest in trains. He said that Ray grew up during the 1920s, near a railroad in Bristol where Ray's dad worked. During that time period in our country many people were out of work; thus the "hobo" population came about. Most people associated hobos with railroads since they could easily hop on a freight train to anywhere. Ray was fascinated with this idea and the interest stayed with him throughout his life.
Ray also loved the outdoors and hiking so after being discharged from the Army-Air Force, he moved his family to Wolcott settling on Long Swamp Road. During those years his love of hiking was awakened when he discovered the hiking system designated as "blue" trails, marked by trees blazed with blue paint. These hiking adventures brought him to the Grand Junction where the three trails, the Tunxis, Mattatuck and Quinnipiac converged; it was located on Woodtick Road next to Atwood's farm. He also discovered a parcel of land just north of there that he later purchased and developed as Wilson Road. Ray must have had a vision of the railroad tracks because as you drive down Wilson Road all the houses on the south side had land behind them that he retained ownership of, and that's where the half mile stretch of railroad track ran. He named his creation The Grand Junction Railway, to immortalize the meeting of these trails. Ray's hiking adventures extended across the state wherever the trails led he and his friend, Howard Bassett.
One day in 1952 while hiking in Warren, Connecticut, they came across a field containing a miniature home-built Upland Railroad train track and the owner, Edward Pratley riding the train. It was at this point Ray's two interests of trains and hiking merged. The three men became good friends with trains and hiking as their common interests. Ray kept in touch with Edward Pratley over the years and in 1980 when Pratley died, he left his train tracks and some odd pieces to Ray, but not the train. Shortly after getting that news Ray decided to construct his own little railroad using pieces and parts from what he acquired from the estate of Mr. Pratley. Ray and Howard began the tough job of transferring the railroad tracks and ties to his Woodtick Road property. Over the next two years they prepared the land for the train tracks and searched for all the necessary parts needed for assembly. Many of the ties were rotted and the tracks were rusty, so they had to replace them. Some of the materials needed were donated and some were sold to them at cost; combined the two spent a little under $3000 of their own money to get the train and tracks built. The White Memorial Foundation in Litchfield provided the ties for the cost of labor. The telephone poles needed to bolster the trestle were donated by Southern New England Telephone Company where Bassett had worked for forty years. The curved rails needed to form a figure eight around the pond were engineered at Lake Compounce Amusement in Bristol for minimal cost and the welding was donated by a friend. The men worked weekends and in their spare time to design and build the tracks. Once the tracks were completed, they began to build the train. Ray's son, John stated that he assisted to a minor extent, but this was his dad's vision. Ray had the time, property and funds to realize this dream. Over the years the Grand Junction backyard train provided rides for about forty neighborhood children free of charge.
Not too many years later Ray's age and failing health brought the train to a halt. Today, if you walk through that area, you can still find remnants of rails, but the railroad has "faded into obscurity," states John. Ray must have been proud to have his vision become a reality, and to see so many people visit and enjoy the fruits of his and his friend Howard Bassett's labors.
Ray Wilson passed away in 1988 at age 67, from esophageal cancer. His daughter, Jeanne acquired the property where the pond was located, but when her husband retired from the Wolcott Police Department, they moved to the Cape. The house and land were sold, but those memories of that "backyard dream train" still linger on Woodtick and Wilson Roads in Wolcott, Connecticut.
(Information for this article was taken from several email conversations with John Wilson, Wilson Road, Wolcott, CT; An October 13, 1982, article in the Hartford Courant by TAO WOOLFE; Photos from John and Jeanne Wilson; land records found online from the Town of Wolcott Assessor's site).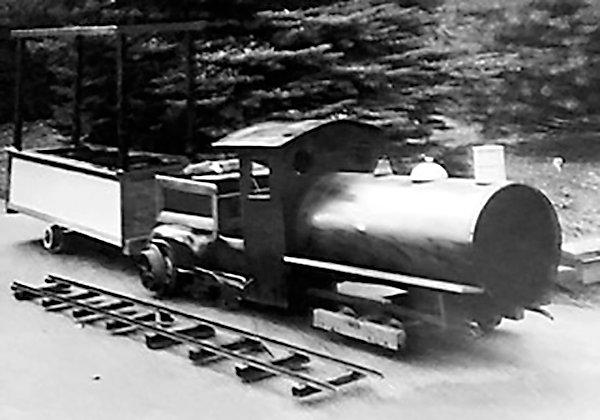 Ray Wilson's "Grand Junction" railroad train.
Ray Wilson driving his train that he and friend, Howard Bassett built.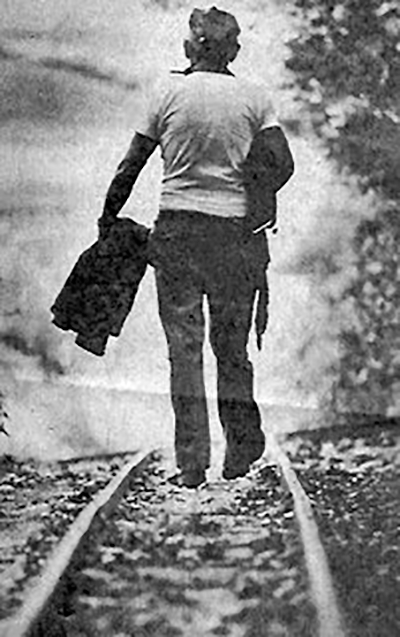 Ray Wilson walking on the tracks. This is his "hobo" memory!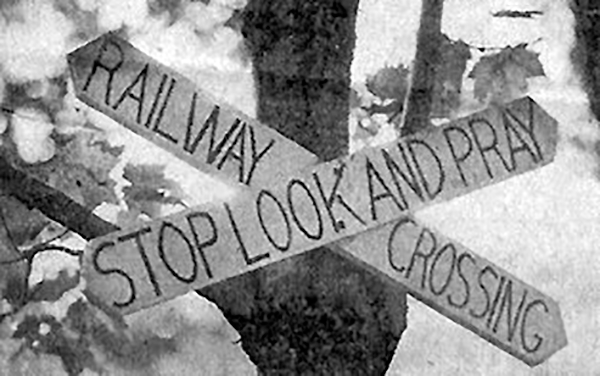 One of the signs that were placed along the tracks as you rode the train.

This was the home located at 1355 Woodtick Road. The garage and bow window were added at a later date.
---
To view past installments of the Historical Society News, click here.
---