Wolcott Historical Society News - February 2022
By Florence Goodman
Ancient cultures believed that wreaths symbolized victory, honor and the "continuing cycle of life" that comes after the winter solstice. On December 18, 2021 "Wreaths Across America" once again took place in our town. This year 341 wreaths were placed on veterans' graves at Edgewood Cemetery and 170 wreaths were placed at Woodtick Cemetery. This amazing fete was made possible thanks to the organizational skills of Kevin Huber and help from Jen Albert, Sean Stoddard, Roland Smith, Jeff Langdeau, TPS Sign Grafix, Boy Scout Troop 230, Cub Scout Pack 240, local elementary, middle and high school students, Wolcott VFW, Wolcott American Legion and lastly all the businesses and residents who graciously donated funds to purchase the wreaths. Next year the event will be held on Saturday December 17, 2022.  A special thank you to Mayor Dunn for his continued support of Wreaths Across America.
Although rain fell during the opening ceremony in the lower section of Woodtick Cemetery, it did not deter residents from coming out to view this heart-warming event! The ceremony included an amazing rendition of our National Anthem by Stacey Perrone-Petta, a wreath tribute to each branch of the military, a gun salute and taps, which touched everyone's heart. After the ceremony volunteers placed wreaths at the tombstones of all veterans buried there. Weeks prior to the ceremony flags had been placed at the tombstones so volunteers could easily identify where wreaths should be placed. Once the wreath placing was completed at Woodtick Cemetery volunteers drove to our town Green where wreaths were placed on various monuments located there. The last stop was at Edgewood Cemetery; again volunteers placed wreaths on veterans' tombstones located there. The rain may have dampened the day, but not our spirits. This beautiful tribute allowed participants to spend time acknowledging those men and women who had served their country. During the wreath placing I noticed people wandering throughout both cemeteries and reading the names on the tombstones and although it has only been a few years since I wrote about our early cemeteries, I felt the need to do so once again. Our town originally had five cemeteries and this month I will give you a brief history of each.
Edgewood Cemetery is located on Bound Line Road near the center of town. This was the first burying ground in our town established in 1764; at a town meeting Captains George Nichols and Stephen Upson Jr. were chosen to purchase a half-acre of land for a burying ground. Thirty-four years later at another town meeting it was agreed to increase the cemetery size to three-fourths of an acre. By 1870 this cemetery was again too small so it was enlarged to almost two acres. Over the years the cemetery was enlarged several more times to the size that it is today; a cemetery association maintains it. As you enter the cemetery the historic original section is on the right. You will see the names of some of the early settlers of our town buried there. Veterans from the French and Indian War, Revolutionary War, War of 1812, and the Civil War are buried in this cemetery.
The next cemetery established in town was Pike's Hill Cemetery in 1774 in the northeast section of town off of Woodtick Road. This burying ground was used for about thirty years and contained only a small number of graves. In 1805 the town voted to purchase a larger piece of land down the hill for the new larger Northeast Cemetery. Many of the graves from Pike's Hill were removed and placed in this new cemetery. The six stones that remained at Pike's Hill are now worn down and the names on the stones are almost illegible. Reverend Samuel Orcutt listed these stones in his book, "History of the Town of Wolcott From 1731 to 1874." He also listed the names of the people buried there. In the fall of 2010 Steve Lago from Troop 231 completed an Eagle Scout project at Pike's Hill Cemetery. His project entailed clearing the trees and undergrowth that had taken over the area and standing up several stones. The Historical Society had a fence installed around it and Steve provided a sign that was attached at the entrance explaining the history of the cemetery and when the project was completed. In 2019 Ben Podzunas once again completed an Eagle Project at Pike's Hill. Ben and members of Troop 230 did an excellent job of clearing ten years of growth and putting down weed block and stone there. Hopefully this will keep the weeds from taking over again.
In 1772 the Southeast burying ground was established in our town on Wonx Spring Road. Today this cemetery is located on property owned by the Southington Reservoir not far from the intersection of County Road and East Street, but the cemetery is still maintained by the Town of Wolcott. The earliest inscription on a tombstone in this graveyard is January 1, 1782 for Archibald Upson who died at age twenty. There were fifty-two settlers buried in this cemetery from 1782 to 1939. Family names such as Lewis, Upson, Tuttle, Barnes, Brown, Byington, Carter and Frost are found here. Over the years this cemetery has been preserved because of the watchful eyes of the Southington Reservoir crew and two Wolcott residents Gary Gemino and Jay Crocco. Gary and Jay repaired broken stones and made sure all was well at this beautiful old burying ground.
The Northeast Cemetery was created in 1805 on a piece of land on lower Beecher Road off of Woodtick Road. This cemetery was established because Pike's Hill became too small. The earliest date on a tombstone in this cemetery was 1781 for Martin Carter, whose grave was probably moved from Pike's Hill to this one. The last burial date found on a tombstone is January 18, 1927 for Benjamin L. Bronson. This cemetery's remote location has allowed it to be vandalized on numerous occasions; vandals have broken or totally destroyed many of the tombstones. In the fall of 2008 the town crew improved the road leading into the cemetery to make way for a major clean up by the Boy Scouts. The Scouts and their leaders spent a full day removing many trees to make room for a new fence that was installed shortly thereafter. Since then the town crew has kept the grass mowed during the spring and summer months. In the fall of 2012 Michael Jacobson completed an Eagle Scout project there. Erosion and abuse from dirt bikers and quad riders had caused the entrance to the cemetery to constantly wash out. The town crew installed large barrier blocks at the bottom of the entrance hill then backfilled with gravel and soil. Michael and his team of helpers built steps leading up into the cemetery and also planted shrubs and grass seed on each side. A stainless sign with a brief history of the cemetery was placed on one of the concrete barriers to let visitors know its historical significance. Our town crew continues to upkeep this cemetery.
On November 20, 1807 Woodtick Cemetery was established. This cemetery is located on Woodtick Road near the corner of Todd Road and backs up to property on Pleasant Street. The entrance to the cemetery is found just south of the Woodtick Memorial and it's obvious as you first enter the dirt driveway that this is the original historic section. This cemetery has been enlarged to allow more gravesites and is under the supervision of a cemetery association. The earliest date of a burial here is Julia Upson on November 21, 1813; she was 20 years of age. Tombstones of many early settlers can be found here as well.
It's amazing how much history can be acquired by visiting a local cemetery. Historic burying grounds hold a wealth of information about its residents, wars, epidemics, or disasters that might have affected the town and its people. It's worth a visit to one or all of our old cemeteries.
(Information for this article was taken from The 175th Anniversary booklet 1796-1971 by John Washburne, The 1986 Historic Resources Inventory by Paul Loether, The History of Wolcott, Connecticut from 1731 to 1874 by Reverend Samuel Orcutt; Wolcott Community News articles written by Flo Goodman (November and December 2019).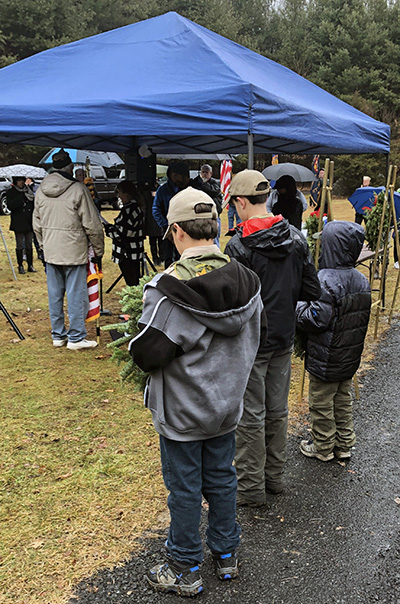 Scouts waiting to place wreathe at grave sites.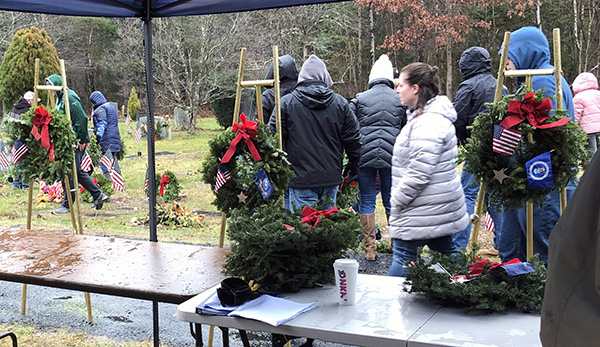 Volunteers distributing wreaths at Woodtick Cemetery.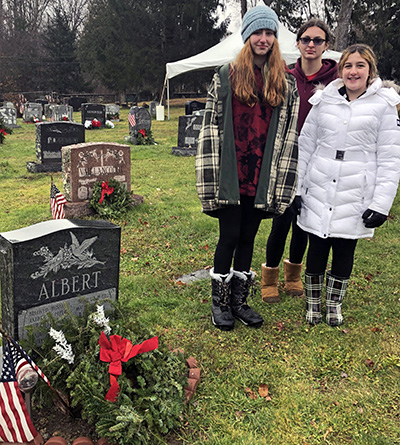 Student volunteers at Edgewood Cemetery.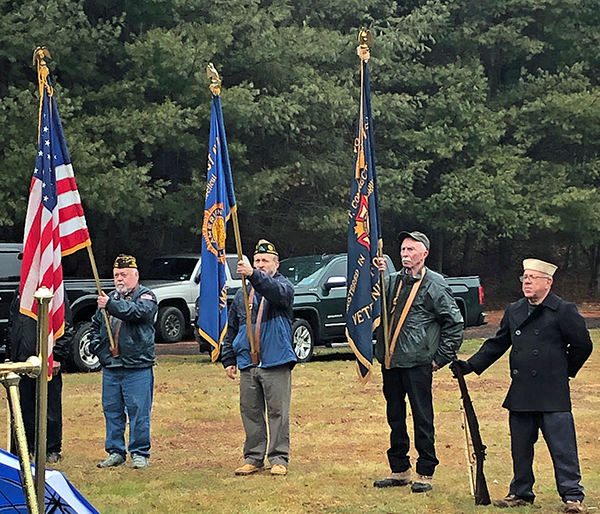 The presentation of flags at Opening Ceremony at Woodtick Cemetery.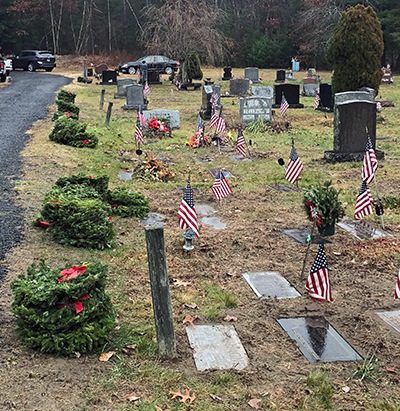 Wreaths ready for distribution to grave sites..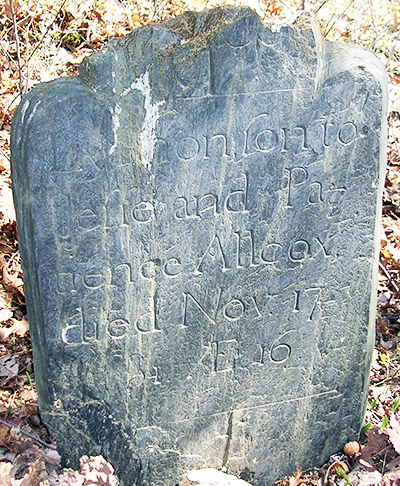 Historic tombstone of Patience Allcox (Alcott) at Pike's Hill Cemetery in 2010.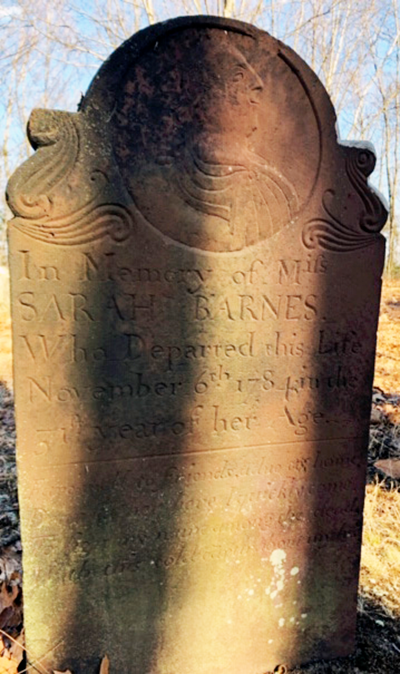 Historic tombstone of Sarah Barnes at Southeast Cemetery in 2020.
---
To view past installments of the Historical Society News, click here.
---