Wolcott Historical Society News - October 2021
By Florence Goodman
Over the years I have researched and written histories about many of the farms that were found throughout our town. I have always been in awe of these early farmers because although farming was a way of life for most of them, it was not an easy task. It's obvious when you see the old stonewalls bordering many properties around town that those stones were dug from thin, rocky soil in the process of tilling the land. Wolcott soil was far from ideal for growing crops, thus many farmers raised cattle, dairy cows, poultry, ducks and pigs mainly to feed their families. Those local farmers who tried growing crops to sell at farmers' markets found that their crops matured weeks later than those grown in Southington, Cheshire, and Meriden because of the town's higher elevations. There were however, many dairy farms in our town, but most of these farmers had full time jobs in Waterbury or other surrounding towns; thus farm work was done at dawn and dusk by family members in addition to going to their regular jobs or attending school. This month I'd like to revisit the history of the Peterson Dairy Farm and introduce you to a new farm that has been established on five acres of that old farm.
The James Alcott Farm, referred to as Sunnyside, was found at the intersection of Spindle Hill and Mad River Roads and has a long history of farming on its land. James was the son of John Alcott, one of the first settlers on Spindle Hill, circa 1731. James built the saltbox style farmhouse in 1774 with several large barns. In the late 1800s Evelyn Upson purchased the house and farm and lived there until his death in 1918. In that same year, Carl and Hilma Peterson purchased the farmhouse at 621 Spindle Hill Road, the Seth Thomas house at 36 Peterson Lane and about 150 acres of land along Spindle Hill and Mad River Roads. They established the Peterson Dairy Farm in 1923, which was in operation for almost forty years until a fire destroyed their well-established business. In January 1962 a fire destroyed their large dairy barn. Mrs. Hilma Peterson, owner of the dairy was thankful that no lives were lost in the fire, but feared that several animals died in the blaze. She stated that there were ten or eleven cows, several calves, and a bull in the barn, but in the darkness they were uncertain if all animals were led to safety. Farm equipment was also lost in the blaze; a farm tractor, milking machines and a milk cooler were destroyed as well. Sadly, it was reported that the barn would probably never be rebuilt or the milking equipment replaced, thus the Peterson Dairy business came to an end. In the 1970s much of the farmland was divided up and sold as building lots. The historic James Alcott saltbox and two barns were also sold and today Bonny Hartigan still owns that property.
In 1980 Dennis Cleary purchased 20 acres of the Peterson property and built a small house for his family; later Dennis and his wife Eileen built a new home on the property and rented the original home. Fast forward to 2019 when their son, Kyle purchased the original house and five acres of land from the family with the intent of starting a sustainable farm. This idea was cultivated while Kyle was serving at various outposts in northern Iraq. During that time Kyle stated. "I seldom had access to internet in order to send messages and call home to family. When a reliable connection was found, it involved standing outside a shop in the middle of the night. While everyone else slept, I found myself going down the rabbit hole of Youtube researching sustainable agriculture. I watched hundreds of short clips on how to raise poultry, pork and beef on pasture and build soil instead of letting it run into the creek."
When Kyle arrived home from his combat tour in Iraq in late 2018 his goal was that no one in his family would have to purchase eggs from a store; thus the beginnings of Mad River Farm were established. He returned to his full-time position as a Police Officer in a large city in Connecticut, but once off duty he was working hard to get his farm up and running. Much work had to be done to clear several acres of land as well as fencing that land and building several structures to house the animals. His first official year for "Mad River Farm LLC" was in 2020 and during that time no one in his family had to grocery shop for eggs, chickens or pork. He was able to sell surplus eggs and take deposits for whole chickens and half or whole sides of pork. In 2021 sales increased and he sold out of his products for a second year in a row. This year Kyle was also able to purchase two newly bred Scottish Highland heifers and a bull to start a grass-fed only beef program. Visit his website at madriverfarmct.com where you will find a welcome message and ordering information.
It is refreshing to see historic farmland once again being used to raise chickens, cows, pigs and various vegetables in the garden. Kyle has hopes of enlarging the gardens as well as planting Christmas trees in the future. He also hopes in years to come to have veterans work and live on the farm, which could be therapeutic for them. In Kyle's words, "As a veteran, my dream is to create a farm that provides a livable wage for myself, that can one day house other veterans searching for peace and acceptance through agriculture and build a local food hub nutrient-dense and naturally raised products."
Writing this article brought back my memories of Peterson's cows grazing in the fields. Now as I drive up Mad River Road I know that this land is once again producing not only food for many to enjoy, but peace and solitude for the minds of those who work it.
(Information for this article was taken from my May 2012 Wolcott News article; an interview with Kyle Cleary and a visit to Mad River Farm, August 2021; emails from Robert Kraft)

An early photo of the James Alcott, Evelyn Upson and Peterson house and barns.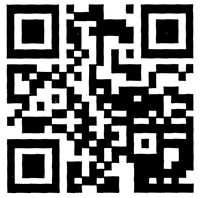 Scan to go to website.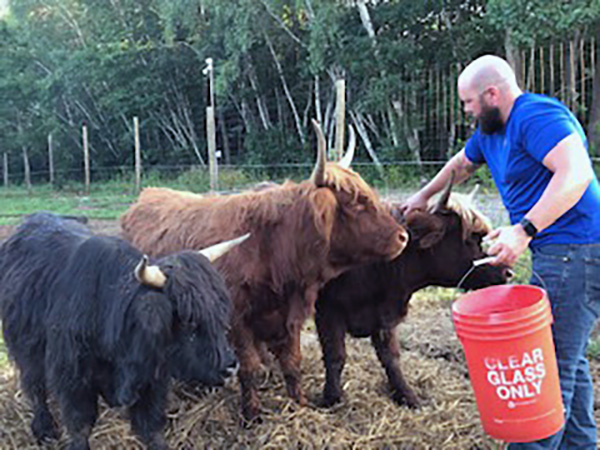 Kyle Cleary feeding the Scottish Highland heifers and bull.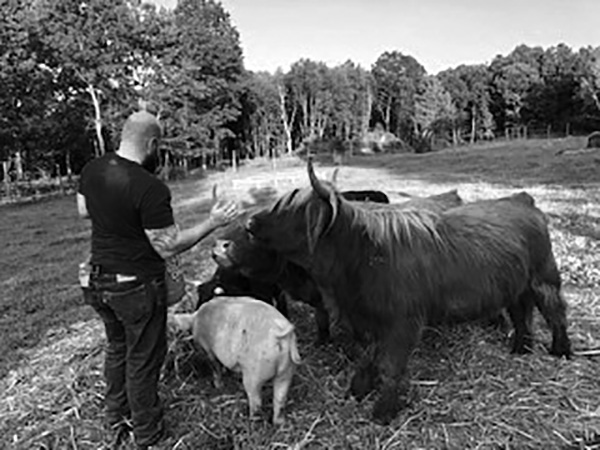 After a long day at work, Kyle arrives home and begins feeding the animals.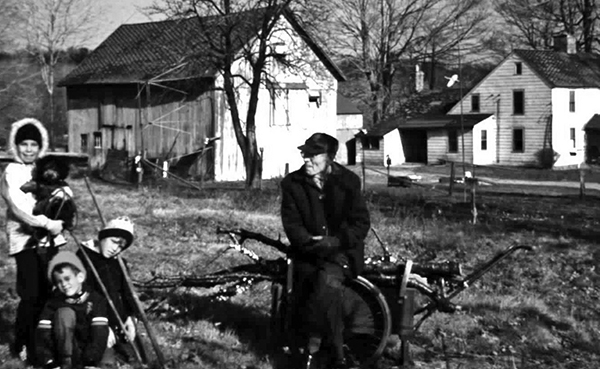 Martin Povelonis, a long time farm hand on Peterson farm with three of the Kraft grandchildren. Bonny Hartigan owns the barn and house in the background today.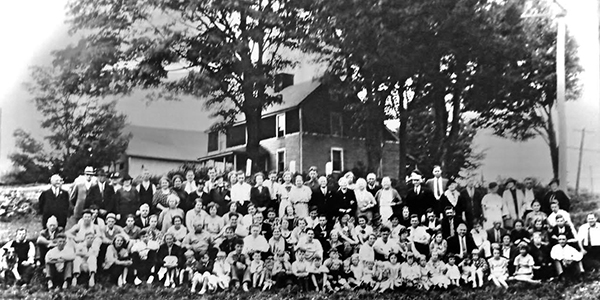 The Peterson family reunion in front of the Peterson house in 1936.
---
To view past installments of the Historical Society News, click here.
---