Wolcott Historical Society News - July 2021
By Florence Goodman
The Wolcott Historical Society will host its annual scholarship fundraising Garden Tour on Saturday, July 10th from noon to 4:00 p.m. (the rain date is always the next day). As always, for a $10 donation you may leisurely wander through six magnificent gardens on that day. Three of the gardens are new to our tour and three are ones that have been on previous tours, but are forever changing. We are very grateful to all the gardeners who have been gracious enough to allow us to showcase their labors of love. Perennial gardening is not for the weak or weary. it takes lots of brawn to develop and maintain these gardens; it also takes creativity, passion and a love of the outdoors.
New to the tour are Sandy Fitzgerald's gardens, which are a variety of shade and sun. As you enter her driveway you are greeted by a garden of day lilies, iris and some evergreens shrubs. Her gardens continue along her driveway to the front door with two large copper frogs climbing up the wall. A giant red hibiscus should be in full bloom, just in time for our tour. As you walk around toward the backyard her gardens of hosta, ferns, hydrangeas and day lilies line the path. Her backyard patio is a welcoming and relaxing area, which includes a water feature and several large garden ornaments. Her use of raised beds in this area really adds to the beauty and is a great way to keep the weeds out. There's a lot to see in this backyard paradise so you must walk slowly to enjoy it all.
Also new to the tour are Michele Pinette and Karen's gardens, which are located on the remains of an old farm so the land has many large rocks jutting out. It's great to see how they have built their gardens around these boulders or used them as borders. They have a variety of shade and sun plant materials, which include large hosta, astilbe, a variety of shrubs and day lilies. There are also beautiful stonewalls bordering one side of the property and the backyard is fenced with a natural wood fence. Their patio area has a pergola that is adorned with wisteria and many hanging baskets. One end of the patio also includes a water feature while the other end has a cat hotel. As you drive down the driveway you can't miss the fully enclosed raised bed vegetable garden, which is a great way to keep the creatures from eating your produce. This yard and these gardens are a pleasure to meander through and you might want to ask Michele about all the plant material that she brought from Michigan.
The third new garden on the tour is that of Jill and Bill Dolan's; these gardens are best described as manicured and meticulous. Jill had a plan when these gardens were developed and it's obvious as you walk through the yard. Her use of ornamental grasses, day lilies, small shrubs, succulent ground coverings and so much more are perfectly placed to create beauty everywhere you look. These colorful plant materials create a palate of greens, blues and yellows. The giant hostas used in her side gardens are exquisite. The backyard pool and patio area is so inviting you may not want to leave. The use of large, but perfectly shaped evergreens mingled with smaller evergreen shrubs creates privacy and beauty rolled into one.
The gardens of Sarah and Mike Daley on Potuccos Ring Road have changed a bit from last year. They have been working on their beautiful backyard patio area and gardens for quite sometime and have used every inch of space to the utmost, but they continue to make changes. As you enter the gates on either side of their home this hidden treasure will amaze you. They have a beautiful patio area for relaxing on one side and then a greenhouse for growing vegetables and other plant materials. The small green house which has a rolled plastic covering is used in early spring to protect new plant material, but by the time we view it in July the covering will be gone and we will again observe many plants growing in raised bed. The time and energy that has gone into this landscaping adventure is obvious and you will not be disappointed to view this beautiful backyard. There is also a front yard garden area that displays a variety of perennials for you to enjoy. Sarah and Mike have done a great job creating a unique yard and garden space.
A short drive down Woodtick Road from Frisbie School you will find the home and gardens of Paula and Bill Ronalter. It's exciting to view these gardens because Paula's creative ideas and use of unique plant materials will boggle your mind. Interesting antiques surrounding the property and beautiful containers with tropical plants add to her garden design. Although the property borders a busy road, tall shrubs provide a perfect barrier from the noise and allow you to enjoy these hidden treasures. The exterior of the old garage has been transformed into various gardens combining interesting antiques and plants. There are so many small, but uniquely designed gardens tucked into this property so you must walk slowly to enjoy it all. It's always fun to walk through this yard to see what's new and different. Paula's use of tropical plants in beautifully decorated pots have always been focal points in her garden designs, but now she has also extended her perennial gardens, so be ready to see some pleasant changes in her gardens this year.
As you enter the gardens of Pat and Ed Traver you are transformed into "Hosta Heaven." Ed is a member of the International Hosta Society and a "hosta authority"; gardeners from near and far have viewed these gardens and marveled at the way Ed has arranged and named the numerous varieties. BUT, there is more; the day lilies, grasses and hydrangeas add color throughout the yard, as well as a tri-colored beach tree that adds shade. The grass pathways lead you through the gardens and into a beautiful in-the-ground pool right in the middle of this "paradise found." Ed recently added succulents to his gardens as well as a new water feature that just adds to the tranquility of these gardens. Several years ago, Ed extended his gardens into both sides of his front yard where beautiful perennials welcome you as you drive by this property. It is always a pleasure to walk through this peaceful garden paradise.
Don't forget to mark your calendar for the Wolcott Historical Society's Garden Tour on Saturday, July 10th from noon to 4:00 p.m. Tickets will be sold the day of the tour in the Center School History Museum parking lot from 11:45 a.m. to 2:00 p.m. or you may order them ahead of time by calling Flo Goodman at 203-879-9818In last month's article, I briefly discussed Chase Country Club, but I'd like to add more information that I recently acquired. The Chase Manufacturing Company of Waterbury built this beautiful nine-hole golf course for their employees. It was located on the grounds of the old Nathaniel Lewis farm and was a popular gathering place in the 1930s through the 1960s. It consisted of a restaurant plus a picnic and outing area to the rear of the parking lot next to the clubhouse. In about 1975, under Mayor Lango's administration the residents of Wolcott voted to purchase the property. Through the help of a grant the town was able to and continued to update the restaurant and clubhouse until they were able to build a new structure. In 1993 under Mayor Wilensky's administration the structures were taken down. The Wolcott Fire Department as part of their fire-training program razed the old structures on February 21st of that same year. The photos that I have used were taken by Leonard Browne and donated to the Historical Society by Ray Teach. Sometime later the new structure was built. Today many residents from our town and surrounding areas enjoy golfing at this 9-hole public golf course. I also interviewed Louis Polzella Sr. about the golf course. During the phone interview he shared an interesting story reminding me that part of the property of the golf course is in Southington. If you are on the fourth tee on the top of the hill you would be standing in New Haven County, but the ball will end up in Hartford County. The upper part of the course is located in Wolcott, while the lower section is located in Southington. Our town actually pays taxes to Southington for the property we own in that town. We are fortunate that our forefathers had enough foresight to purchase this beautiful piece of property when they did; for those who do not golf you can still enjoy the view while enjoying a bite to eat at East Street Eatery.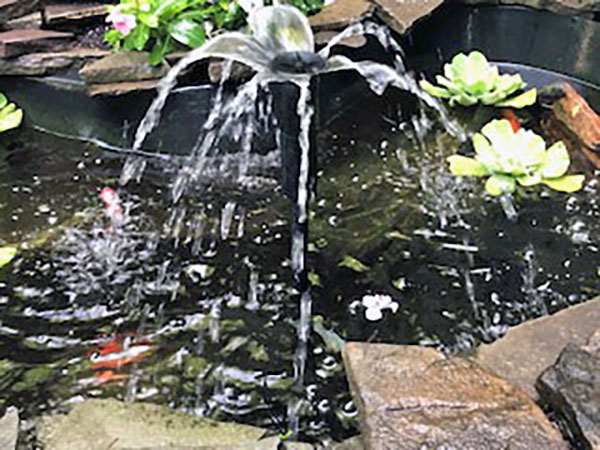 A water feature found on Sandy's backyard deck.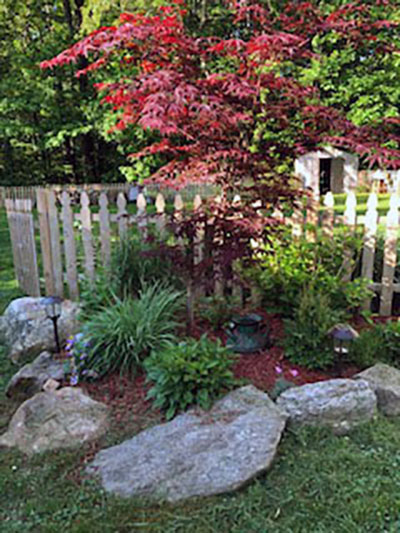 One of Michele and Karen's backyard gardens.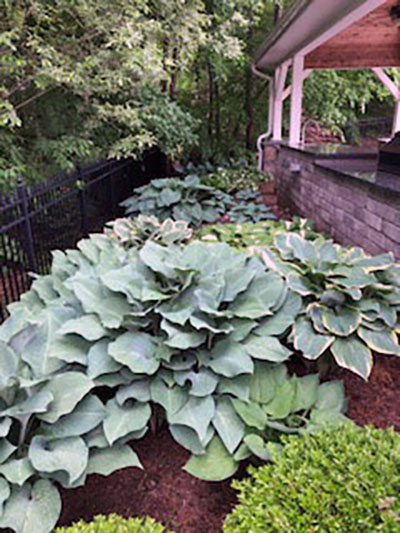 Hosta found in Jill and Bill's side yard garden.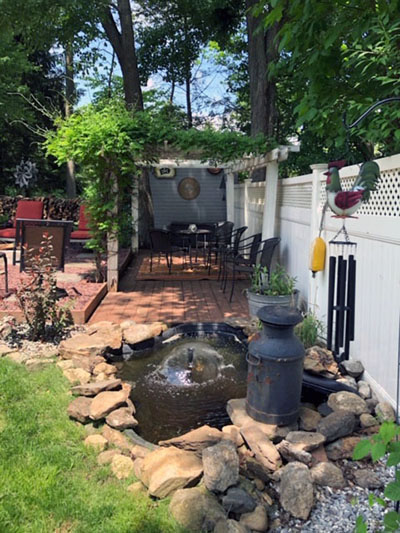 Patio and water feature in Daley's backyard.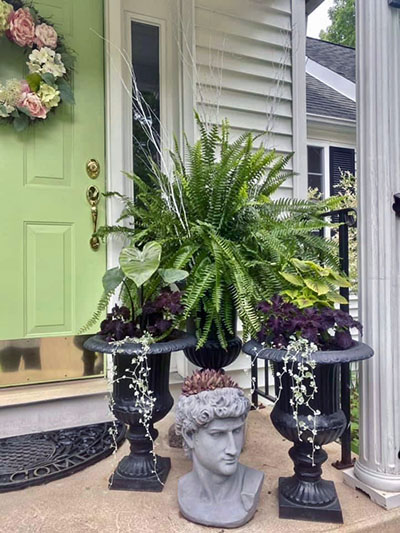 Front porch at Paula and Bill's gardens.
A new arbor displayed in Ed and Pat Traver's backyard.
---
To view past installments of the Historical Society News, click here.
---