Wolcott Historical Society News - April 2021
By Florence Goodman
Over the next few months I will revisit several articles that I wrote back in 2009 about the Hitchcock Lake area, which has always been an interesting part of Wolcott history. I recently received some additional information about the area and wanted to share it.
I received an email from Paul Hitchcock, the great grand nephew of Shelton Hitchcock for whom that lake was named. He shared with me the Hitchcock family genealogy and photographs of Shelton, his wife and daughters. About the same time, I also received a beautiful oil painting of the Hitchcock Barn from Joan Polowitzer for the Historical Society. Joan was one of the original people along with her mom and Richard Plantier who educated me on the history and development of the Hitchcock Lake area. Thus, it was time to add some additional history to the history I had already written.
An 1868 Wolcott map shows the present lakes to have been much smaller and originally known as the Waterbury Reservoir. The Mad River Company expanded the area of the lakes and raised the height of the dam at the outlet during the mid 1860s to the mid 1870s. Its main function was to insure a constant and dependable flow of water in the lower Mad River basin for power and processing for several Waterbury factories year-round.
By the early 1900s, the land surrounding the lakes became a popular water resort community. The area known as "Shelt's" received its name from Shelton Truman Hitchcock whose home and farm was located on Meriden Road near the head of the lakes. It was also referred to as "Hitchcock's Pond."
Shelton Truman Hitchcock was born in Cheshire on December 13, 1822 and lived his early years on the family farm in Waterbury. He was one of three children born to Benjamin Truman Hitchcock (1791-1867) and Julia Anna Frisbie (1795- 1879). Shelton moved to Wolcott as a young man. He married Cornelia C. Andrews on October 26, 1855 and they had four children; Jennie (Emogene) born in 1857, Nettie or Nellie born in 1860, Eva born in 1860 (she died shortly after birth), and Elbert S born in 1867. Hitchcock's property consisted of a house and several hundred acres of farmland. His lake area property became a popular retreat for fishermen.
Shelton served his country and community throughout his life. He served in the Civil War from 1863 to 1865. His party affiliation was Democrat. He was a representative from the town of Wolcott serving seven terms in the Legislature being part of the first Legislature to sit in the present Capitol. He served on the board of assessors and also on the board of selectmen in Wolcott, a position he held for twelve years. Shelton was one of the wealthiest and best-known farmers in this section of town dealing in general farming, dairy work, stock raising and woodcutting. Shelton Hitchcock died on November 13, 1909 at the age of 87, leaving his wife and two adult children and their families. He is buried in the Old Pine Grove Cemetery in Waterbury. Although he died over one hundred years ago his name will forever remain a part of our town's history; Shelton Avenue and Hitchcock Lake will hold his memory forever.
Around 1913 the Waterbury and Milldale Tramway Company also known as "The Green Line" trolley began to provide service from the center of Waterbury to southern Wolcott along Meriden Road to Hitchcock Lake. The land surrounding the lakes became a favorite retreat for city people. The pure spring water and peaceful scenery made it a popular water resort, and this new transportation caused a rapid development of these twin lakes. As the Lake area continued to develop the small summer cottages were converted into year-round homes and by the early 1940s, the land along the shores had emerged as one of Wolcott's principal suburban residential neighborhoods. This rapid residential development created a demand for supplies, thus small businesses started to spring up along Meriden Road.
Try to imagine what life was like as you rode up Meriden Road into Wolcott. The Garrigus family still owned much of the land around Garrigus Court so there was still farmland in the area, but small businesses were quickly popping up. Vallincourt Hot Dog Stand was located just before Garrigus Court on Meriden Road. Tyler's Ladder was found just past Barker Terrace. The Lake Drive-In was a very popular drive-in theater during the 1950s and 1960s located on Meriden Road between Garrigus Court and Tamebuck Road. As you approached Todd Road you would have come upon Putt Meadow Motor Court located across from Todd Road. Travelers using Route 6 on their way to Boston/New York used this motel as an overnight stop. This area had received the name Putt Meadow because it was the campsite of General Israel Putnam's Revolutionary Army. Continuing your trip eastward on Meriden Road, there was Sarno's Market, located on the corner of Musso View Road and then Sam Musso's Gas Station found where Mountaintop Liquors is today. In this same area on the lake side of Meriden Road Henry Groch's Pharmacy was located on the corner of Farview Avenue and Meriden Road. Just past Farview Avenue near where the Dunkin Donuts is found today was the Copper Kettle Restaurant (1683 Meriden Road). It was opened by the Stone Family and used for banquets, weddings, and family dining. Copper pans were hung on the walls for ambiance. Next was Iceland Cabins and Trailer Camp situated just across from Musso View Road. There was swimming on the lake there, as well as a small stand/store to buy ice cream and supplies; Joe Francis owned it. Just past Iceland you found the Piccadilly Inn that was also called the Club Mount Crest Restaurant. Joan tells me that her grandfather, William Thomas Robillard owned this restaurant, which specialized in lobster and steak dinners and had a "floor show" every Friday and Saturday evening. Joan said her grandfather who was nicknamed "Tootsie" sang a song at the end of every evening.
Across the road from Piccadilly Inn was Headquarters Restaurant (1774 Meriden Road). It was located about where Webster Bank is found today. Pat and Kelly Crème started this establishment when Pat returned home from the Army where he was a cook. For many years an Army tank was parked in front of the restaurant, thus the name Headquarters. Later the tank was moved to its present location on Wolcott Road in front of the American Legion. Beyond Headquarters Restaurant was Walsh's Market, first established in 1949 by Pat Walsh when he moved from Waterbury's Baldwin Street to open a market in Wolcott. His first store was located just west of the present one where Fulton's Pharmacy used to be. Mayo's Drug Store was an early drug store that used that building before Fulton Pharmacy. Most of these establishments are long gone and the buildings have been replaced with newer structures and businesses, but there are a few familiar names that still exist today. This is just part of the history of a very interesting section of Wolcott, which I will continue next month.
(Information for this article was taken from an email from Paul Hitchcock; Ancestry.com "Hitchcock Family Tree"; a letter, painting, photograph and postcard from Joan Polowitzer; an article written by Flo Goodman for the Wolcott Community News, August 2009; "Sheldon Truman Hitchcock" obituary Hartford Courant, Tues, Nov 16, 1909; research on Ancestry by Deborah Dubois)
Shelton Hitchcock at a younger age.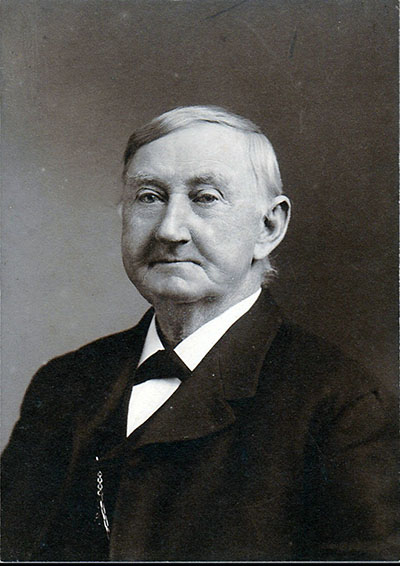 Shelton Hitchcock at an older age.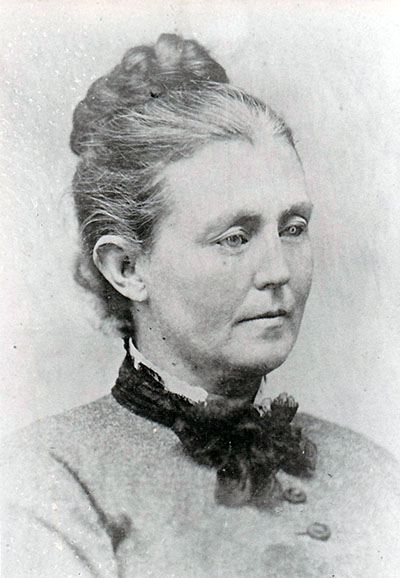 Cornelia C. Andrews, Shelton Hitchcock's wife.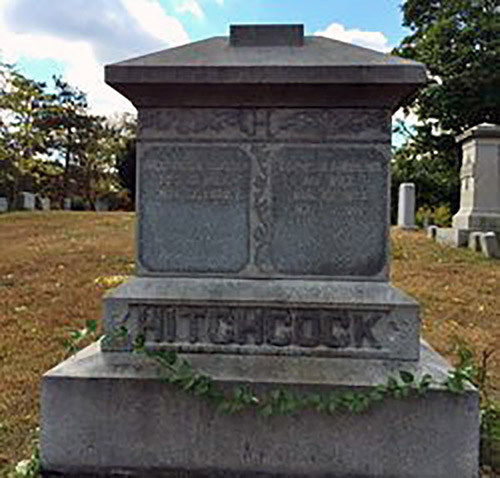 The Hitchcock tombstone is found at Old Pine Grove Cemetery in Waterbury, Connecticut.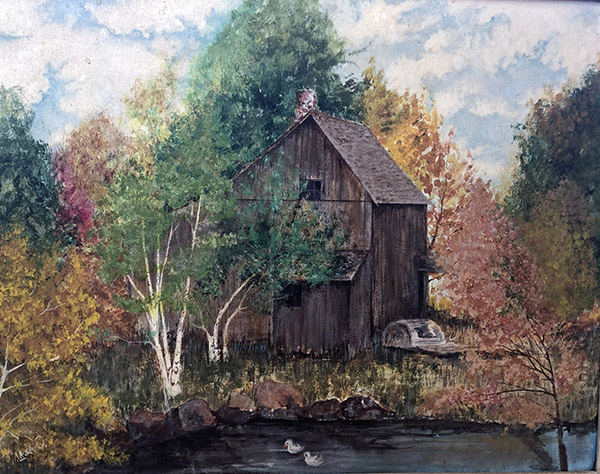 A 1972 painting of Hitchcock's Barn done by Laura Osowiecki who lived on Equinox Avenue. Joan Polowitzer donated the painting to the Wolcott Historical Society.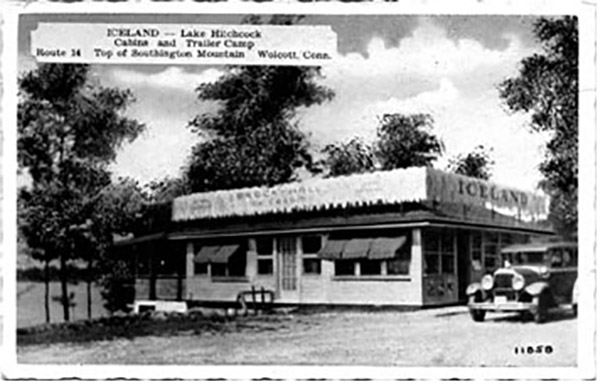 Iceland Cabins and Trailer Camp located on Hitchcock Lake just past Farview Avenue. (Postcard from Stan Horzepa)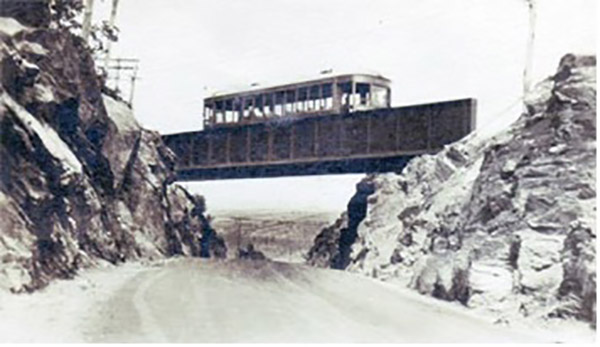 Postcard of he Green Line Trolley crossing over Meriden Road at the top of Southington Mountain. (Postcard from Stan Horzepa)
---
To view past installments of the Historical Society News, click here.
---