Wolcott Historical Society News - August 2020
By Florence Goodman
Farming is woven into our history and as you drive around town remnants of those days gone by still remain. In June, I mentioned that although there were forty plus farms throughout town only a few remain. This month I will share the history of Pillwillop Therapeutic Farm located on the upper part of Woodtick Road; it was originally the home of Atwood's Farm.
Our 1986 Historic Resource Inventory explains the history of many old houses in our town. In that survey Paul Loether stated that the Miles Upson house which is located at 1089 Woodtick Road was built between 1843 -1845 and included a fifty-acre tract of land. Walter Atwood, the great, great grandson of Miles Upson wrote a brief history of his family home that differs somewhat from that 1986 Inventory. Walter states that Miles Upson purchased the house and thirty plus acres of land circa 1860 and at that time there was a small cabin on the property; the present farmhouse was completed in 1864. Upson farm prospered and Upson Road, which formed the south boundary of the farm was named after him. Miles daughter, Mary inherited the farm and when she died in 1903 the farm was passed on to her children. In 1920 Mary's daughter, Florence married Lyman Atwood of Watertown. They lived in that town where their son, Clarence (Walter's father) was born in 1922. Florence and Lyman relocated to Wolcott in 1924 after they purchased her childhood home on Woodtick Road from her siblings. Lyman was a subsistence farmer; he had a full time job in Waterbury with Gulf Oil Company, but raised animals and crops on the farm for everyday family needs. "The family raised cows, pigs, ducks and chickens mainly for sustenance," stated Clarence Atwood. Clarence and his wife Gloria bought a triangle of land between the north border of his parent's farm and Catering Road and purchased 20 acres of land from his parents and there they built a house to raise their growing family. For many years Lyman Atwood's farm raised and sold evergreen trees. That was the go to place to buy your Christmas tree.
Lyman Atwood died in 1967 and when Florence died in 1988 she left the farm property to Walter and his brother, but gave Clarence life use of the house. Later Clarence transferred his home and three acres of land to his daughters and also transferred twenty-five acres of woodlot to Walter and his brother.
After Clarence Atwood died in 2012 at the age of ninety, Walter bought his brother's portion of the farm acreage. He continued to manage the farmhouse and woodlot. In 2013 Walter sold 23+ acres of the farm to Dr. Warren Corson III, a clinician and the clinical and executive director of the newly formed Pillwillop Therapeutic Farm. In 2014 Walter granted Dr. Corson a ten-year lease with option to buy the woodlot, which he did in 2019.
Pillwillop Therapeutic Farm (PTF) is a program of Community Counseling Centers of Central Connecticut, Inc. Their belief is that nature supports healing of all kinds and that this picturesque setting is the perfect location for outpatient mental health counseling. "The mission of Community Counseling Centers of Central Connecticut, Inc is to provide a holistic program that addresses the mental health, culture, occupational, and social needs of those we serve in a nature based setting." Some of the programs offered at this farm location are art therapy, meditation, gardening, hiking, passive recreation, groups on grief, stress relief, self-esteem, suicide support groups and more. As stated on their website, "When we connect with each other in nature, we have a chance to learn more about ourselves and the way we connect with the world."
If you have never stopped at Pillwillop Farm you just might want to do so because there is much to see. They have two very large hoop houses; I'd call them greenhouses filled with a variety of vegetables. They also have a farm stand where they sell tomatoes, cabbage, squash, cucumbers, garlic, brussel sprouts, kale and beets. They also have chickens and a rabbit. This year they added a cut flower garden so they will also be selling cut flowers. The farm stand is usually open from 10-6, but if no one is there they have a donation box set up based on the honor system.
This past March, Lucas Anderson completed an Eagle Project at the farm where he and his team planted 350 evergreen trees. These new tree plantings will add to the base number of trees and will eventually be sold at their annual Christmas tree sale in December.
There is also a section of the farm that is planted and maintained by a local resident, Fred Weik. Fred was looking for some unused farmland that he might bring back to life. A carpenter by trade, but a true farmer at heart; Fred has always loved farming since the days when he was growing up in Morris where he gained much farming knowledge working at White Flower farm. In his later years, he worked a season at the historic Holcomb Farm in Granby. In 2009 after Walter agreed to let Fred to use a small section of his land, Fred bought a tractor and bush hog and began tilling the fields and he is still at it today. I recently visited his vegetable fields and was amazed at what he is growing. There are several large fields of potatoes, squash, onions, garlic, pumpkins and so much more. I loved his corn circles with the squash growing in the middle. These beautiful gardens are perched up on the hill and look down over Pillwillop Farm. They now allow him to farm their land.
Rob Pierpont another long-time resident of town reminded me of another fact about this wonderful piece of land. He stated that he Connecticut Forest and Park Association (CFPA) holds a conservation easement on the Atwood property for a total of 52 acres. Rob is the land steward for this property, which means he visits the land yearly to make sure there are no compliance issues. Rob also mentioned that just east of the Grand Junction red barn on Woodtick Road is a large oak tree marking the location of where the Mattatuck, Tunxis and Quinnipiac trails used to meet. This majestic tree still stands along the roadside.
So if you happen to be driving north on Woodtick Road toward Bristol make a stop at the Pillwillop Therapeutic Farm and just look around, you won't be disappointed. The large red Grand Junction barn is hard to miss. In fact, you will be pleasantly surprised and intrigued by the natural and peaceful setting that this farm can provide you.
(Information for this article was taken from The History of Wolcott, Connecticut from 1731 to 1874 by Samuel Orcutt, and 1986 Historic Resources Inventory by Paul Loether, a phone interview with Fred and Deb Weik of Wolcott in 2020; a window interview with Lisa Corson, assistant executive director of Pillwillop Farm; photographs compliments of Fred Weik; 2020 photos of the farm and barn from Flo Goodman; information from Rob Pierpont via Facebook; information from the website www.docwarren.org and a history of the farm by Walter Atwood found at that website)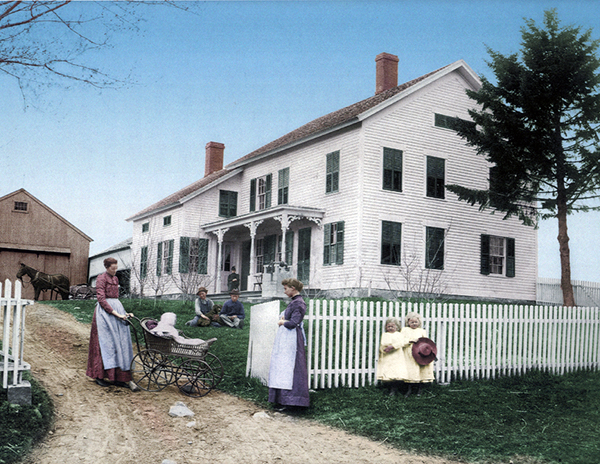 The Lyman Atwood home and family approximately 1900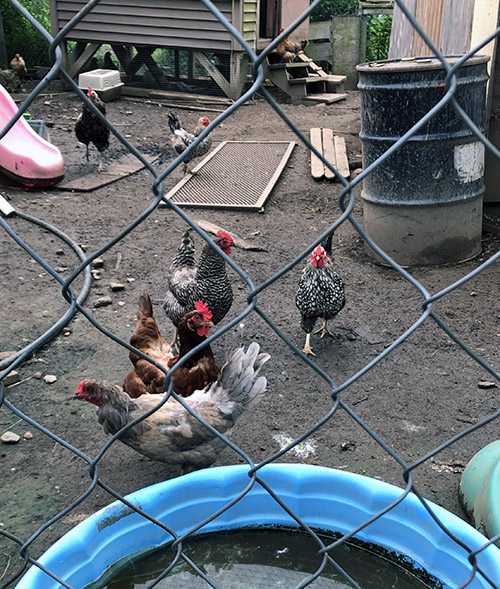 Chickens at Pillwillop Farm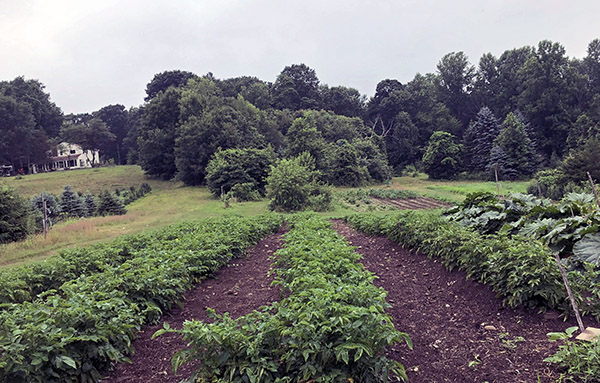 This is one of Fred Weik's fields planted with potatoes. The house in the background is located on Catering Road and was originally owned by Sue and Walter Atwood.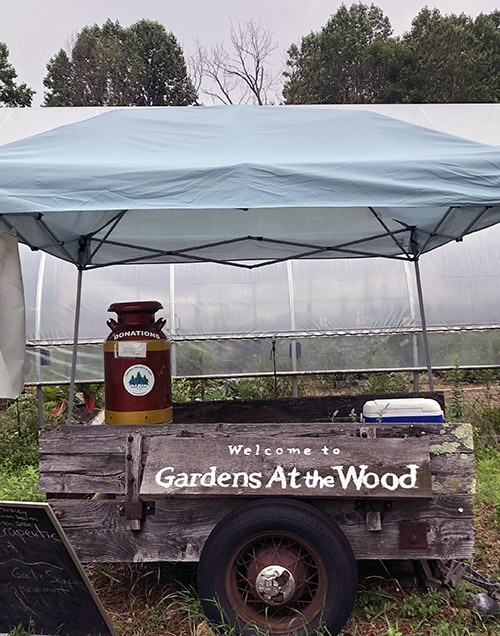 The farm stand found at Pillwillop Farm on Woodtick Road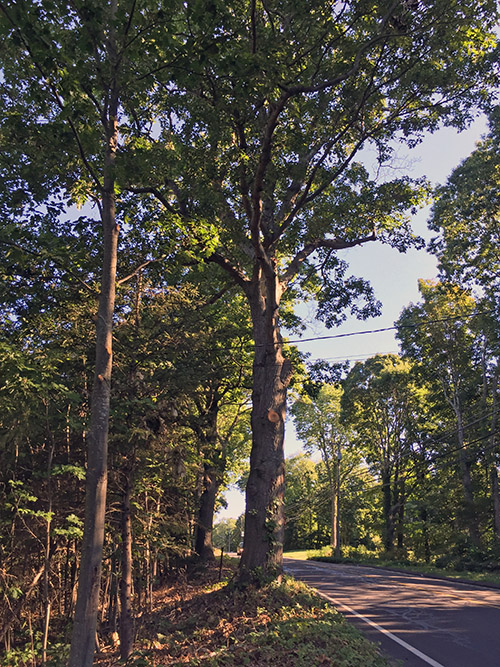 The Grand Junction tree on Woodtick Road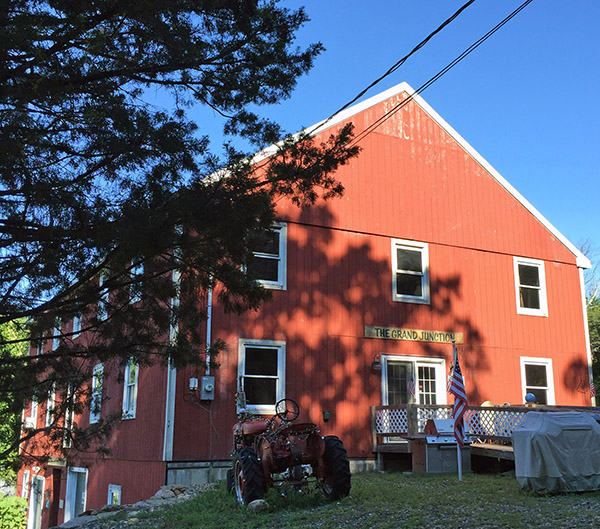 The Grand Junction barn at Pillwillop Farm on Woodtick Road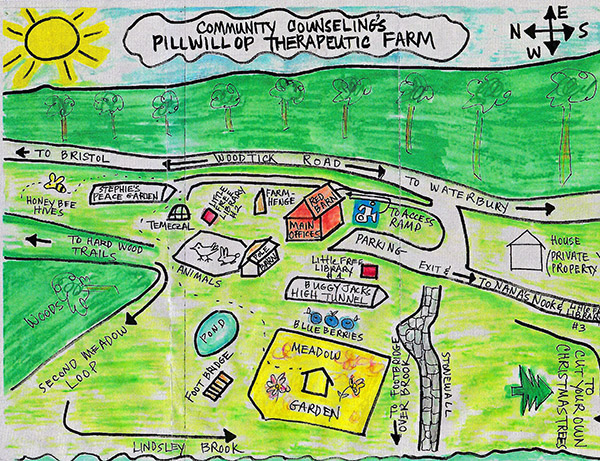 This brochure can be found at the lower entrance into the red Grand Junction barn.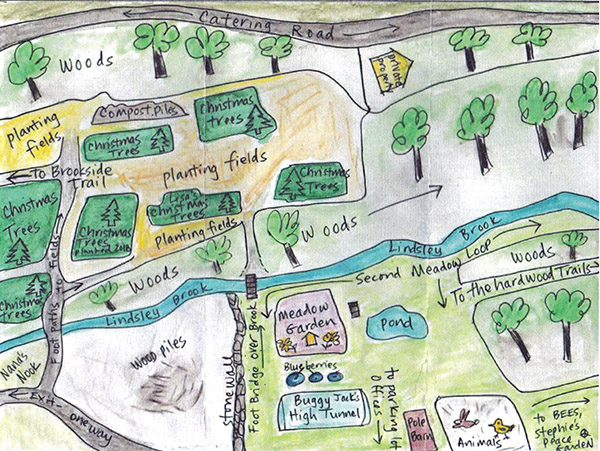 The back of the brochure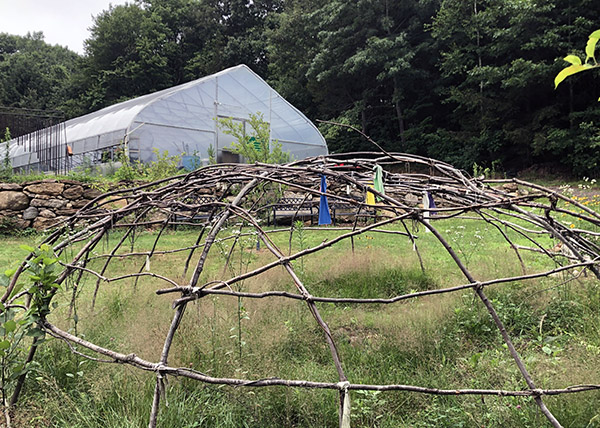 A temeczal is a low profile hut usually dome-shaped and made of natural materials. It was used by indigenous peoples of the Americas for ceremonial purposes.
---
To view past installments of the Historical Society News, click here.
---