Wolcott Historical Society News - November 2019
By Florence Goodman
It's amazing how much history can be acquired by visiting local cemeteries. Historic burying grounds hold a wealth of information about its residents, wars, epidemics, or disasters that might have affected the town and its people. Early tombstones have many intriguing inscriptions and designs carved into them. Symbols found on these stones portray various meanings. For example, the tulip symbolizes immortality and the peacock represents eternity. Historians feel that tombstones carved prior to 1800 were an art form. Early New England stonecutters made stones with a variety of designs and symbols and were time consuming to produce; thus as time went on designs and stones became more simplified. This is obvious as you look at stones produced after 1805.
This month I'd like to revisit the history of two of the five early cemeteries in Wolcott; they are Edgewood and Pike's Hill. Next month I will complete the history with Southeast, Northeast, and Woodtick.
Edgewood Cemetery also known as Evergreen Cemetery is located on Bound Line Road near the center of town. This was our first burying ground; it was established in 1764 at a town meeting held in Waterbury since we were not an incorporated town then. At this meeting Captains George Nichols and Stephen Upson Jr. were chosen to view and purchase a half-acre of land for a burying ground, which they did. Thirty-four years later in Wolcott at another town meeting it was agreed to increase the burying ground size to three-fourths of an acre. By 1870 this cemetery was again too small so it was enlarged to almost two acres. Today this cemetery is still in use and has been enlarged several times more and a cemetery association maintains it. If you visit this cemetery it is quite obvious that the original section is on the right as you enter it. As you walk through this area you will notice the names of the early settlers of our town that are buried there; names like Alcott, Andrews, Atkins, Beach, Bronson, Finch, Harrison, Kenea, Minor, Norton, Pritchard, Thomas, Tuttle, Upson and so many more. There are veterans from the French and Indian War, Revolutionary War, War of 1812, and the Civil War buried in this cemetery.
The next cemetery to be established was Pike's Hill or Rose Hill Cemetery in 1774 in the northeast section of town off of Woodtick Road. This burying ground was used for about thirty years and contained only a small number of graves. In 1805 the town voted to purchase a larger piece of land down the hill for the new larger Northeast or Beecher Cemetery. Many of the graves from Pike's Hill were removed and placed in this new cemetery. The six stones that remain there are worn down and the names on the stones are almost illegible. Reverend Samuel Orcutt listed these stones in his book, "History of the Town of Wolcott From 1731 to 1874" and stated that three were made of brown stone and three of blue stone. The three brown stones read as follows. "In memory of Mrs. Rachel Brackitt, who died October ye 17th, 1776, in ye 22nd year of her age." The inscription stated: "While you are blooming young and spry, perhaps you think you ne'er shall die; but here's a witness of the truth, that you may die when in your youth." The next stone read, "Here lieth interred the body of Mr. Mathew Blakslee. He departed this life May ye 28, A.D. 1776, in ye 61st year of his age." The third stone read, "in memory of the widow Rhoda Blakslee, the wife of Mr. Mathew Blakslee. She departed this life March 12th A.D. 1781, in the 63rd year of her age." The three other blue stone monuments read as follows. " In memory of Abner Blaksly. He died Nov. 27th, A.D., 1791, in the 51st year of his age." The next stone read, "Ithamer, son to Jesse and Patience Alcox, died Aug. 9th, 1778, ae. 3." The last stone read, "Lyman, son Jesse and Patience Alcox, died Nov. 17th, 1781, ae. 16." Note that the spellings of names changed through the years and especially when one is looking at old tombstones that have been warn down from erosion and human destruction some letters are hard to decipher. The Alcott's (Alcox) and the Blakeslee's (Blakslee) were related through marriage. Patience Blakeslee married Jesse Alcox. Mathew Blakeslee married Rhoda Beach.
In the fall of 2010 Steve Lago from Troop 231 completed an Eagle Scout project at Pike's Hill Cemetery. His project entailed clearing the trees and undergrowth that had taken over the area and standing up several stones. The Historical Society through town funds had a fence installed around it and Steve provided a sign that was attached at the entrance explaining the history of the cemetery and when the project was completed.
Fast-forward nine years and Pike's Hill/Rose Hill Cemetery is again in need of help; a new Eagle Project has been approved for Ben Podzunas from Troop 230. Ben and his team have cleared nine years of plant growth from the area and placed a heavy-duty weed blocker with gravel around the stones, which he hopes will keep the growth down in the future. This has not been an easy task, but has greatly improved of the appearance of the area one hundred percent. Ben has also been busy splitting firewood, which he is selling to raise funds for the project. If you need firewood, the cost of a half cord is $100. For more information call Ben at 203- 228-1653. When the project is completed we plan on having a rededication ceremony at the cemetery for interested residents to view.
Next month I will finish the discussion of the early cemeteries in our town with the history of the Northeast, Southeast and Woodtick Cemeteries.
(Information for this article was taken from Samuel Orcutt's The History of Wolcott, Connecticut from 1781 to 1874, from Steve Lago who completed the project and from Steve Lago's mother, Cheryl, who completed the genealogy for the remaining graves in Pike's Cemetery.)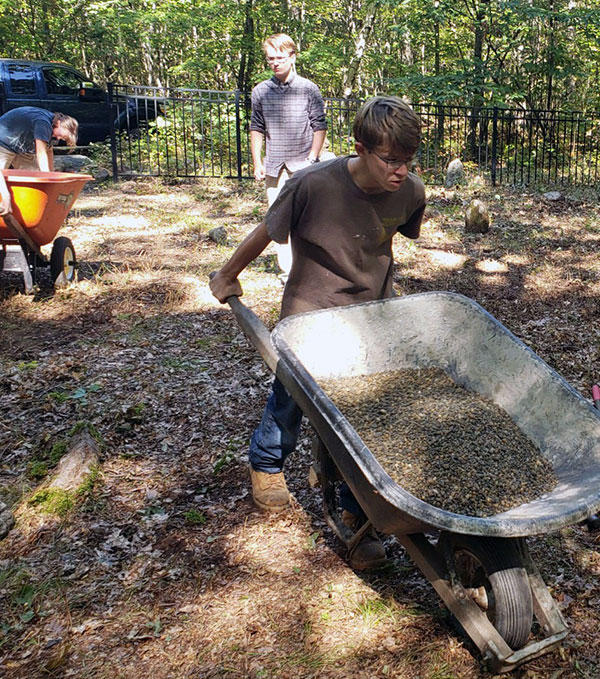 Ben hauling gravel at the cemetery.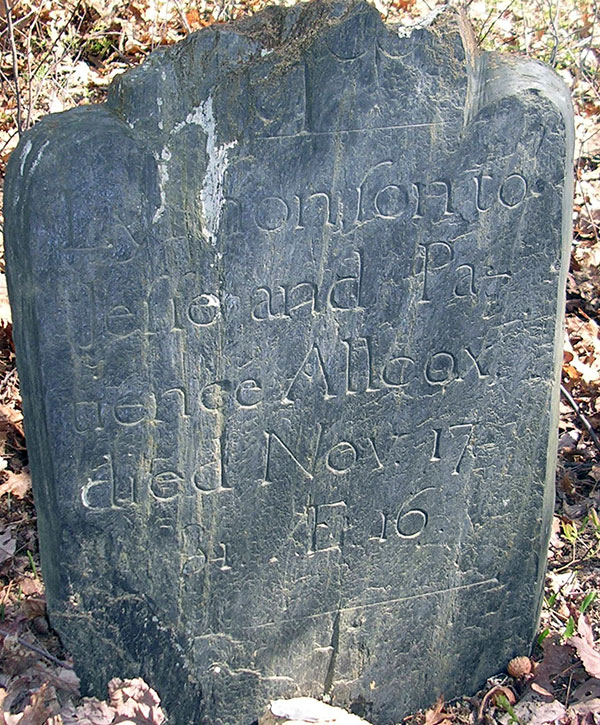 This is a bluestone monument at Pike's hill Cemetery. It was for Lyman Alcox.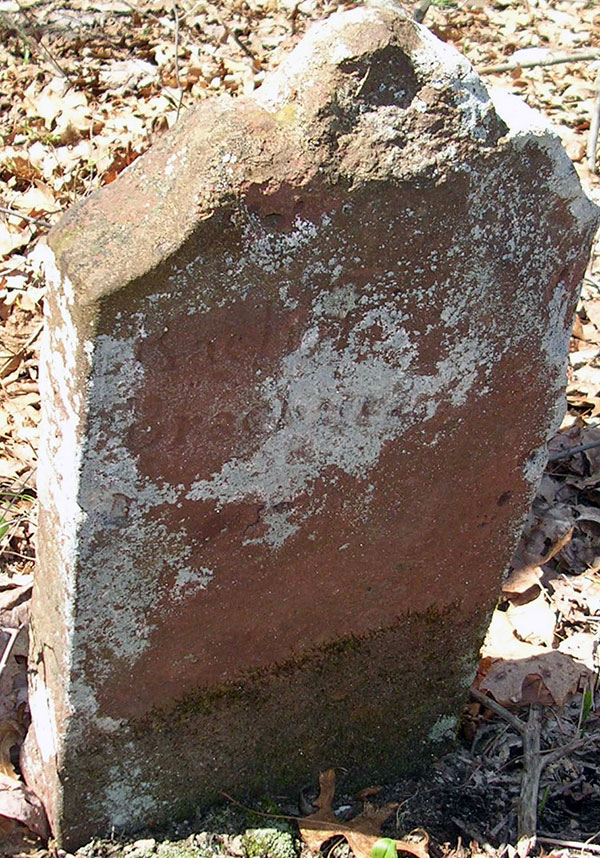 This is an example of a brownstone monument.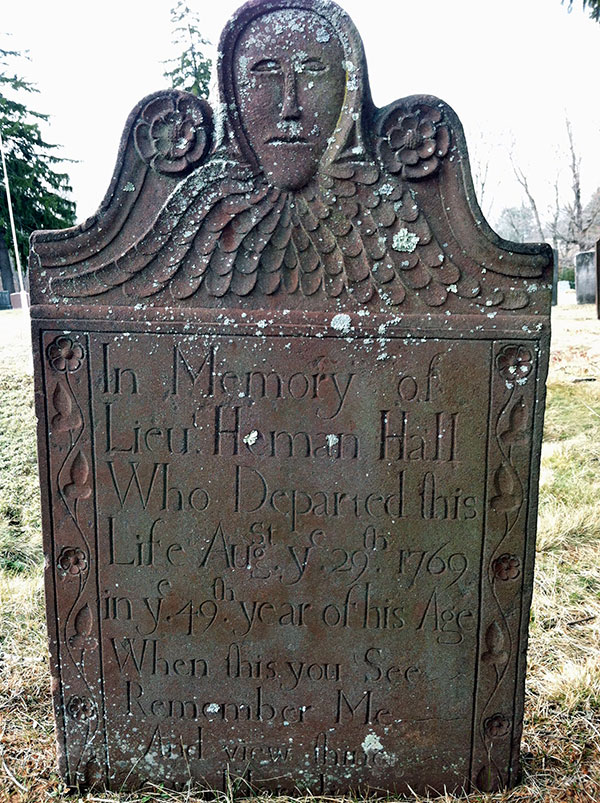 This unique tombstone for Heman Hall is found at Edgewood Cemetery.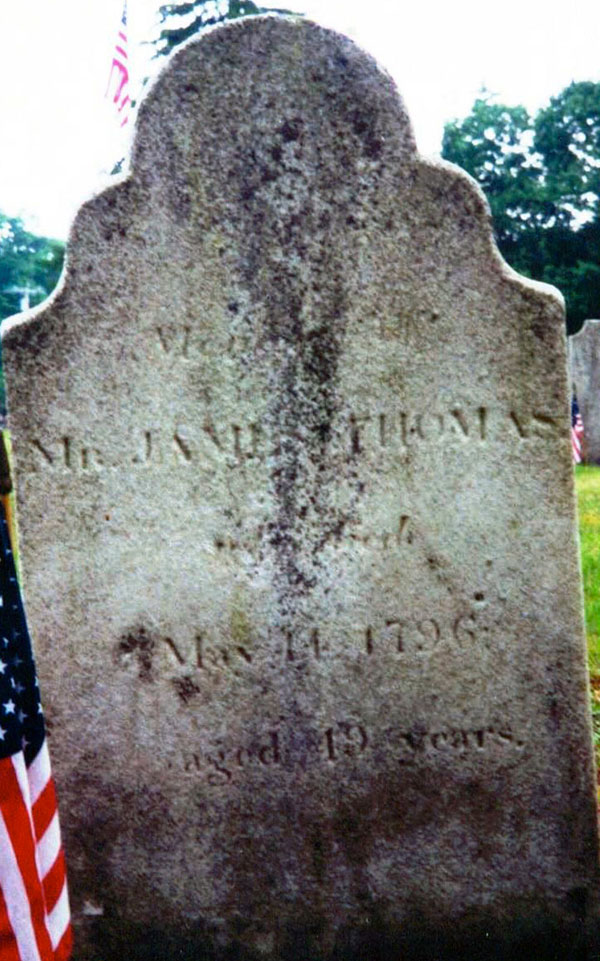 This is the tombstone for James Alcott found at Edgewood Cemetery. He was the father of Seth Thomas.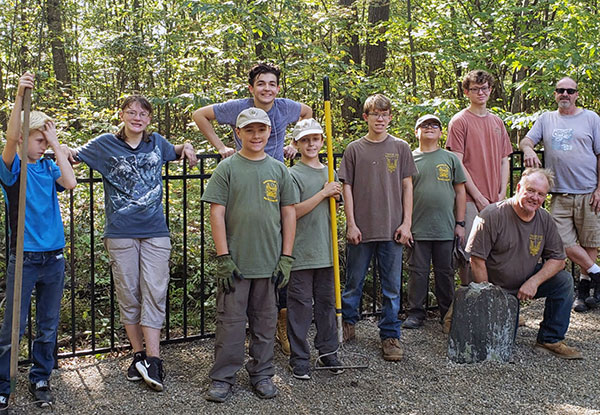 Members of Troop 230, who are helping Ben with his Eagle Project at Pike's Hill Cemetery.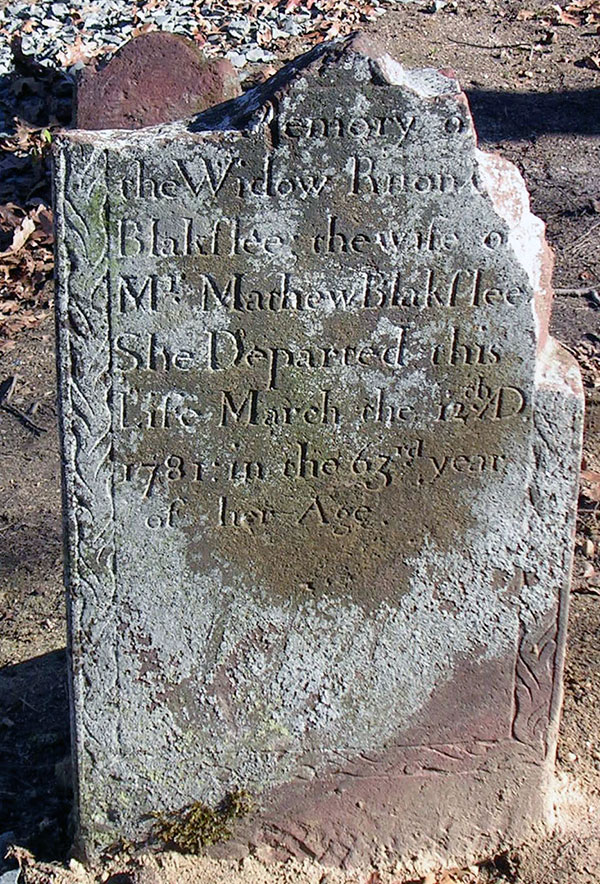 The remains of the stone for Rhoda Blakslee found at Pike's Hill Cemetery.
---
To view past installments of the Historical Society News, click here.
---