Wolcott Historical Society News - October 2019
By Florence Goodman
This month I'd like to revisit the history of our Stone Schoolhouse Museum as well as share some exciting renovations that are taking place there. It is our hope that this museum will be ready to reopen in the spring of 2020 as our "Early School History Museum."
The Old Stone Schoolhouse was the earliest school in the Southwest District and believed to be the oldest stone schoolhouse in Connecticut. The original wooden structure was destroyed by fire and in 1821 and a new stone structure was built. The stone for this building was quarried from the Wakelee Quarry located near the Waterbury line. In 1898 the length of the building was extended and the woodshed was attached for additional space. This Woodtick schoolhouse was used to educate the children who lived in the southwest section of town for 109 continuous years.
In 1930 the town voted to replace the old stone school with a new two-room brick school building called Woodtick School. In later years the two-room Woodtick School was turned over to the Public Safety Department and later demolished to make room for the current structure.
The old stone schoolhouse was sold in 1931 to Miss Emily Morris; three years later she donated the school to the Mattatuck Historical Society of Waterbury. Miss Morris wanted the school to be a memorial to her mother Eugenia Laura Tuttle Morris and her maternal grandfather Lucius Tuttle who had taught in the school in 1829.
In 1942 the town leased the building and reopened it for several years to take care of the overflow from the new Woodtick School. Later the building was vandalized and the Waterbury Historical Society's plan to restore it became too costly, thus some changes were made to allow for living quarters for a caretaker.
In 1962 the school was turned over to the newly formed Wolcott Historical Society. The museum was opened in 1963 and has served as such for fifty plus years. In 1978, Mr. John Washburne applied for historic status for the building, but it wasn't until 1982 that it was placed on the National Register of Historic Places.
As I mentioned above the Stone Schoolhouse Museum will now serve as our museum of early school history with displays of early school desks and displays of school artifacts and documents, but before we reopen there are many repairs to be completed.
In 2017 the Society received a 50/50 grant from the CT Trust to complete a Needs Assessment Report of our stone schoolhouse. This report was completed by Ames & Whitaker Architects and listed extensive and costly repairs that were needed to preserve the building. The number one priority was to remove an old window air conditioner and replace it with two humidifier/air conditioning heat-pump units needed to remove the moisture from the building. These were installed in November of 2017. Next, in August of 2018 we replaced the front door and jamb, but the stucco interior needed attention. Once we moved our display cases and artifacts to the Center School we were able to address this issue and other repairs.
Our cedar roof needed to be sealed, but first it had to be power washed so Mike Daley Power Washing completed the job free of charge, thank you Mike. Dennis Guiditta of Dennis Guiditta Home Improvement graciously repaired one of our original window frames at no cost to us, thank you Dennis! Bob Burns from Bob Burns Roofing & Construction removed and replaced the shingle roofs on our garage, shed and information booth. He suggested we replace the roof on the information booth so they all matched and he did that roof free of charge, thank you Bob! We also had our new front door and jamb primed and painted by Ian Civitello who did a beautiful job at a very reasonable price, thank you Ian. The town crew will be removing several trees from our property to alleviate some of the shade to preserve our new roofs. We thank Mayor Dunn, Mark Bove and the town crew for their continued support in helping us to maintain this beautiful old building.
Within the next few weeks Elvi's Masonry will be sealing our cedar roof. They will also remove the loose concrete around the granite stones on the exterior of the building and fill them with new concrete. Next they will work inside and remove all the damaged stucco and replace it with new stucco; it will then be ready to paint. We have a painter lined up so hopefully within the next few months these projects will be completed and the building will be ready to be turned back into a museum.
We also have exciting news about a new Eagle Project that has been approved for Ben Podzunas from Troop 230. Ben will be clearing nine years of plant growth from our Old Rose Hill - Pike's Hill Cemetery (circa 1774) located in the northeast section of town. Steven Lago from Troop 231 completed an impressive project here in 2010, but over time the few old stones are once again lost to the undergrowth. Ben hopes that the weed blocker and gravel, which he will place around the stones, will solve this problem. Ben has been busy splitting firewood, which he will be selling to raise money to fund the project. The cost of a half cord is $100. For more information call Ben at 203- 228-1653.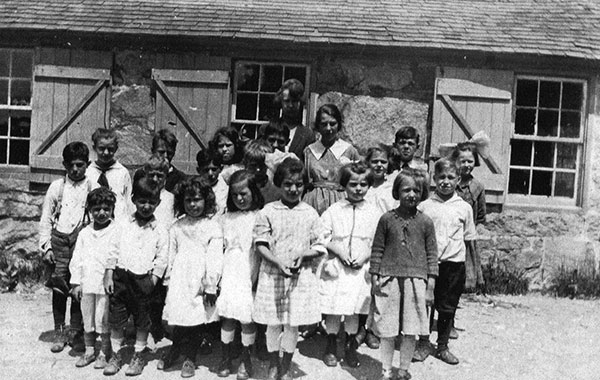 Louise Burr donated this photo to the Wolcott Historical Society in 2017; it was labeled "Woodtick School 1919-20." The names of the students are as follows, but not in any order: Helen Garthwaite, Edith Moss, Rose Gaugler, Betty Goodson, Philip Boulanger, Joe Richards, Alfred Garthwaite, Dorothy Moss, Alfred Goodson, Fred Richards, George Bock, Albert Ricciardi, Lillian Garthwaite, Sarah Browne, Franklin Browne, Alice Tyrrell, Joe Winkler, Mildred Goodson, Irving Garthwaite and Isabel Badger. These students were in the class, but not in this photo: Mary Woodin, C. Woodin, C. Myngheer, Bement Wakelee, Helen Wakelee, Emil Gaugler and Edward Bosker(?).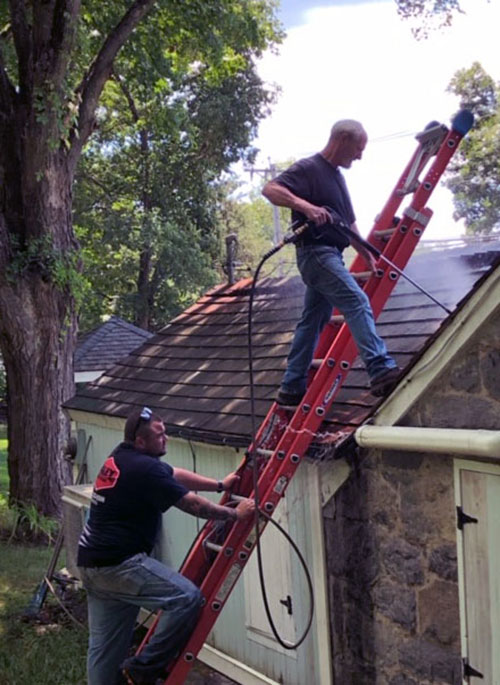 Thank you Mike Daley Power Washing for a job well done!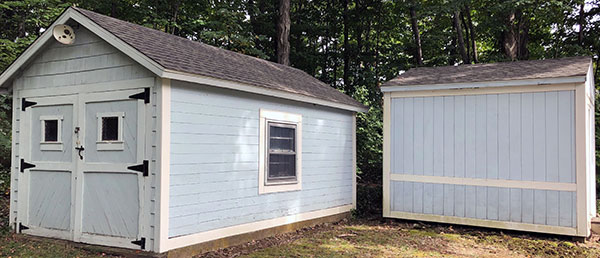 The new roof on our shed and garage look great! Thanks Bob Burns Roofing.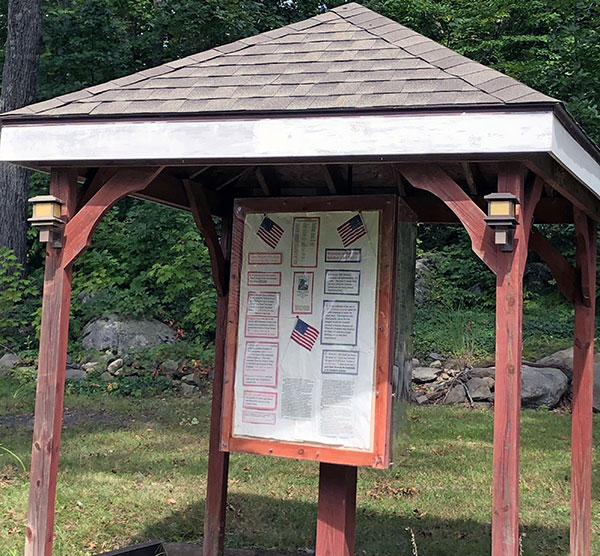 New roof on our information booth.
New door painted by Ian Civitello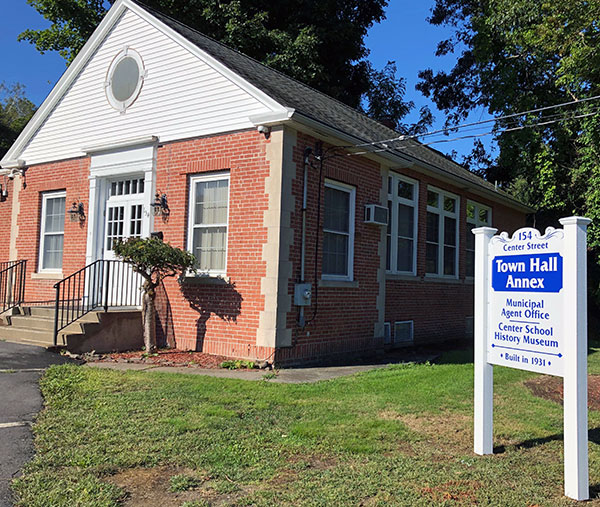 Thanks Mary Morrone for designing our new sign at the Center School.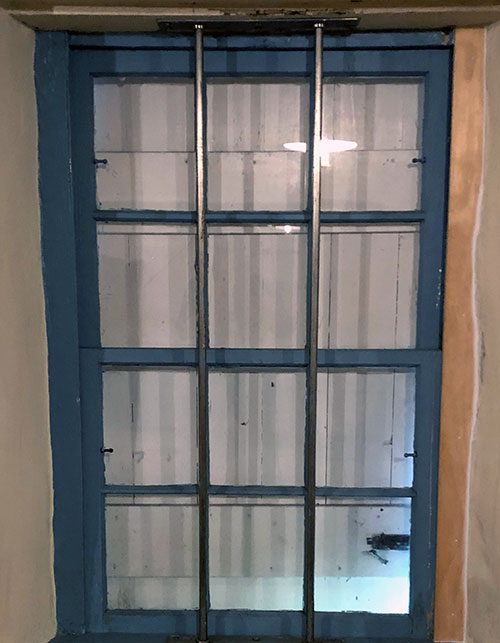 Window repair compliments of Dennis Guiditta.
---
To view past installments of the Historical Society News, click here.
---