Wolcott Historical Society News - September 2019
By Florence Goodman
Several months ago I received a phone call from Nancy Hansen with the American Legion Auxiliary asking if I had information on Billy Peterson for whom the Wolcott Post was named. She also wanted to know if he was related to the Peterson family on Spindle Hill. Deb DuBois and I began checking into the Peterson family history on Ancestry.com. We shared our findings with Frank Calo from the Legion who was also going through old records at the Post and together we solved the mystery. This month I'll share this information as well as the history of the newly refurbished WWII tank that proudly sits in front of the Billy Peterson Post on Wolcott Road.
William Ernest Peterson was born in Waterbury, Connecticut on January 30, 1921. He was the first of four children born to Ernest David Peterson and Hilma Samuelson Peterson. The Peterson children were referred to as the four B's, Billy, Bobby, Buddy and Betty. Billy's mother's family had lived in the Hitchcock Lake area of Wolcott since the late 1800s so in 1924 the family moved to 1 East Street. Billy attended elementary school in Wolcott and graduated from Crosby High School in Waterbury. He worked for six years at Fulton Market until October 1942 when he enlisted in the Navy as a cook; less than a year later he was killed in action. Billy was assigned to the USS Savannah (CL-42) and on September 11, 1943 the Savannah while supporting the Allied forces during the Salerno operation was hit by a German bomb, which penetrated deep into her hull before exploding. Billy was one of the many men who lost their lives on that day. Billy was buried in the Sicily-Rome American Cemetery in Lazio, Italy. In March of 1946 The American Legion Billy Peterson Post #165 was established to honor the first Wolcott serviceman to be killed in World War II and also to serve as a war memorial. Billy Peterson was not related to the Peterson Dairy farm family on Spindle Hill.
The old Sherman WWII tank that sits in front of the American Legion Post on Wolcott Road has an interesting and long history in our town. Prior to 1972 the tank was located in front of Headquarters Restaurant on Meriden Road about where Bartlett Construction is located today. Pat and Kelly Crean established that restaurant after Pat returned home from the Army where he was a cook. Originally a Legion Post chartered in 1957 had been located there and members were able to get the tank from an Army salvage depot in Letterkenny, PA for free in September of that year. It took eight days on a rented flatbed truck, eighteen traffic tickets and $1500 to get the tank to Meriden Road. Years later in 1971, the Legion charter was canceled and when they left the building they passed the tank ownership onto the restaurant owners. The tank remained there until October of 1972 when construction of a new bank forced it to be moved; thus the American Legion Billy Peterson Post prepared for the tank's six-mile trek across town. The 712th Heavy Equipment Maintenance Division of the Army National Guard team was called in from Windsor Locks to move it to its present location; it has remained there for forty-seven years.
This spring the American Legion Post was able to get a brief history of where the tank had served during WWII. It was built in the winter of 1944 by Chrysler and was on the battlefields of Italy by the summer of 1945 and possibly later in Korea. In June of this year the tank was totally refurbished by members of the United States Army Brotherhood of Tankers (USABOT). Prior to their arrival Mike Daley who owns Daley Power Washing in Wolcott offered his services free of charge. He was able to remove all the loose debris from the tank so that on May 11th when the team arrived it was ready for a makeover! They stripped the tank of paint and grease and applied an initial primer; it was then painted with authentic lusterless olive crab. The team stenciled on an authentic unit designation C16, C for Connecticut and 16 for the first two post numbers. They also added new headlights and taillights. When the tank was completed the Boy Scouts completed a community service project and beautified the area. A re-dedication ceremony was held on Sunday, August 18, 2019 at noon at the American Legion Post.
So the next time you are heading north on Wolcott Road slow down or pull into the American Legion Post parking lot and observe this majestic old Sherman tank. A special thank you to all the volunteers who worked to bring this project to fruition. To see a video of the progression of the tank project go to: https://bit.ly/2ZYIPCC USABOT - Abrams Co. - Burt's Knights - Wolcott CT Easy 8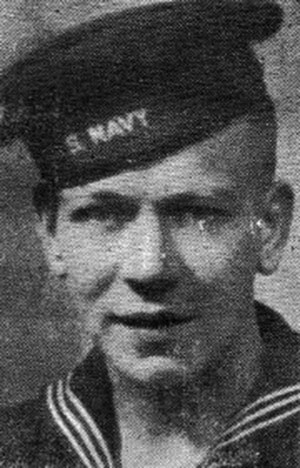 Billy Peterson, USN, killed in action on the USS Savannah.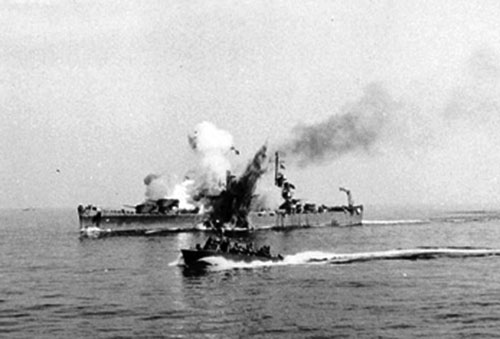 USS Savannah (CL-42) bombed on September 11, 1943.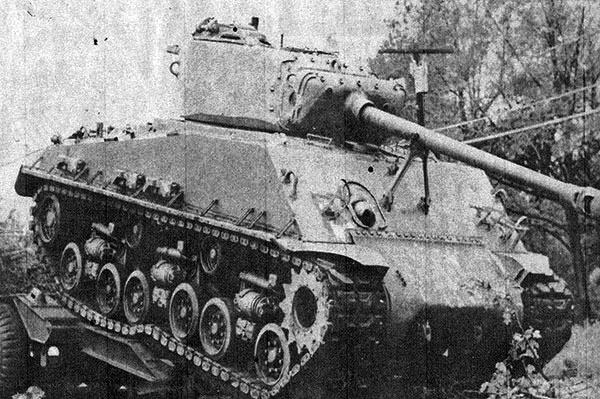 Moving the Sherman tank across town from Meriden Road to its new home, the Billy Peterson Post on Wolcott Road, October 1972.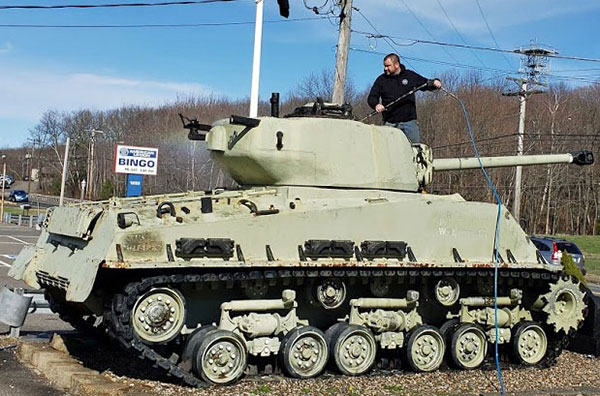 Mike Daley from Mike Daley Power Washing cleaning the tank before the USABOT team starts their work. Thanks for donating your service Mike!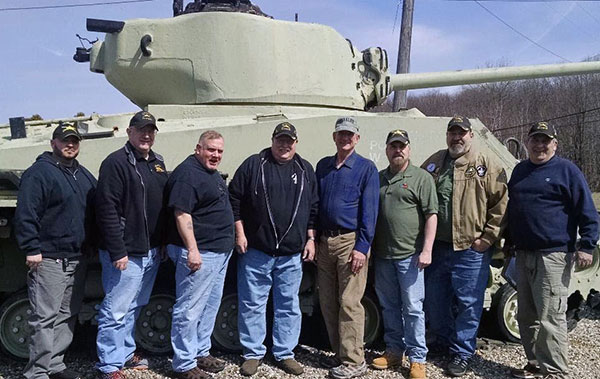 USABOT members who worked on the tank are from left to right: Elvis, Greg, Wayne, Jim, Bob, Russ, Wil and Chuck.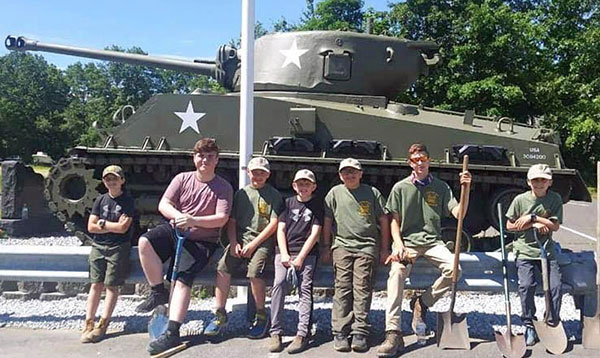 Boy Scout Troop 230 community service project, June 2019.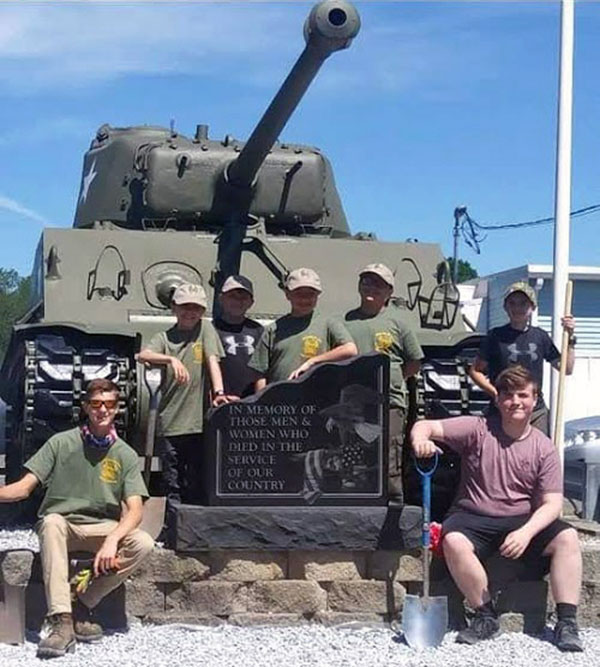 Boy Scout Troop 230 completed a community service project by beautifying the grounds around the tank and the monument. From left to right: Domenic Maldonado, JT Plona, Carson Wolcheski, Jason Teta, Jaden Teta, Brandon Price and Patrick Grasso.
---
To view past installments of the Historical Society News, click here.
---