Wolcott Historical Society News - July 2019
By Florence Goodman
Over the past few months I have been sharing stories of Wolcott women who had an impact on our local history. This month I'd like to remember Loretta Leonard who lived in our town for 103 years. She touched the hearts of many people throughout her life. She was a lifetime member of the Wolcott Historical Society and loved to share her stories of attending our old stone schoolhouse on Nichols Road with student visitors. I wrote about Loretta in June of 2016 after she celebrated her 100th birthday, but I felt her story was important to share again because she too was one of those early women who worked hard to improve the lives of her family and friends. Loretta loved her town and was proud to share the many stories of growing up here.
Loretta Nigro's family moved to Wolcott 3 months after her birth on May 11, 1916. She was the oldest of four children; she had a sister Beatrice and two brothers Jesmond and Dante. Loretta's father built their house, which still stands on the lower end of Woodtick Road. That house and twenty-five acres of land is where Loretta grew up. Their beautifully wooded land spanned from Woodtick Road to the end of Finch Road; it was a great place to work and play. Her family grew many vegetables on the land, especially greens as well as cultivating wild dandelions on the property. She was of Italian heritage and her family always served "beans and greens" as she stated. They had a dairy cow that Loretta milked each morning before she walked to the old stone schoolhouse. She had other chores when she returned home each day.
Loretta began school in September of 1922 at the age of six and graduated from 8th grade in 1929. One of the advantages of attending a one-room schoolhouse was if you were a bright child you could easily learn lessons that were being taught to the older students; that was the case with Loretta because she skipped third grade. She attended that school for 7 years and then went on to high school in Waterbury
In the 1920s the daily walk to and from the stone schoolhouse with friends and siblings was always a great adventure. The landscape along Woodtick Road was quite different from today because the original Woodtick Road ran very close to the Mad River down behind the houses that are built on the northwest side of Woodtick Road. Garthwaite Road was originally part of old Woodtick Road and Finch Road began at that intersection. A narrow wooden bridge took you across the Mad River when traveling on old Woodtick Road. The kids could stop at the river and find many interesting creatures in the water. In 1928 improvements began on Woodtick Road; they moved the road and bridge away from the Mad River and out of the flood zone and a new cement bridge replaced the wooden one. Loretta said, "Just watching that construction was an education in itself." Most of the land along both sides of Woodtick Road up to Nichols Road was part of Bock's farm. As you got closer to the reservoir, the land ownership changed to Mr. Gustave Cornelis, a prominent businessman in the Woodtick section of town. Loretta remembers him as a grouchy man who would chase them off his property, but they always found a way to return because there was so much to do there. There was the swinging bridge that ran over the Mad River; the boys would swing it and scare the girls as they crossed. Then there was the half-mile trotter track located where the baseball field is today. Mr. Cornelis loved racing his horse and sulky around the track and they loved watching this on their walk home from school.
Loretta loved her days at the old stone Schoolhouse. They had no days off so they attended school in all kinds of weather. There was no indoor plumbing, but there were two outhouses, one for the girls and one for the boys and the well pump just outside the entrance door. A wood-burning stove heated the building and the older you were the further away from the stove you sat. The younger children were smaller so they sat closer to the heat. Loretta remembers wearing gloves on some winter days because it was so cold in the classroom. All the students had jobs to do before and after school and sometimes during recess.
After Loretta graduated from the Woodtick Stone Schoolhouse in 1929 she attended high school in Waterbury. During her high school years Loretta worked as a waitress after school at the pizza place called "Aunt Jenny's" which was located next to her house. She had planned to attend college and become a home economics teacher, but the times and family responsibilities did not allow that to happen. Loretta was married and had two wonderful daughters Lorena and Roberta who she raised on her own.
Loretta worked hard all her life to provide the best she could as a single parent. She worked 40 hours a week at Peter and Paul's in Naugatuck for over 30 years and during that time she was laid off 5 times in 7 years. This was devastating to her family needs so she took on a second job in 1957 as a Wolcott Police dispatcher. At that time the Police Station was located in the old Center School on Center Street. That same building now houses the Wolcott Historical Society that Loretta loved so much.
Her daughter Roberta stated, "The second job required her to work Friday and Saturday nights 11:00 pm - 7:00 am. Sometimes Lorena and I would go with her because no one could watch us. Sunday morning after working all night, she would bring us to church and then Sunday school. She would cook us a Sunday Dinner then go to bed so she could start all over on Monday. She worked at the Police Station for $1.05 an hour. During the times she was laid off unemployment deducted the $17.00. She continued to work the second job for nothing because she said when they called her back to work it would be extra money." Roberta also shared that, "In addition to working so many hours she cooked, cleaned, mowed the lawn, shoveled the driveway, took us for our accordion lessons, fencing, bowling and sports events. We had a full and normal childhood thanks to my mother."
Although Loretta was never able to attend college she made sure that her daughters did and she was extremely proud of the fact that both her girls were teachers. During the years that her girls were in college Loretta added another job to her repertoire; she began her cake-baking career, which earned her the name "the cake lady." This was the beginning of many years of hard, but enjoyable work for Loretta. Some nights she would be baking until 2 or 3 in the morning then was ready for work in Naugatuck at 7:00 am. She was committed to this second career and never wanted to disappoint a customer. She and the girls delivered cakes all over town and there was usually a story attached to each delivery.
Loretta was also active in local organizations, but especially the Grange and the Historical Society where she was a lifetime member in both organizations. Loretta was presented the Rosann Barrett Community Service Award by the Junior Women's Club and also served as Italian Mayor for the Day. Her daughter, Roberta stated, "She will be remembered for being loyal and dependable, with a giving heart."
(Information for this article was taken from my June 2016 article in the Wolcott Community News; Loretta's obit in the Republican-American, June 4, 2019 and the eulogy given by Roberta Leonard on June 6, 2019)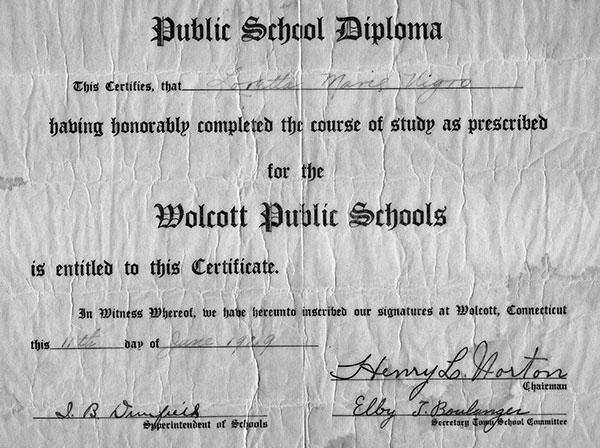 Loretta Nigro's diploma from 8th grade, June 11, 1929.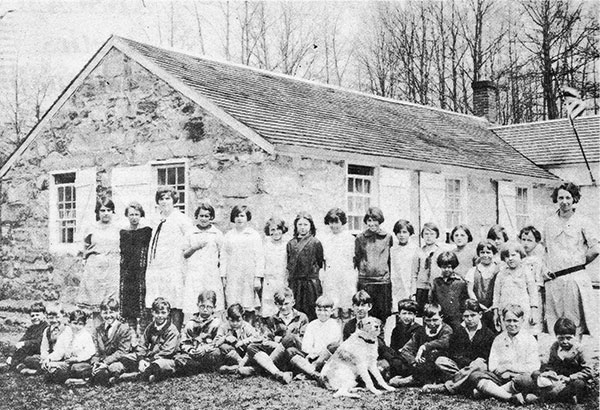 The students of Wolcott's Old Stone School (Woodtick School) line up for traditional photograph on May 9, 1927. Front row from left to right: Edgar Duhaime, Richard Snow Jesmond Nigro, Charlie Snow, George Goodson, John Knise, Gregory Boulanger, Charles Sharp, Kenneth Garthwiate, Philip Boulanger, Frank Webber, unknown, Andrew Washenko, Judson Towne, unknown. The three in the second row to the right: Thelma Boulanger or Nadya Passuck, Beartice Nigro, Anna Snow. Rear row: Edith Moss, Helen Garthwaite, Dorothy Moss, Nancy Goodson, Genevieve Garthwaite, Mildred Snow or Alice Passack, Mary Rozdilski, unknown, Loretta Nigro, Violet Dingwell, Gertrude Duhaime, Nellie Rozdilski, Mary Garthwaite, unknown, Mrs. Ethel Loring Somes of Mt. Desert Island.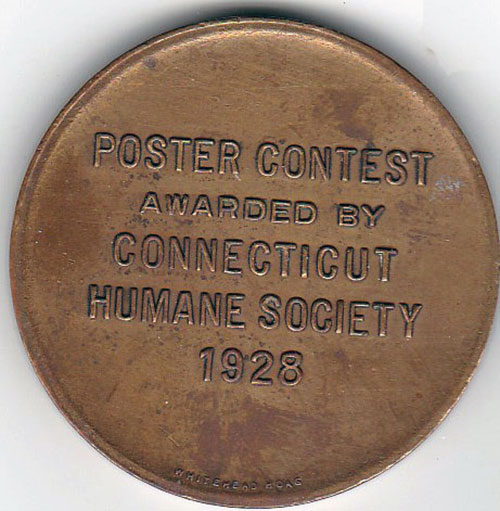 Back of the medal that Loretta received for her poster contest.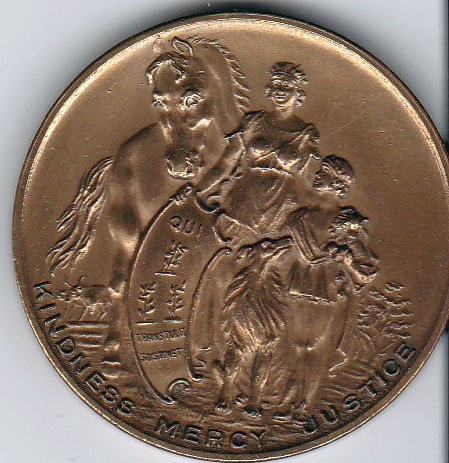 The front of medal that Loretta received for 2nd place in the contest of her drawing titled "A Boy and Dog". The medal was awarded by the Humane Society..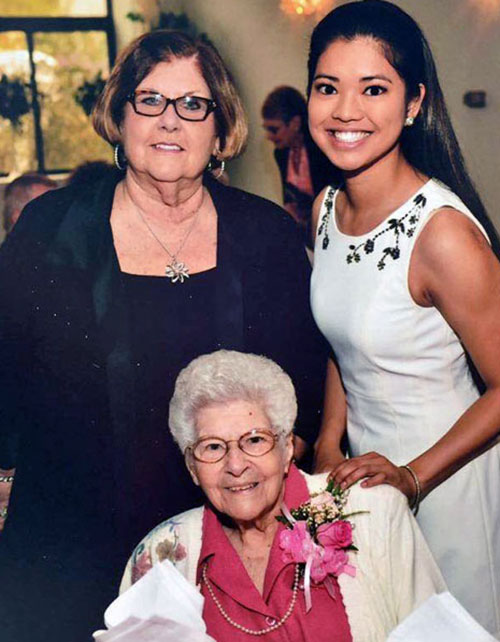 Loretta at her 100th birthday celebration with her daughter Roberta and granddaughter, Jennie.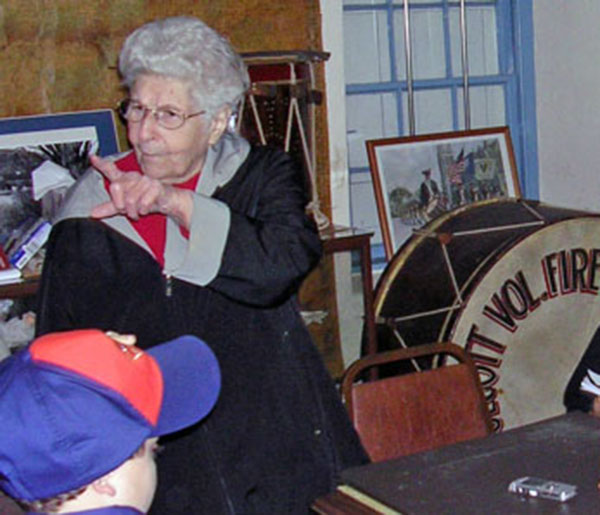 Loretta reminding students to behave in school.
---
To view past installments of the Historical Society News, click here.
---