Wolcott Historical Society News - January 2019
By Florence Goodman
Happy New Year and welcome 2019! Several months ago the Farmingbury Women's Club asked if I would speak at their upcoming January meeting, which I agreed to do. When asked what topic they wanted discussed, they replied, "Important women of Wolcott." Several names immediately popped into my head to name a few; Mary Rufina Carter, Reverend H. Gertrude Coe, Eva M. Tyrrell, Rose Wakelee Badger, Minnie Warner Bergin and Jane Woodard! I will begin to share their stories, but it may take several articles to complete this task so this month I will share the first two.
The first woman I'd like to discuss is Mary Rufina Carter affectionately known to residents as "Aunt Mary". She grew up on Maple Hill Farm that was located one half mile south of Wolcott Center at 155 Bound Line Road in an area called "Hogs-Fields" Hill. The farm originally belonged to Major Luther Hotchkiss who married Anne Hall in 1800. They lived on the farm and raised their five children there. One of their son's, Stiles Luther Hotchkiss (3/25/1817) married Ann Holt in 1836. They had three children and their daughter, Mary Rufina, born on March 29,1840 married Henry B. Carter on February 1, 1860. They lived in a house on Coe Road, but around 1885, Henry and Mary sold their Coe Road house and took over Mary's family home on Bound Line Road. They added a large horse barn and shed to the property attaching them to an existing building and hay barn, which are still standing today. Mary's husband, Henry died in 1900 at age 61, but Mary continued to farm the land and live on the farm.
Mary worked as a correspondent for the Waterbury and New Haven newspapers for many years. She loved writing poetry, much of which was published in local papers in the late 1800s. In 1913 she wrote a story about life on early farms since she spent most of her 91 years living on farms in Wolcott and saw many changes take place on the farm. In 1863 the first mowing machine was used on their Bound Line Road farm. They had a one-horse mowing machine, but there was a heavier cattle-drawn machine available. It was also about that time that four-wheel wagons began to be used for carrying loads; prior to this two-wheel vehicles did all the carting. Men raked hay by hand until rakes were added to the machines. Farming changed over time as farm implements improved; cultivators replaced the hoe, the mower replaced the hand scythe, and the horse rake replaced the hand rake. Mary was considered a very reliable source of information pertaining to Wolcott. She was a member of the Mad River Grange, the Congregational Church (77 years) and the King's Daughters of that church, which was established in 1896 under her leadership. Mary was the oldest living member of the church at the time of her death on July 6, 1931. Mary is buried in Edgewood Cemetery.
Another interesting woman who lived in Wolcott most of her adult life was Reverend H. Gertrude Roscoe. (Referred to as "Reigel" in the Waterbury Sunday Republican 11/7/1920 article and in "The Meeting House Atop of Benson's Hill" by John Washburne 11/18/1973) Hannah Gertrude Roscoe, who preferred to be called Gertrude, was born in Leeds, Yorkshire, England in 1877. Her family moved to Boston when she was eight years old, but later moved to Rochester, Vermont where her father served as the minister of the Universalist Church. At age nineteen she was in nurse's training at Mary Hitchcock Hospital in Hanover, N.H. when she was stricken with typhoid fever and hospitalized for some time. This was a turning point in her career; she had to make a choice, nursing or preaching? She had gone to school at Crane Theological School at Tufts and worked at her father's church as a Sunday school teacher and a Christian Endeavor leader and occasionally as a substitute preacher. At the age of 21 she had received her license to be a minister in New Hampshire, but she could not perform all sacraments, until she was ordained. On June 6, 1900 she was ordained in Felchville, VT and spent two years there as a substitute preacher at the Felchville Universalist Church; her decision had been made.
Reverend H. Gertrude Roscoe arrived in Wolcott on December 24, 1910 after accepting a five-month position to serve as the minister of the Wolcott Congregational Church. She was the first woman pastor of the church and after serving her five-month contract she was asked to preach for an additional year, which she did. The congregation agreed to pay her $500 and to give her "use of the parsonage with all the land and buildings thereon", which at that time was located on Brooks Hill Road. Reverend Roscoe was very active in church work preaching through a long winter in the morning at the church at the center and in the evening at the Woodtick chapel. She was superintendent of the Sunday school at the Woodtick chapel, leader of the Bible class at the center, did all her own housework and cared for her horse. During this time in Wolcott she met Elmer W. Coe of Wolcott and now she reached another turning point in her life. On January 1, 1912 she resigned as pastor of the Congregational church in order to marry Elmer. After their marriage she continued to be active in various churches throughout the Waterbury area. She also headed the local Red Cross chapter during WW I sharing her nursing and preaching expertise. The couple had five children: Elmer Jr., Elizabeth, Florence, Albert and Dorothy who died shortly after childbirth.
In 1927 when the newly rebuilt Woodtick Chapel opened, Reverend Coe baptized sixteen children there. Through the years she performed marriages in the churches in Wolcott and in the Mill Plain Church in the east end section of Waterbury; she was delighted to be able to baptize all of her grandchildren. Reverend H. Gertrude was a strong woman of faith serving as preacher, nurse, wife, mother, cook and farmer; she loved the life she led and Wolcott was blessed because of her.
If you know of a woman in the town that had an interesting history, please contact me at our website wolcott history.org
(Information for this article was taken from Waterbury Sunday Republican, 11/7/1920 article; Waterbury Sunday Republican, 6/1/1952 article by Lyall H. Hill; The Meeting House Atop of Benson's Hill by John Washburne 11/18/1973; conversations with Lois Coe Megin, Wolcott and Lee Coe Jensen, Waterbury on 12/14/18).
Mary Carter.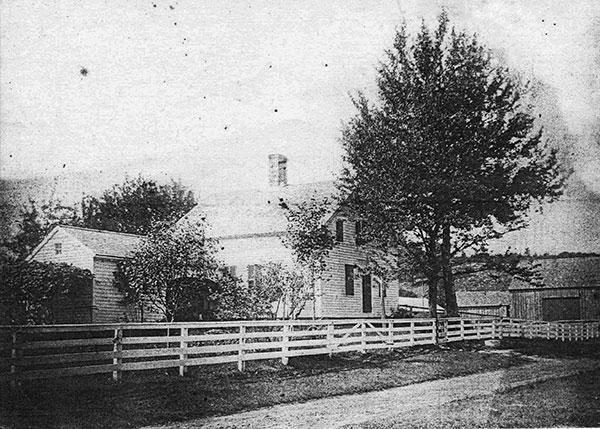 Maple Hill Farm at 155 Bound Line Road prior to a 1934 fire.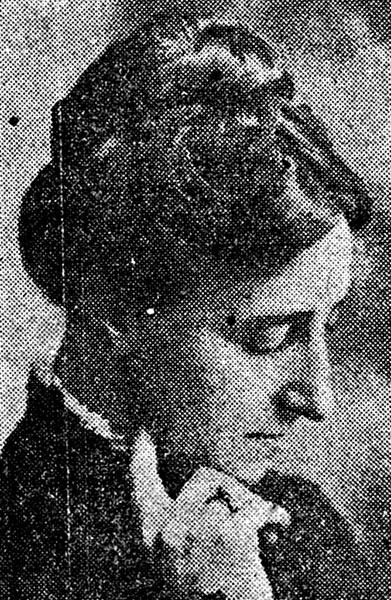 Reverend H. Gertrude Coe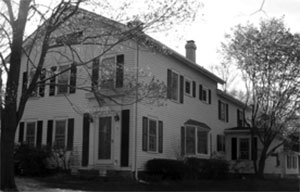 The old parsonage on Brooks Hill Road was sold in 1946. Today it is the home of the Rogozinski family at 17 Brooks Hill Road.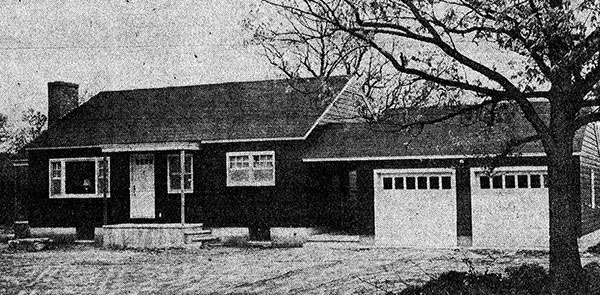 An early picture of the home of Elmer and Reverend Coe located at 121 Coe Road.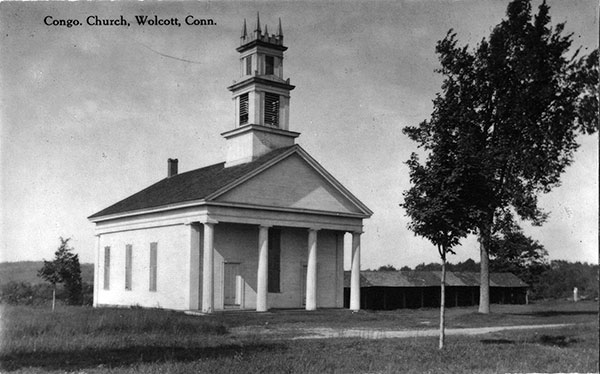 Early picture of the Congregational Church and the horse sheds prior to 1948.
---
To view past installments of the Historical Society News, click here.
---