Wolcott Historical Society News - December 2018
By Florence Goodman
The first Friday of November is always the date of our "Pizza, Pies, Games and Cards," which is a fun night for all who attend. We could not give the great door prizes or have the raffle items that we have without the help from our local merchants. I want to give a special thank you to them. Their generosity helped to make this annual fundraising event another great success; and so I say, "thank you," Bill & Sam's, Denise's Hair Affair, Discount Liquor Outlet, Dunkin Donuts, Fascia's Chocolate, Hawk Ridge Winery LLC, Hitchcock Pizza, Imagination Nation, KidCity-Middletown, La Fortuna's Restaurant, Mikraft Jewelry, Nutmeg Farms, Pat's IGA, Orchid Florist, The Print Shop, Raymond's Building Supply, Sandy's T.V & Appliance, Schmidts & Serrafines, Seven Angels Theatre, Showcase Realty Inc., Ski MT Southington, Snips & Tips and Walsh's Market. I also say, "thank you" to the Historical Society members who made gift baskets or purchased gift certificates for our raffle. This is also the beginning of our membership drive so if you renewed your membership we appreciate your support. If you have not renewed your membership, please consider doing so.
This month's article deals with information about Wolcott that is found in a newly released book called "CONNECTICUT 169 CLUB," which is a travel book about interesting sights and facts found in towns all over our state. The Friends of the Wolcott Library and the Wolcott Historical Society are hosting a "Book Talk" on this book on December 5th at 6:30 at the Wolcott Library. The author, Marty Podskoch will give a brief PowerPoint presentation about the book and then hold a book signing. If you would like to attend, you must RSVP by December 1st by calling the Wolcott Library at 203-879-8110.
I wrote the section on Wolcott that is found in the book and would like to share it with you. My hope is that this will give you a better understanding of what each town was asked to submit.
Wolcott's early history began as a tale of two towns: Farmington in the east and Waterbury in the west. Prior to that time the region was a densely wooded area, which served as the hunting grounds for the Tunxis Indians.
In the early 1700s settlers began to inhabit various sections of town. One of the earliest settlers, John Alcocke (Alcott) purchased 117 acres of land and built a house on Spindle Hill in the western section of town. As more settlers moved into these two areas, disputes over town boundaries arose; thus Bound Line Road was born. This road was the dividing line between Waterbury and Farmington so the name Farmingbury was created.
The early settlers of Farmingbury had to travel substantial distances to attend public worship meetings on the Sabbath so in 1760 and 1761 they petitioned to the General Court to establish themselves as a separate and distinct ecclesiastical society or parish. Both petitions were denied because the towns of Waterbury and Farmington needed their financial support for their ministry and schools. The Court however agreed to give Farmingbury the services of a minister, operating its own schools and an exemption of Waterbury parish taxes during the five winter months. In 1767 and 1768 they petitioned again and were denied, but finally in1770 the General Court in New Haven allowed them to become a distinct and separate parish. On November 13, 1770 at the home of Joseph Atkins they held their first meeting of the Ecclesiastical Society. At this time the Congregational parish officers were elected, a tax rate was set, and construction of a meetinghouse was agreed upon. Members of the colonial drum band helped raise the frame of the church in April 1772 and by November the first meeting was held in that church.
By the mid 1770s Farmingbury was supporting Connecticut in the fight against Britain in the American Revolution. Over the course of that war Farmingbury sent 102 militiamen between the ages of fifteen to fifty. With the end of the War came a resurgence of population growth and by the mid 1780s the parish population was 600.
In 1787, Farmingbury petitioned the General Assembly to be freed entirely from its parent towns of Waterbury and now Southington (which had been divided out of Farmington in 1779), but were denied. Petitions failed again in 1792, 1793 and 1795 because of strong opposition from Southington, but in May of 1796 the town was granted its freedom by a tie-breaking vote cast by the state's Lieutenant Governor, Oliver Wolcott. To show their appreciation for the role he had played in securing separate town status, the town representatives voted to change the name from Farmingbury to Wolcott.
Wolcott boasts of two prominent men born and raised in the Spindle Hill section of town. First was Seth Thomas a well-known clockmaker born in 1785. He built his first clocks here and gave jobs to many locals who helped in the production of these early clocks. The second was Amos Bronson Alcott born in 1799. He was a well-known educator, philosopher, poet and Yankee peddler who later moved to Pennsylvania where his daughter, Louisa May Alcott was born.
(Information for this article was taken from "Wolcott, Connecticut 175th Anniversary 1796-1971 by John Washburne, "A Brief History of Wolcott," by M.M.N. Hall, 1962, and "The 1986 Historic Resources Inventory" by J.P. Loether)
Some Interesting Sites In Wolcott, Connecticut
> The Historic Town Green and Historic District located on Center Street (CT 322) and Bound Line Road.
> Peterson Park on Mad River Road off of CT 69.
> Wolcott marks the beginning of the Mattatuck Trail, which can be accessed at Peterson Park located on Mad River Road.
> Wolcott Dog Park, which is located next to Peterson Park on Mad River Road.
> The 3.5-mile Mill Pond Way Walking Trail, which is located in the Woodtick section of town on Wolf Hill, Munson, Nichols and Woodtick Roads.
> Woodtick Recreation Area located on Nichols Road.
> BAW Baseball Fields located on Nichols Road.
> Wolcott Sports Complex located on Spindle Hill Road.
> The Wolcott Historical Society Stone Schoolhouse Museum built in 1821 located on Nichols Road.
> Farmingbury Hill Golf Course located on East Street (CT 322).
I hope this brief history of our town as well as the points of interests will give you an idea of what you will find in the book in reference to other towns. I have also included two of the pictures that are included in the book. It might make a great holiday gift for the traveler in your life!
Before I begin this month's article I'd like to make an addition to last month's article on the W.E. Tyrrell Farm. I was fortunate to speak with Janet Marti-Belanger-Johnson and she reminded me that she was Polly Marti's daughter. She shared that her grandfather William Tyrrell ran the farm on Beach Road until his death in 1947. After William's death the farm continued operations and was managed by Edwin H. Mearing. In 1951 the barn was destroyed by fire and the dairy closed. She also mentioned that both William and Selena are buried in Edgewood Cemetery. Thanks so much Janet for filling in the rest of the blanks about this great old dairy farm on Beach Road.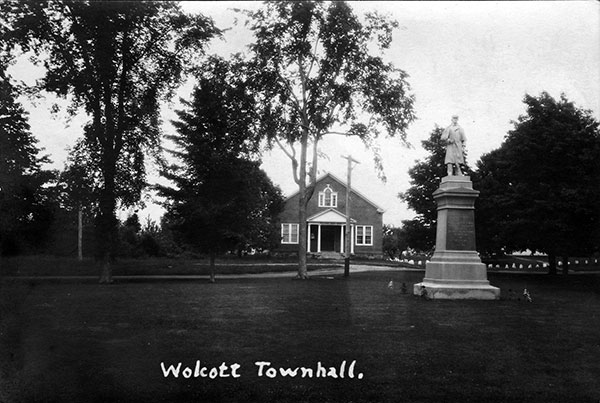 Wolcott Town Hall in 1923.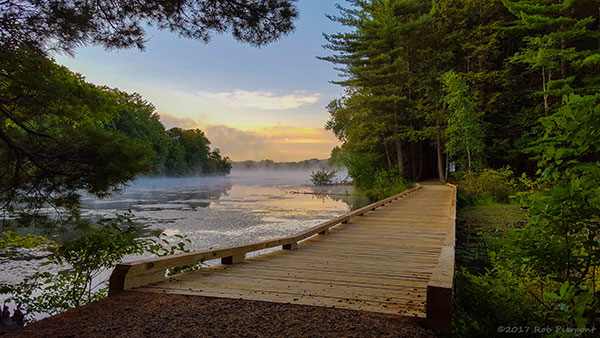 Bridge on Mill Pond Trail.
---
To view past installments of the Historical Society News, click here.
---