Wolcott Historical Society News - April 2018
By Florence Goodman
What's in a name? Have you ever wondered what influenced the naming of streets or schools around our town and who these people were to warrant naming something after them? This month I'd like to discuss the Lewis family, their impact on the history of our town and why they had a school and a road named for them.
Several years ago, I received an email from Allison Black, a relative of the Lewis family looking for specific information on Nathaniel and Appleton Lewis. I supplied her with what I had and in return she shared her family history/genealogy for which I am extremely grateful.
In the small historic Southeast Cemetery (c.1772) hidden along Wonx Spring Road on the Southington Reservoir property stands a repaired tombstone with the inscription, ""NATHANIEL LEWIS... died Feb. 24, 1839, aged 90 years. He was one of the first Settlers of this Town. An Honest Man."
The Lewis history begins with William Lewis, his wife, Felix, and their son, William Jr. who arrived in Boston in 1632 from England and settled in Hartford in 1636. By 1653 they had moved to Hadley, Massachusetts where in 1671 Felix died. Shortly after, William and his son settled in Farmington, Connecticut; William died there in 1683. William, Jr. remained in Farmington and was the first registrar there. William, Jr. had sixteen children, ten by his first wife, Mary Hopkins and six by his second wife, Mary Cheever. Samuel Lewis was one of the sons of William and Mary (Hopkins) Lewis who married Elizabeth, maiden name unknown; they had eight children. Their son, Nathan married Mary Gridley and they settled in Southington. They had nine children one of whom was Nathaniel born in December of 1747 in the Southington Mountain section of Farmington, which later became Wolcott, and so our story begins.
In 1769 Nathaniel Lewis married Sarah Gridley; they had eight children. Sylvia, Rueben, Appleton and Addin were born before the Revolutionary War. In 1779 young Addin died, but in 1780 they had another son and named him Addin. In 1781 they had a daughter Roxana and after the war Salome and Nathaniel Gridley were born. Sarah died in 1809 and Nathaniel married his second wife, widow Lydia Frisbie; they did not have children. Early records show that as early as 1765 Nathaniel owned a house, as well as, a cow and horse barn in the eastern section of Farmingbury just below where the golf course is today. It is believed that the land came to him through his family who owned large amounts of land in Southington and Wolcott in the lower County Road area.
Nathaniel being an early settler in the Farmingbury Parish Society played an important roll in its government. As early as 1770 he served on a special committee to divide the community into school districts and was responsible for collecting the "poll rate" in the SE school district. Nathaniel served on various School Committees from 1771 through the 1790s. During the Revolutionary War Nathaniel Lewis served in the Continental Army in the rank of Lieutenant although he was referred to as "Captain Nathaniel Lewis."
An excerpt from an article written by Katherine Washburne in 1989 paints the true picture of him. "It was in June 1781 that opportunity was offered to Captain Lewis to render an outstanding service to his country and its French allies. Rochambeau and his six thousand troops, camped in the valley below the mountain were independent on the countryside for their sustenance. Stripping his farm of all edibles and livestock, he hauled it down the mountainside to the thankful French. When they departed, after a two-day stay, Nathaniel Lewis loaded a huge cart - drawn by four yoke of oxen- with provisions and accompanied the visitors to their destination on the Hudson River. Well rewarded for his service and oxen, he returned home on foot."
After the war Nathaniel continued to serve the Ecclesiastical Society of Farmingbury. In 1787 he was one of six men on the first committee to confer with the towns of Waterbury and Southington about a request for Farmingbury to become an independent town. This process for township continued for almost ten years and Nathaniel was there throughout this long ordeal. After the township was approved on May 9,1796. Nathaniel continued to serve on various town committees in the town; in 1802, 1805 and 1807 he served as one of three selectmen in town. In 1808 he served as the town moderator and in 1809 and 1810 he served as the town representative to the State Legislature.
Nathaniel's son Addin also played an important role in the town's history. As a young boy Addin worked on the family's farm, but then went on to pursue an education at Yale graduating with honors in 1803. At that time President Dwight of Yale was interested in the newly founded University of Georgia, which allowed Addin to become an instructor there. He spent ten years in the south making a name for himself as an educator and leader and was appointed to a high government post as Collector of the Port of Mobile, Alabama. He served as the first mayor there, then president of a bank and owner of a mercantile establishment, all the time accumulating a large fortune. Later in his life with his health failing he retired; spending summers in Connecticut and winters in Alabama. He died in Connecticut in 1842 and through his will the towns of Wolcott and Southington were allocated funds for education. The "Addin Lewis Fund" has helped educate our school children in many ways throughout our history by paying for the building and rebuilding of early schools and allowing students to attend schools in Southington when needed.
The original school in the southeast school district was called the South School, but was later renamed Lewis School in his memory. Lewis Street was also named for their family. Thus we are grateful to these two men from the Lewis family who helped to mold the history of our town in so many ways.
(Information for this article was taken from Family History of Nathaniel Lewis donated to the Society by Allison Black, a relative; an article by K. Washburne, They Loved Our Town, 9/19/89; The History Of The Town Of Wolcott, Connecticut From 1831 to 1874 by Samuel Orcutt; an article from the Waterbury Republican, Sunday Morning, October 3, 1926.)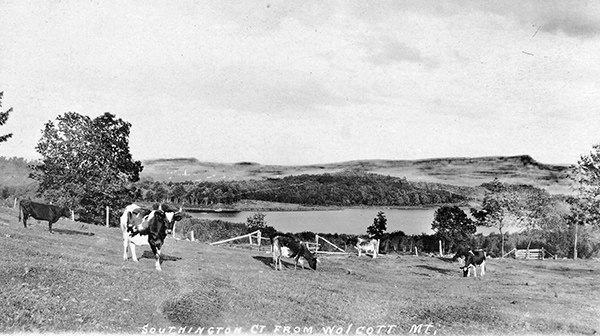 This farmland looking over the Southington Reservoir was probably part of  the Nathaniel Lewis farm.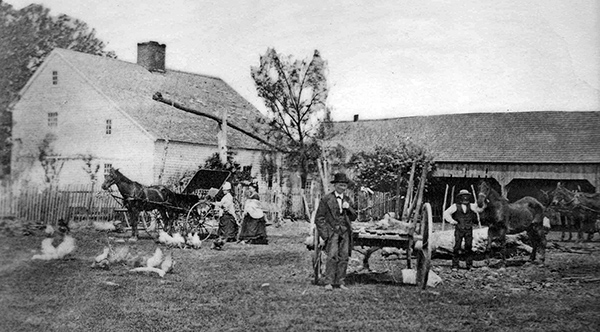 The Nathaniel Lewis farm was located on the land where the Farmingbury Golf Course is today. The date on this photo is unknown.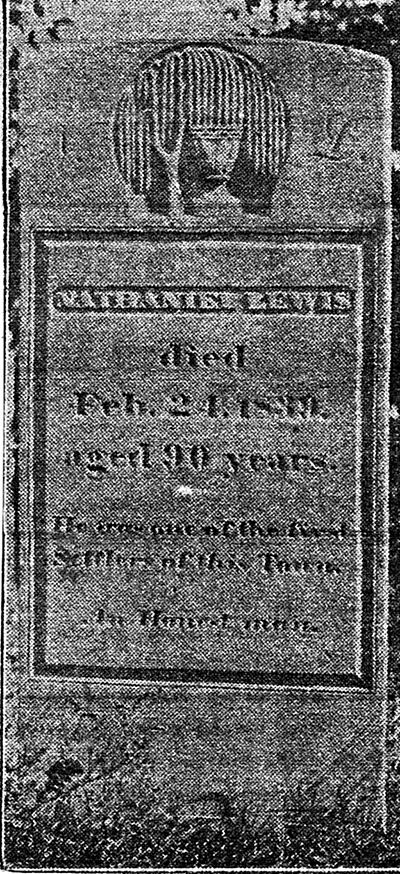 A 1926 picture of Nathaniel's tombstone.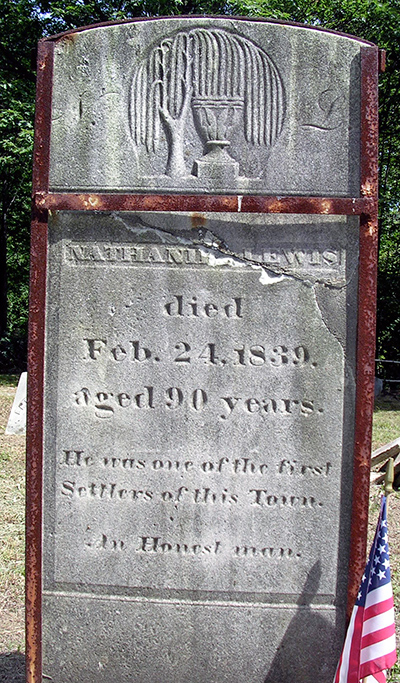 A 2008 picture of Nathaniel's repaired tombstone.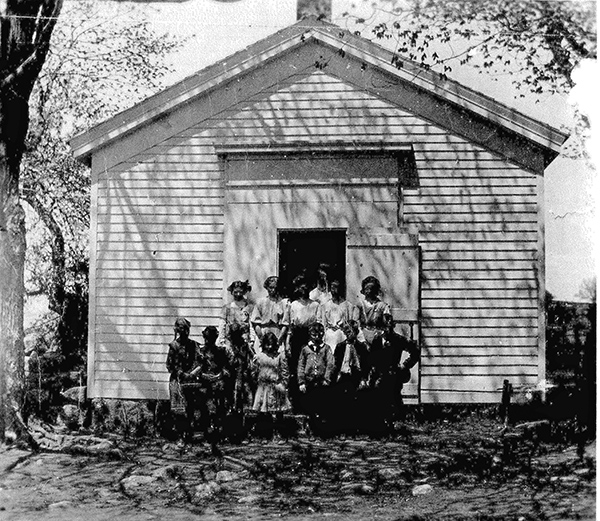 This is the second South School pictured in 1895. It was located on the corner of Meriden Road and Farview Avenue.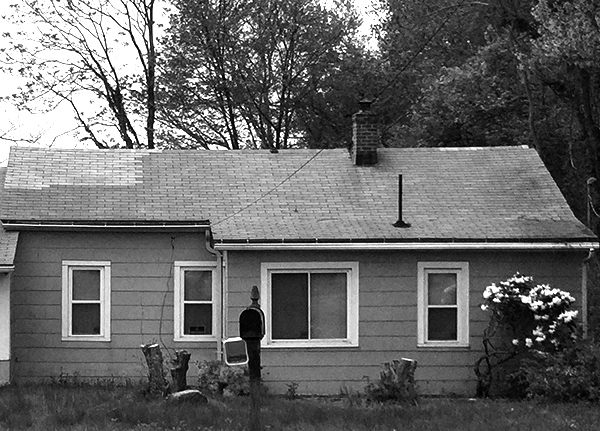 This South School was sold in 1923 and turned into a private dwelling. It was demolished in 2016 to build a new Cumberland Farms on Meriden Road.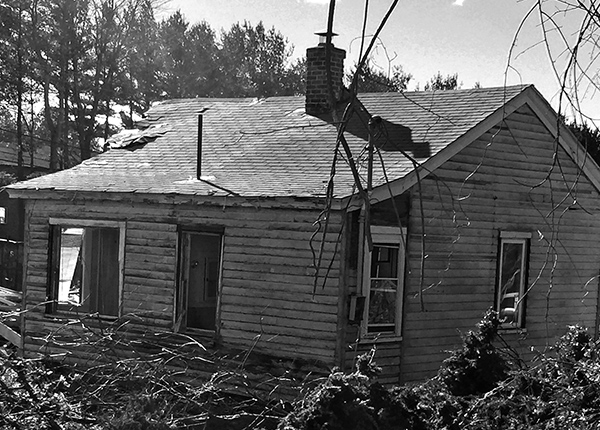 The original structure during the demolition in 2016.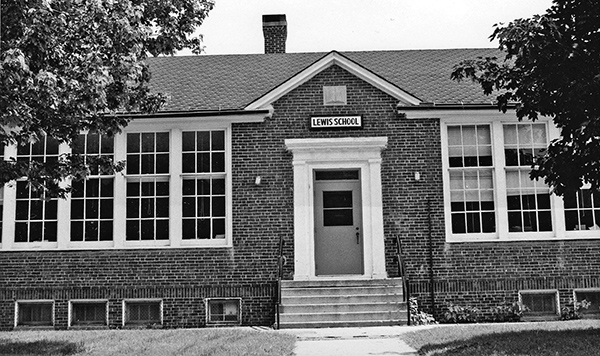 In 1922, a new two-room South School was built on Shelton Avenue. In 1930, two more rooms were added. In 1949, the school was renovated and renamed the Addin Lewis School. It closed in 1980 when it was replaced by the new Tyrrell School.
---
To view past installments of the Historical Society News, click here.
---