Wolcott Historical Society News - March 2018
By Florence Goodman
This month will conclude the biographies of our twenty-eight WWI veterans listed on the Honor Roll at the Wolcott Historical Society museum. Thank you again to Deb DuBois who has provided me with invaluable information about each of these veterans; I truly appreciate her many hours of research on Ancestry.com.
Frederic Earl Smith was born in Wolcott, Connecticut on July 30, 1889. His parents were Sydney O. and Helen I. Conrad Smith. He had a brother Walter C. Smith who lived on Spindle Hill Road. Frederic was married to Mary W. Dorland from New York. Prior to entering the war Frederic lived in the Bucks Hill section of Waterbury and worked as a surveyor and civil engineer. Frederic was commissioned into the U.S. Army on July 10, 1917 as a 2nd Lieutenant in the 74th Engineers Company as a Reserve. He trained at American University, Washington, D.C. from August to November 1917. He went on to serve in the U.S. Geological Division in South Carolina from November 1917 to June 1918. In August 1918 he traveled to Langres, France and served with the 1st and 2nd Battalions, 29th Engineers until December 1918. He was honorably discharged in March 1919 as a 2nd Lieutenant. The 1920 Census shows Frederic working as a civil engineer in Paragould, Arkansas. The census in 1930 and 1940 has Frederic and his wife Mary living with her family in Poughkeepsie, N.Y. and he was working as a civil engineer for the state highway department there. Frederic died on November 17, 1959 and is buried in the Poughkeepsie Rural Cemetery in Poughkeepsie, N.Y.
William A. Smith was born in New York in 1891. He was the son of Mary E. Smith; information on his birth father is not available. William's mother, Mary married William MacCormack in 1904 after MacCormack's first wife, Louisa died in that same year. William and Louisa MacCormack had one son, Louis James MacCormack. The 1910 Census shows William and Mary Smith MacCormack living in Wolcott and both sons living with them. William Smith was commissioned into the Army on June 12, 1918 and was discharged on June 26, 1919. Other than that, I do not have any other information on where he served during the war nor do I know what happened to him after the war. William's stepfather, William MacCormack was well-know in Wolcott; he had moved his first wife and his father to Wolcott in the 1880s from Brooklyn, New York hoping the climate in this area would improve his father's health. MacCormack was a carpenter by trade, but eventually he decided to try his hand at producing apple cider. He owned over 100 acres of farmland and apple orchards and ran MacCormack's Cider Mill on Wolcott Road. The mill was located on the Mad River behind where Rite Aid is today. MacCormack became known as the "Cider King" and people came from all over the state to buy his cider. MacCormack Drive is named for him and the house where they lived still stands on the corner of Potuccos Ring and Wolcott Roads. His son, Louis worked in the business with his father, but there is no indication that his stepson, William Smith ever did.
Charles Lawrence Theriault was born on March 1, 1897 in Waterbury, Connecticut. He was the son of Charles Edward and Delia Clements Theriault. Charles had five siblings: Ralph, Evelyn, Henry, Edward, and Harry. In 1910 the family was living in Waterbury and Charles was enrolled at St. Ann's School. By the 1920 Census the family was living in Wolcott in the Hitchcock Lake area. On October 13, 1917 at age twenty Charles enlisted in the Regular Army. He trained at Fort Slocum, NY and Kelly Field, Texas in the 24th Aero Squadron. He was assigned to the Allied Expeditionary Force from January 8, 1918 to August 1, 1919. He received an honorable discharge on August 8, 1919 and returned to Wolcott, but worked in Waterbury in a factory. In the 1930 Census Charles and his wife, Florence and their three sons were living in Southington. At that time Charles was working as a merchant selling ice, wood and coal at his own business, Theriault's Ice Company in Wolcott. The ice was cut from Theriault's Pond on Central Avenue where Lily Lake is today. The 1940 Census shows Charles and Florence still living in the Plantsville section of Southington. Their family had grown to a total of six children: Charles Jr., Thomas, Burton, Francis, Joan and June. Charles died on May 9, 1949 and is buried in St. Thomas Cemetery in Southington, Connecticut.
James W. Warner was born on January 22, 1897 in Waterville, Connecticut. His parents were Wilfred V. and Julia C. (Ashton) Warner. James had six siblings; Rosalind, Marjorie, Clayton, John A., Helen and Bertha. By the 1910 Census the family was living in Wolcott on Munson Road. The Warner family has a long history in Wolcott's government; Wilfred V. Warner served as town clerk from 1905 to 1930. Various family members also owned large tracts of land in town. James was also a member of the Wolcott Grange, #173. Prior to the War, James worked for the U.S. Department of Agriculture in Washington, D.C. He listed his occupation as stenographer/typewriter on his Military Service Record. He enlisted into the National Army in Columbus, Ohio on May 31, 1918. He was a private in the 12th Recruit Company in Columbus Barracks, Ohio until June 7, 1918. He was later promoted to private first class then to corporal On June 9th he was transferred to Camp Hancock in Augusta, Georgia and on October 31, 1918 he was promoted to Ordinance Sergeant. He was promoted to 2nd Lieutenant on December 9, 1918. He served in Georgia until February 20, 1919. James did not serve overseas. James was honorably discharged from Camp Hancock on February 20, 1919. A quote on his Military Questionnaire stated, "I was very anxious to get into the service and tried twice to enlist before accepted." He also stated, "Camp life did me a great deal of good. I had always worked in an office and the camp experience improved me physically." James must have returned to D.C after the war because in 1942 on his WWII registration card he lists D.C. as his address and states he was working for the IRS there. James died on December 15, 1971 and is buried in the Old Pine Grove Cemetery in Waterbury, Connecticut.
My hope is that you now have a better understanding of what these veterans endured during those turbulent times. I felt that it was important to share each one of their stories with you.
(Information for this article was taken from an "Honor Roll of WWI veterans" that hangs in the Historical Society museum; Ancestry.com research by Deb DuBois, CT Military Questionnaires, 1919-1920, US Federal Census 1910, 1920,1930, 1940, "The Waterbury American Newspaper" articles from Sept. 1930, March, 1932, 1953, and April 16, 1944,)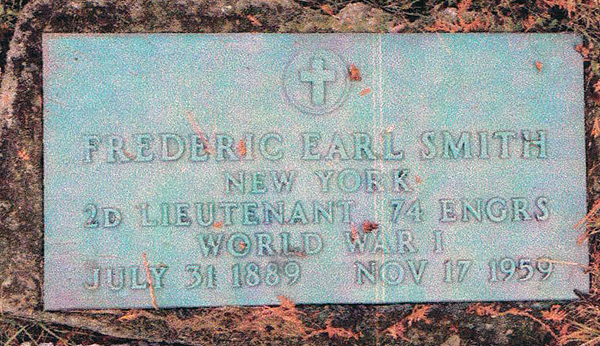 Military foot stone for Frederic Earl Smith in Poughkeepsie Rural Cemetery in New York.

The MacCormack House is located on the corner of Potuccos Ring and Wolcott Roads.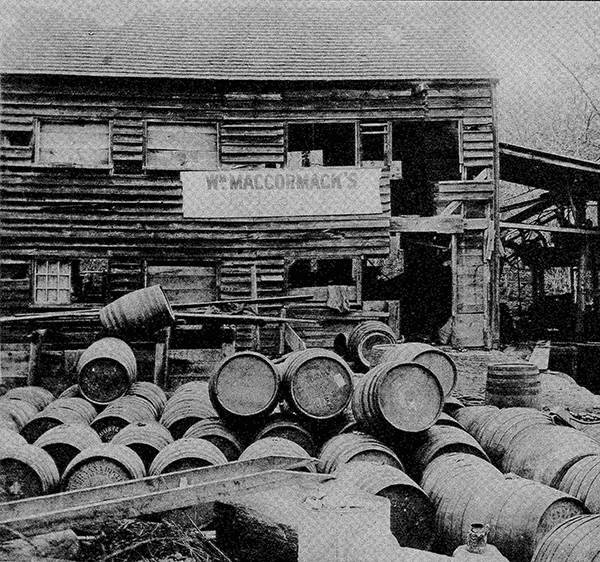 MacCormack's Cider Mill was located where Rite Aid is today.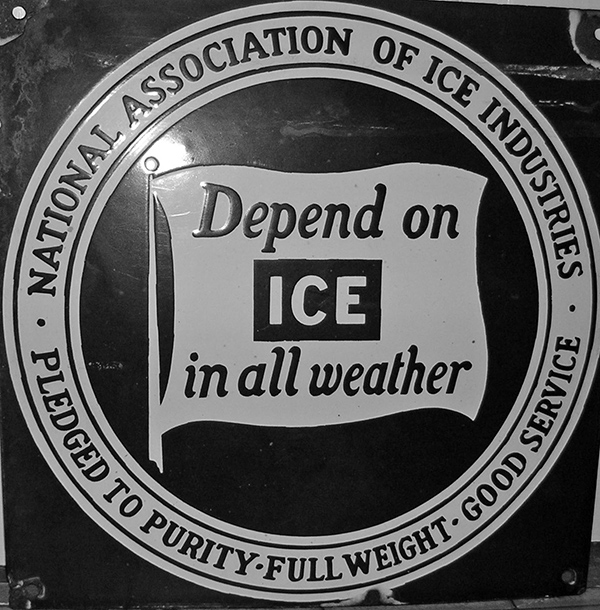 Charles L. Theriault owned Theriault's Ice Company on Lily Lake on Central Avenue.
Lily Lake was called Theriault's Pond when the Ice Company was there.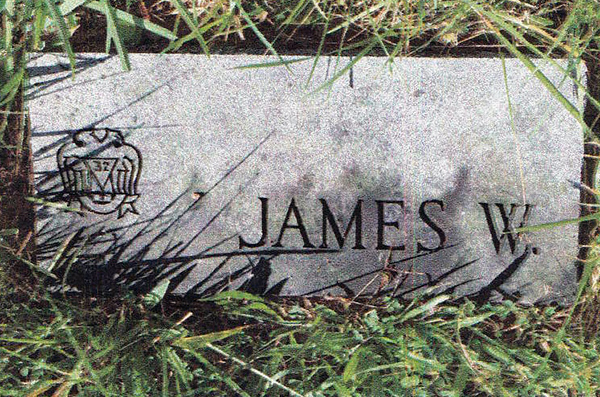 Foot stone for James W. Warner located in Old Pine Grove Cemetery in Waterbury.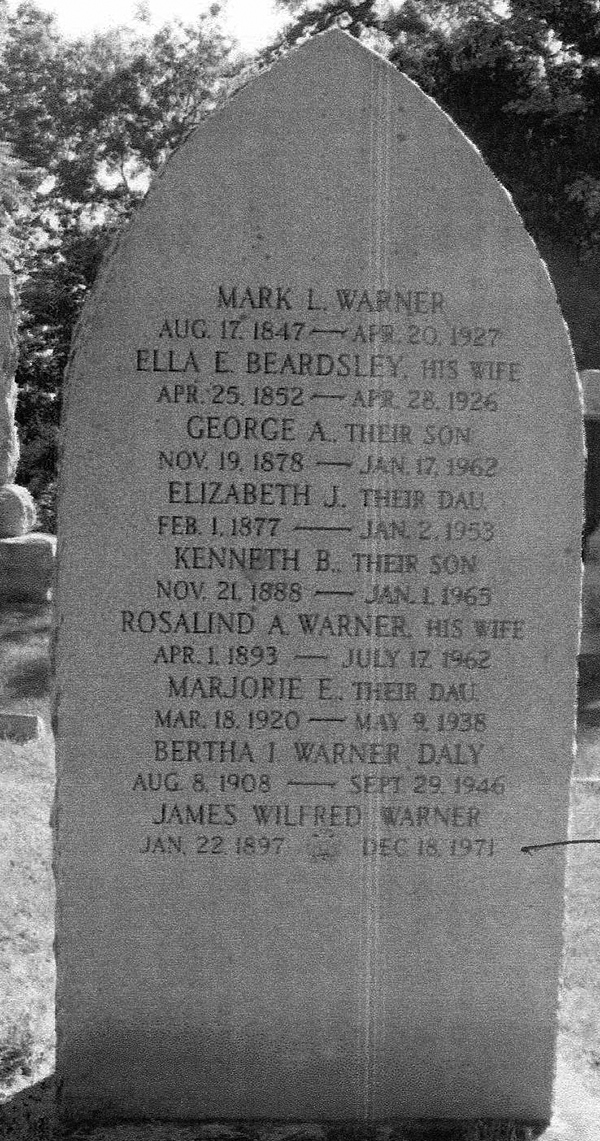 Warner family tombstone in Old Pine Grove Cemetery in Waterbury.
---
To view past installments of the Historical Society News, click here.
---