Wolcott Historical Society News - February 2018
By Florence Goodman
Last month I indicated that I had eight veterans left of the twenty-eight listed on our WWI Honor Roll. This month I will share four more histories from our Wolcott veterans. Before I start, I'd like to again thank Deborah DuBois for her many hours of research on Ancestry.com. She provided me with invaluable information about each and every one of these veterans.
Joseph P. Kane was born in Brattleboro, Vermont on August 12, 1887. His parents were John T. and Bridget Moran Kane. Their families were originally from Ireland, but immigrated to the United States in the mid-1800s. Joseph had four siblings John, Mary, Lewis and Bernard who were all born in Vermont. Joseph's family was living in Brattleboro at the 1900 census, but by the 1918 Joseph had moved to Wolcott and working as a farmhand on the Samuel G. Wilson farm. Joseph was commissioned into the Army as a private on June 5, 1918 and embarked from Newport News, Virginia as part of Battery E, 46th Artillery C.A.C. The C.A.C was the Coastal Artillery Corps and its purpose was to provide all U.S.-manned heavy artillery, which included railway artillery and later anti-aircraft artillery. Most of equipment they used in WWI was from France and Britain. For the most part, these men worked along side French forces. Most of these units did not see action before the Armistice, which was on November 11, 1918. No information was found on when Joseph returned home, if he returned to Wolcott, or where he is buried.
Manville Norton was born on February 20, 1895. His parents were Harley Adelbert and Mary E. Norton. He had two sisters Althea and Iva. He lived in Wolcott most of his early life and into adulthood. In 1917 he was working on A. H. Norton farm on Wolcott Road in Wolcott. (The Sills family later owned this farm.) It wasn't until his later years that Manville moved to Waterbury where he worked in a factory and later worked as a trucker. Manville completed the Connecticut Military Census form for WWI on March 8, 1917 at the age of 23. At this time he was working on his family farm on Wolcott Road. He states that he could ride a horse and handle a team. He also listed that he had a physical disability called "rupture," which I assume was a hernia. There are no military records found for him so I would assume that he never served because of his medical problem. Manville is the only person listed on our WWI Honor Roll that did not serve in some capacity in the war.
Arthur James Roberts was born on December 25, 1887 in Southington, Connecticut. His parents Elijah Roberts and Annie Knibbs were married in Westfield, Massachusetts in 1870; they had five children. His parents later divorced and his mother remarried Orville A. Root of Southington. Arthur was commissioned on May 24, 1918 at the age of 29. On the Connecticut Military Census he listed his residence as Waterbury and that he was doing farm work for H.E. Roberts in Wolcott. He was married and had three dependents. Arthur served as a private in the National Army from May 25, 1918 until he was honorably discharged on December 16, 1918 due to the Armistice for WWI. Arthur served in the 304th Ambulance Company. Arthur died on June 27, 1951 at age 63 and is buried in Oak Hill Cemetery in Southington, Connecticut.
Forest H. Rogers was born on November 7, 1899 in Bath, Maine. His father was George William Rogers who was a machinist and engineer. His mother was Idella Vesta whose family emigrated from Germany to Maine. He had one sibling, a brother, Ernest. Forest attended Bowdoin College in Brunswick, Maine from 1917-19 and Bowdoin Medical School from 1919-1921. He then entered Yale School of Medicine where he received his medical degree after interning at Waterbury Hospital from 1923-24. He specialized in traumatic surgery serving as an orthopedist for Henry Sabin Chase Memorial Dispensary and in 1925 as assistant orthopedist for Waterbury Hospital. During his early college years he joined the Student Training Army Corps (S.A.T.C.). He later served as a lieutenant in the Medical Detachment of 102nd Regiment of the Connecticut National Guard, which was organized during WWI. Dr. Forest Rogers married Florence Wakelee. The wedding was held at the Wakelee home in Wolcott, Connecticut on June 26, 1926. Florence was a 1924 graduate of the Waterbury Hospital School of Nursing. Dr. Forest Rogers died on August 12, 1927 at the age of twenty-seven. His death was caused by a streptococcus infection that he contracted during an encampment of the 102nd Regiment at Camp Trumbull in Niantic, Connecticut. He is buried at the Woodtick Cemetery in Wolcott, Connecticut.
Next month I will conclude my discussion with the last four veterans from Wolcott that served in WWI. My hope is that you now have a better understanding of what these people endured during these turbulent times. I felt that it was important to share each of their stories with you.
(Information for this article was taken from an "Honor Roll of WWI veterans" that hangs in the Historical Society museum; Ancestry.com research by Deb DuBois, CT Military Questionnaires, 1919-1920, US Federal Census 1910, 1`920,1930, 1940, Photographs from Ellie Packer and Erich Schmeer and Ancestry.com.)
Arthur J. Roberts gravestone, which is located in Oak Hill Cemetery in Southington, Connecticut.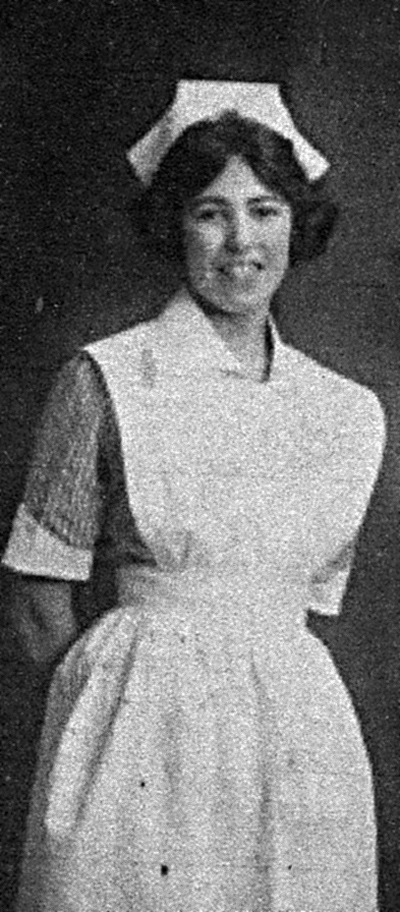 Florence Wakelee married Dr. Forest Rogers in 1926 at her parents' home in Wolcott, Connecticut.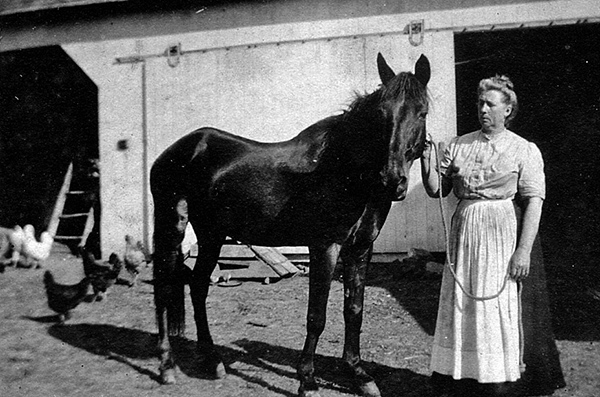 This is Florence Edith Porter Wakelee on the Wakelee Farm in 1913. She was Florence  Wakelee's grandmother.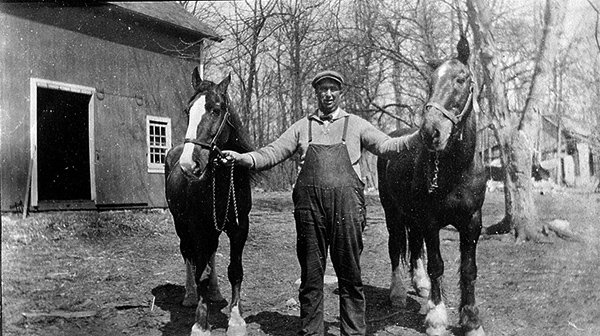 John Bement Wakelee, Sr. on the Wakelee farm.  He was Florence Wakelee's father.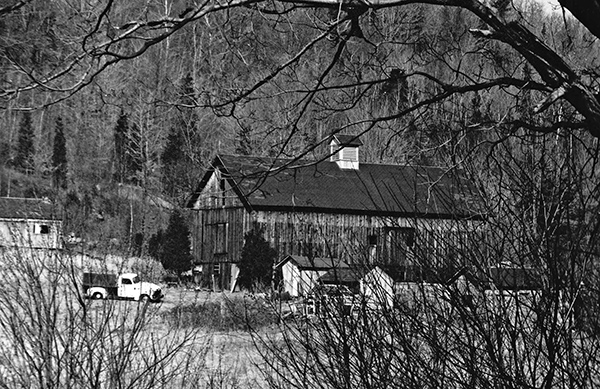 The barn that remained from A. H. Norton Farm that was located on Wolcott Road where Sunrise Boulevard is found today. Photograph taken by Erich Schmeer and donated to the Wolcott Historical Society.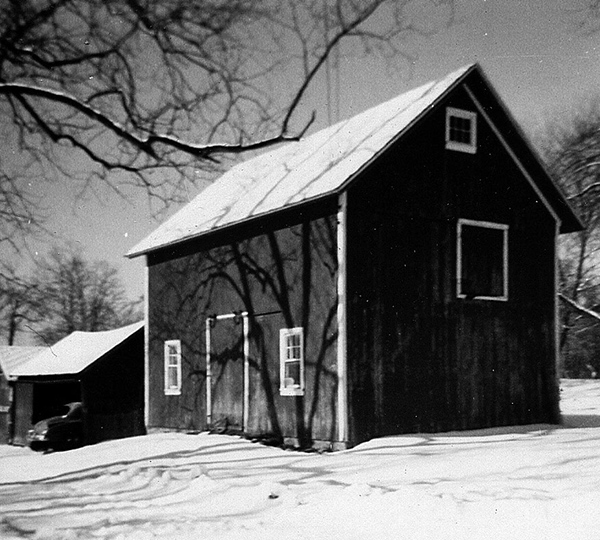 This barn is one of the original Wakelee barns that is no longer standing.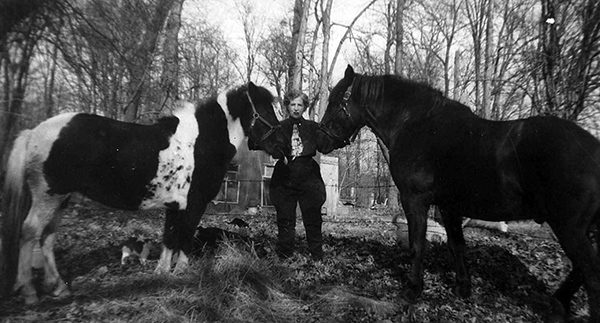 Florence Edith Wakelee's mother, Rose Elizabeth Andrews Wakelee with her horses on the Wakelee Farm.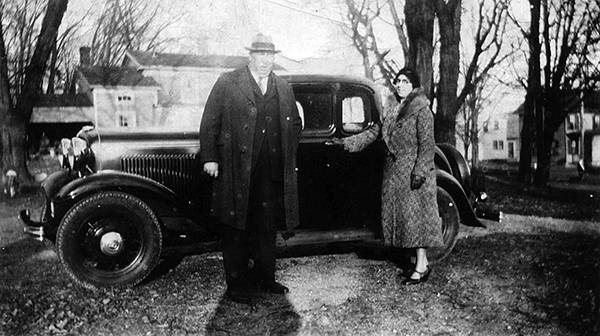 John Wakelee and Rose Wakelee standing by their car at the Wakelee Farm.
---
To view past installments of the Historical Society News, click here.
---