Wolcott Historical Society News - December 2017
By Florence Goodman
This month I will continue to share WWI histories about five more of our Wolcott veterans. Of the five, two were brothers from the Cowles family and two were from the Garrigus family.
Benjamin C. Cowles and Lewis Wilson Cowles were born in Southington, Connecticut; Benjamin on September 2, 1892 and Lewis on September 14, 1895. They were the sons of Charles Lewis Cowles (1858-1930) and Dora C. Kastens Cowles (1857-1930). They had one sister and six brothers. The family moved to the Hitchcock Lake area of Wolcott sometime in the early 1900s. On his WWI Draft Registration Card for 1917-18, Benjamin stated he was a farmer and employed by Charles J. McCarthy in Wolcott. Bennie, as he was nicknamed, was commissioned on August 5, 1918 and was honorably discharged on January 25. 1919. Benjamin married Ellen Corbett. Records show that they lived on Steele Avenue through the 1960s. Ellen Corbett Cowles died on April 8, 1970 and Benjamin Cheney Cowles died on December 7, 1972 at the age of 80. He and his wife are buried in the Woodtick Cemetery in Wolcott, Connecticut.
Lewis Wilson Cowles was the younger brother of Benjamin. On his WWI Draft Registration Card for 1917-18, Lewis stated he was a carpenter employed by Charles Theriault in Wolcott, Connecticut. Lewis was commissioned on May 28, 1918 at the age of 21. He was a private first class in the Dep. Brigade in Company C., 315th Infantry. He was discharged on June 7, 1919 at Camp Dix, New Jersey. Lewis was married to Millicent. They had three daughters Evelyn, Mildred, and Vivian. The 1930 Census shows their address in Southington.. Lewis died on December 29, 1985 at the age of 90. He is buried at the South End Burying Ground in Southington.
William Henry Garrigus was born in Wolcott on Meriden Road on June 5, 1891. His parents were Walter Henry Garrigus and Flora Jean Sears Garrigus. He had seven siblings. His grandfather, Jacob Henry Garrigus owned Maplewood Farm on Garrigus Court. Prior to the war he worked as a foreman at R.H Ingersoll & Brothers in Waterbury, Connecticut. William enlisted on May 15, 1917 and served in the Regular Army, 19th US Calvary in the Machine Gun Troop. He was sworn into service at Fort Slocum, New York. He trained at Fort Ethan Allan, Vermont and worked his way through the ranks from private to private 1st class to corporal and then sergeant. On April 30, 1918 he embarked on the USS Finland to St. Nagaise, France at Camp Da Valdahon to Camp De Souge and by August 1, 1918 he was in Chateau Thierry. He participated in the many life-threatening engagements in France. They were Aisne, Toulon, Saint-Mihiel, and Meuse-Argonne. He was part of the Army of Occupation, in Germany from November 20, 1918 to July 29, 1919. He was honorably discharged on August 5, 1919.
After his discharge, William worked as a foreman for New Departure in Bristol. He married (Hannah) Dorothy Bull on November 29, 1919. They had three children. He worked for the Waterbury Newspaper and in 1938 he co-authored a book titled, "They Found A Way-The Story of Connecticut's Restless People." He later left Connecticut and settled in Reno, Nevada. William H. Garrigus died in Reno on December 14, 1972 and is buried in the old Pine Grove Cemetery in Waterbury, Connecticut.
Paul Nelson Manwaring was born on October 6, 1895 in Waterbury, Connecticut. His parents were Edwin Daniel and Fannie Elizabeth Garrigus Manwaring. His mother's family owned Maplewood Farm on Garrigus Court. He was a resident of Wolcott, but a cadet at the Connecticut Agricultural College in Storrs for two years prior to serving in the war. He was inducted into the National Army on September 20, 1917 at Camp Devens in Ayers, Massachusetts as a private. He was assigned to battery F, 302 field artillery, 76th division. He trained at Camp Devens from September 20, 1917 to May 15, 1918 before leaving for Europe. He was promoted to corporal then sergeant and by August 31, 1918 to 2nd lieutenant at Camp Taylor, Louisville, Kentucky. On October 21, 1918 he left Brooklyn, NY on the "Sobral" and arrived in Brest, France on November 3, 1918. He was stationed at Camp de Coetauidan and Pontenezen Camp through December 9, 1918. On December 20th he returned to the United States to Camp Gordon, Georgia. He was discharged from there on January 14, 1919. After his discharge, Paul went back to college in Storrs on January 8, 1920 and received several honors while at the Agricultural College. He married Easter Lorenson in 1931. They had three children. He died on May 21, 1981 in Southington, Connecticut.
Francis Rollins Howell was born on October 22, 1888 in Brooklyn, New York. His parents Francis and Sarah J. Percival Howell were Irish immigrants. His father grew up in New York and his mother in Connecticut. Francis had two siblings Percival and Edith. In 1916 Francis was living in Wolcott, Connecticut and working as a farmer for William MacCormack who owned a large farm and cider mill on the Mad River.
Francis was inducted into the National Army as a private on September 20, 1917. He was assigned to Battery F, 103rd Field Artillery, division D and trained in Boxford, Massachusetts from September 22nd to October 7th. He embarked from New York on October 8th on the "Baltic" and arrived in Liverpool, England on October 23rd. He then went from Liverpool to Southampton on October 23rd. On October 29th he left Southampton and arrived in La Havre, France and then onto Guerre, France. From February 9th to March 19, 1918 he went into action in Soissons, France. He participated in several other engagements in France: Toul Sector (near the French/German border), the St. Michel offensive then in Yisburn, France and finally the Meuse Argonne. Francis was discharged from the Army as a Corporal at Fort Devens, Massachusetts on April 29, 1918. After his discharge he lived in New Haven, Connecticut. In1919 through 1920 he was living in Wolcott, Connecticut. He married Mary C. Dewey in 1924. In 1926 they had a son Francis Rollins Howell 3rd. The 1930 census shows Francis and his family living in Brooklyn, New York. Francis died on September 13, 1937.
I hope you enjoyed this glimpse into our past with these five new stories. We have now heard about the lives of sixteen of the twenty-eight veterans from Wolcott who made a difference.
(Information for this article was taken from an "Honor Roll of WWI veterans" that hangs in the Historical Society museum; Ancestry.com research by Deb DuBois, CT Military Questionnaires, 1919-1920, US Federal Census 1910, 1930, 1940, conversations with Lucille Garrigus and Flora Ayers.)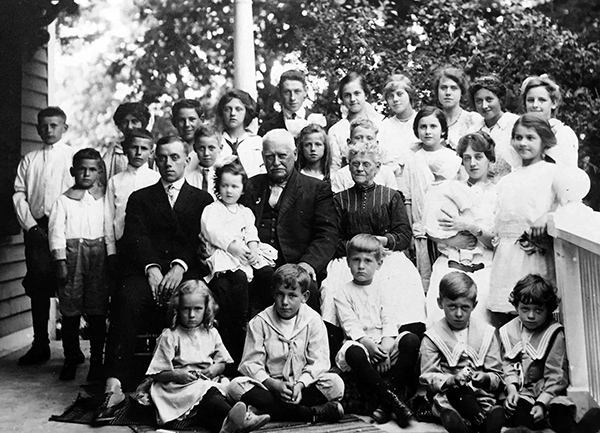 The Garrigus family circa 1920s. William H. Garrigus is sitting in the first row on the far left. Paul N. Manwaring is in the center of the back row.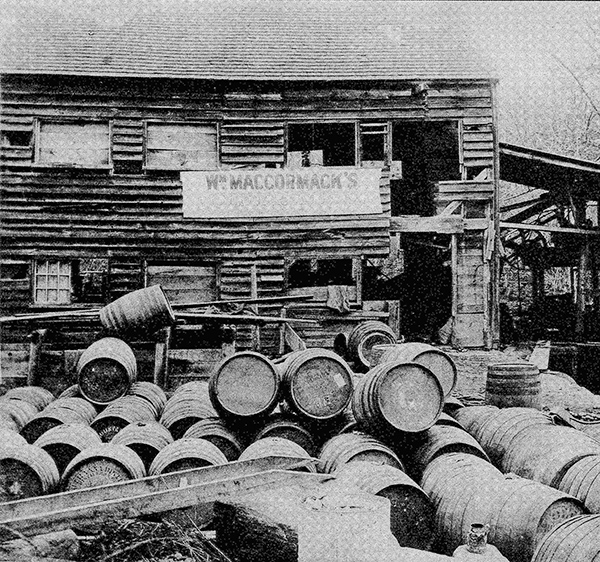 This is William MacCormack's Cider Mill located on Wolcott Road where Rite Aid is today. Francis Rollins Howell worked for him.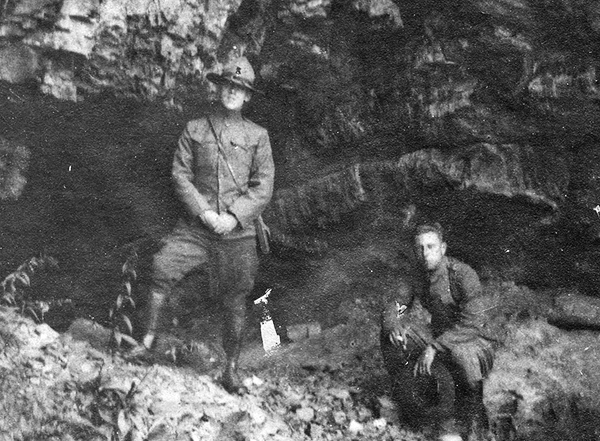 William H. Garrigus is standing on the left.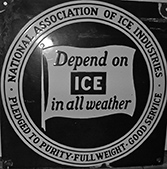 Lewis Wilson Cowles worked for Charles Theriault.
---
To view past installments of the Wolcott Historical Society News, click here.