Wolcott Historical Society News - November 2017
By Florence Goodman
This month I will continue to share WWI histories about four more of our Wolcott veterans. Two of them are brothers from the Garthwait family and the other two are a sister and brother from the Wilson family. Three of these veterans spent most of their service time overseas.
Clifford Garthwait was born October 15, 1896 and his brother, Herbert was born August 3, 1898 in Wolcott, Connecticut. Their parents were Everton A. and Georgiana Bradley Garthwait. Clifford worked as a farmhand on Norton farm in Wolcott prior to enlisting while Herbert worked as a teamster at the Waterbury Lumber & Coal Company on West Main Street in Waterbury. Both men enlisted in the Regular Army on March 2, 1915 at Fort Slocum, New York and were sent to training in Galveston, Texas. Clifford was assigned to Company A 2nd Battalion, Engineers while Herbert was assigned to Company E 2nd Battalion, Engineers.
Before going to Europe, Clifford trained at Camp Baker, Texas from February 23rd to August 21, 1917. On September 10th he embarked from New York and arrived in Glasgow, Scotland on October 2, 1917. He then traveled to South Hampton, England and then to La Harve, France; he arrived there on October 7th. Next he traveled to Colmbey La Belles on October 9th. Clifford was stationed in Sauville, France from January 1st to February 24th. He saw action in France from February 28, 1918 through July 20, 1919 as part of the Allied Expeditionary Forces. Clifford was discharged on October 14, 1919 and re-enlisted the next day. He remained in the military until October 14, 1920.
In 1941 Clifford completed a registration card for WWII. On the card he listed that he lived on Falls Avenue in Oakville, Connecticut. He also stated that he worked for Waterbury National Bank and Riverside Cemetery. Clifford died on January 27, 1953 and is buried in Woodtick Cemetery.
Herbert Garthwait's service time was restricted to duties in U.S. Territories by order of the War Department. From March 15, 1916 to September 1918, he was stationed with Company G, 3rd Battalion of Engineers in Honolulu, Hawaii. On September 19, 1918 he was promoted to Engineer Replacement Camp at Camp Humphreys, Virginia. Herbert's military ranks were private then corporal and lastly sergeant of Company B, 5th Engineers. When asked what effects camp experience in the U.S. military had on him, he replied, "Greater development of both mind and body." Herbert was honorably discharged on March 17, 1919. Herbert died on November 13, 1945. He is buried in Hamden, Connecticut at Hamden Plains Cemetery.
The Garthwait family owned land on the lower section of Woodtick Road. When Woodtick Road was straightened in the 1930s, they renamed that old section Garthwait Road. There were several Garthwait homes found there.
The next two siblings to serve in the war together were Isabelle and Raymond Wilson. They had a younger sister Edith who enlisted in the war, but did not serve.
Isabelle Wilson was born on August 25, 1880 in Brooklyn, NY. Her parents Samuel and Ada G. G. (Hicks) Wilson were born in England. Prior to entry into the service Isabelle lived in Waterbury on Colley Street and worked as a private duty nurse.
Isabelle enlisted on June 18, 1917 in Waterbury, Connecticut in the Army Nurse Corps, Regular Army. She spent ten days at Ellis Island before embarking for Liverpool, England and arriving on July 9, 1917. From Liverpool she went to London and then onto France to serve in the #5 Harvard Unit in Camier, France. She was transferred in November 1917 to Boulogne, France to Casino Hospital, also called Harvard #5 and remained there until February 1919. In March 1919 she left Brest, France and arrived in New York on April 1, 1919. She was honorably discharged from the Army on May 9, 1919. After her discharge Isabelle returned to Waterbury, Connecticut where she worked as a public Health Nurse. Isabelle was a member of the Graduate Nurses Club and the American Legion.
Raymond Wilson was born in Wolcott, Connecticut on June 28, 1900. On April 6, 1917 the day the United States entered the War Raymond enlisted in the U.S. Marine Corps in Cleveland, Ohio. He was only seventeen. Raymond trained at Parris Island, South Carolina with the 49thcompany, 5th regiment. He went to Philadelphia, Pennsylvania on June 8th and departed for France on June 27th. From early July to July 25, 1917 Raymond was part of the American Expeditionary Forces in France under General Pershing. He was in the thick of it, fighting in battles in Aisne, Champagne-Marne, St Mihiel and Meuse-Argonne in the Defensive Sector. Raymond, a private was severely wounded in action on June 6, 1918. His sister Isabelle, an Army nurse, was stationed at a British base hospital in Bologne, France. She was on furlo when she heard about her brother's injuries and went to his side. She stayed with him until he was on the road to recovery.
In June 30 1918, Isabelle wrote a letter home to their parents in Waterbury to tell them about Raymond, it stated, "Dear Girls: Just a year ago we sailed from New York for here. You probably heard about it before I did, but last Sunday I received a letter from Ray saying he was in that famous drive the marines made and had been wounded. He was then in an American hospital in the south of France. He did not say how badly he was wounded, but I have telegraphed and will soon know how he is. He said to write home and tell you he was sorry he had not written for three months, but they have been some busy boys. He wants me to come down to see him and I am hoping I may soon get my leave so I can go."
Raymond's military records indicate that he went back into action after he recovered only to be gassed on October 4, 1918. Soon after he went back to the United States and was stationed at Quantico, Virginia. He was discharged on August 13, 1919 and he returned to Connecticut.
Raymond married Dorothy I. Grove who was from Bridgeport, Connecticut. The 1930 census showed them living in Strafford, Connecticut where Raymond worked as a machinist for the Railroad. The couple had two daughters, Marjorie and Janice. In 1941 when Raymond completed his WWII registration card, he listed that they were living in Trumbull, CT. He was 41 at the time and that is the last record I have of him.
I hope you enjoyed this glimpse into our past with their stories; four more brave veterans from our town who made a difference.
(Information for this article was taken from an "Honor Roll of WWI veterans" that hangs in the Historical Society museum; Ancestry.com research by Deb DuBois, CT Military Questionnaires, 1919-1920, US Federal Census 1910, 1930, 1940, Waterbury Republican/American, August 1918.)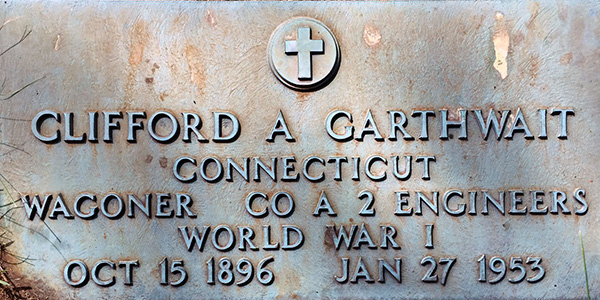 Clifford Garthwait's marker in Woodtick Cemetery.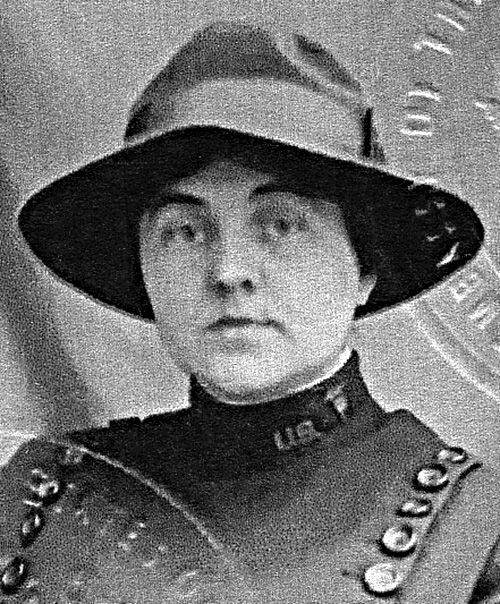 This is a picture of Isabelle Wilson from her passport photo.
---
To view past installments of the Wolcott Historical Society News, click here.