Wolcott Historical Society News - July 2017
By Florence Goodman
If you have never attended the Wolcott Historical Society's Garden Tour you don't know what you're missing. This month I will give you a glimpseof the five beautiful gardens you can view on our tour, which will be held on Saturday, July 8th from noon to 4:00. A $10.00 donation opens the door for visitors to leisurely stroll through these hidden treasures. You may purchase tickets in advance or the day of the tour at the Museum on Nichols Road. Monies raised from the tour supports our yearly scholarship program.
As the blooms in my spring gardens fade, summer's glorious blooms magically replace them. Those are my thoughts each day as I work in my own gardens. Perennial gardens are not for the weak or weary; it takes hours of strenuous work to create and maintain them. These gardens can differ greatly since they tend to reflect each gardener's personality and purpose for creating these natural wonderlands. I know from my own experience how much time and energy I have put into my gardens for over 30 years; they are truly "labors" of love. Each garden featured in this year's tour has its own specialty, but all have a common thread: tranquility, beauty, and peace.
The first stop on our tour is at the Woodtick Road home of Deb DuBois where you will find glorious gardens throughout her property. Gardening is not new to Deb, and her creative flare for designing floral arrangements at Orchid Florists spills out into her own backyard. Deb has worked with indoor and outdoor plant materials on a regular basis for many years; she has an uncanny ability to arrange flowers and colors while placing them in just the right place in her yard. Deb creates garden rooms throughout her property, with each room consisting of different themes. She uses beautiful statuaries to accent each area as well as many different, unique plants and a vegetable garden too. The variety of plant material found in Deb's yard is amazing.
Just off of Todd Road on Woodcrest Avenue you will find the beautiful gardens of Kathy and Tom Sullivan. As you enter this natural wonderland you are drawn into an array of colorful plant materials. Kathy and Tom have large areas filled with hydrangea, climbing hydrangea, lilies, ornamental grasses, daisies and other perennials vigorously blooming around you. They utilize shade perennials to their fullest extent and have also created various theme garden rooms that show off their garden creativity. As you gaze into these woodlands, you see a palette of muted colors, but the blue hydrangeas are outstanding. Their water garden is filled with lily pads and other aquatic plant material as well as colorful fish, which create a soothing atmosphere.
Two houses down from the Sullivan's on the same street you will find the gardens of Jim Hackett. I think that Jim should be named "champion of garden containers." He uses huge pots to show off his unique tropical plants and large annuals grown from seed. These are placed along his house and driveway and welcome you into his perennial gardens. One can meander through his property and enjoy glorious statues and water gardens filled with beautifully colored coy and water lilies. Jim has also created a unique composting area that is hidden by thriving hydrangea and hosta; he utilizes his garden space to the fullest. Both of the gardens found on Woodcrest Avenue are truly "paradise found" and you must walk through each yard slowly to appreciate all that they have to offer.
Now we head toward the western section of town to the home of Pat and Ed Traver. As you enter their property, which is located on Rustic Acres you would never expect to find over 1500 hosta plants in this garden wonderland. Ed is a member of the International Hosta Society and a "hosta authority" so if you have a hosta question, just ask Ed. Gardeners from near and far have viewed these gardens and marveled at the way Ed has arranged and named the numerous varieties. BUT, there is more; the day lilies, grasses and hydrangeas add color throughout the yard, as well as a tri-colored beach tree that adds shade. The grass pathways lead you through the gardens and into a beautiful in-the-ground pool right in the middle of this "paradise found." Ed has been busy making changes to his front yard gardens since the last time he participated in our tour several years ago. So don't be surprised to see hosta greet you as you approach the driveway; this is a must see garden.
Last, but far from least is a new garden on our tour this year. It is located just around the corner from Wakelee School on DiSanto Drive at the home of Carol Jurzyk and her husband Bob. Carol who is fairly new to gardening loves her gardens and is proud to invite us to view them. As you enter the yard from the driveway a brick walkway leads you into several raised beds filled with perennials and shrubs. Carol and Bob have created some unique and creative garden rooms that welcome one and all. The use of different types of plant materials and statuaries throughout these gardens add color and atmosphere to them. Bob has built a fence along their back border, a deck off the back of the house and a great little garden shed; all of these are surrounded by small gardens. This is another house you don't want to miss.
It is obvious that these serious gardeners find working in their yards a rewarding and enjoyable experience. Each of these gardens will be a delight to visit; I know you will not be disappointed. The Wolcott Historical Society truly appreciates that these gardeners are willing to share their gardens with us. We hope you will come and enjoy the beauty of these five gorgeous gardens. For more information or to purchase tickets in advance call Flo Goodman (203) 879-9818.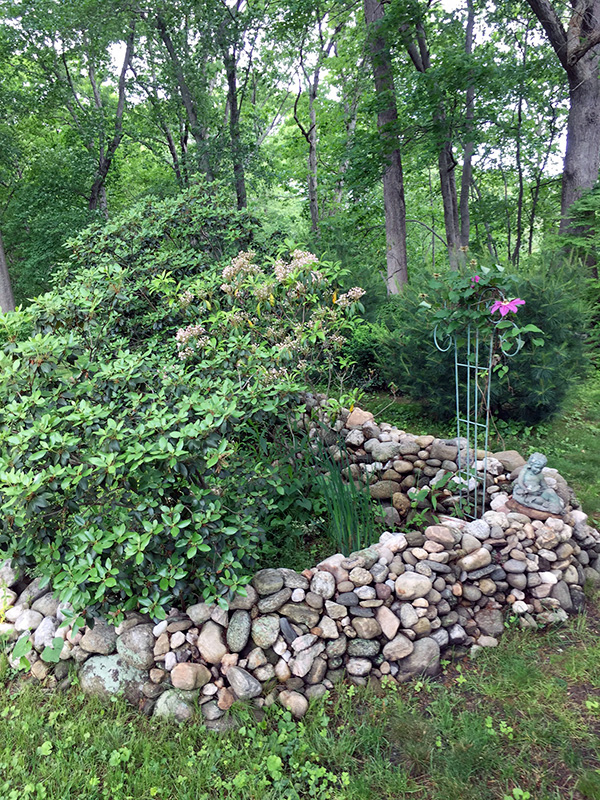 An angel statuary at the home of Deb DuBois.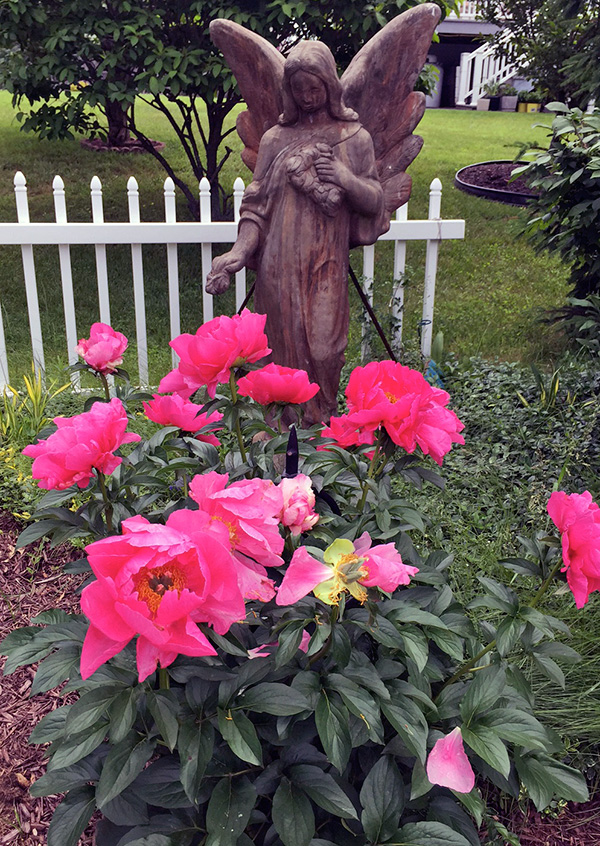 Deb's creative use of stones dug from her gardens.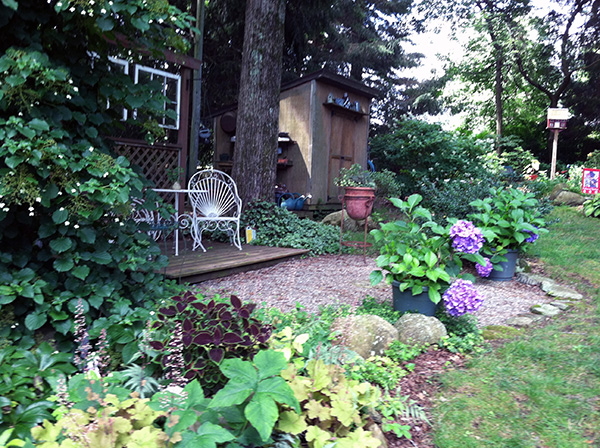 The beautiful gardens of Kathy and Tom Sullivan.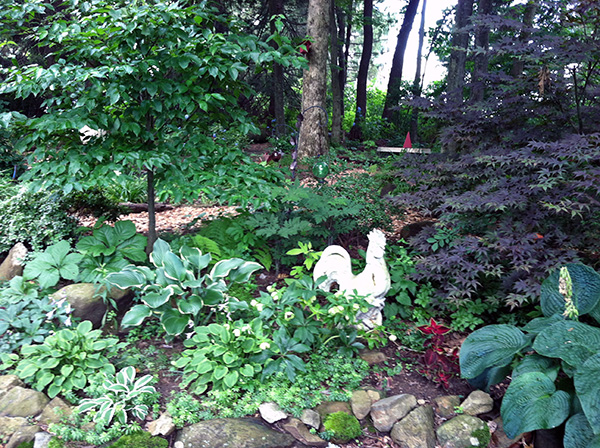 Kathy and Tom Sullivan's gardens on Woodcrest Avenue.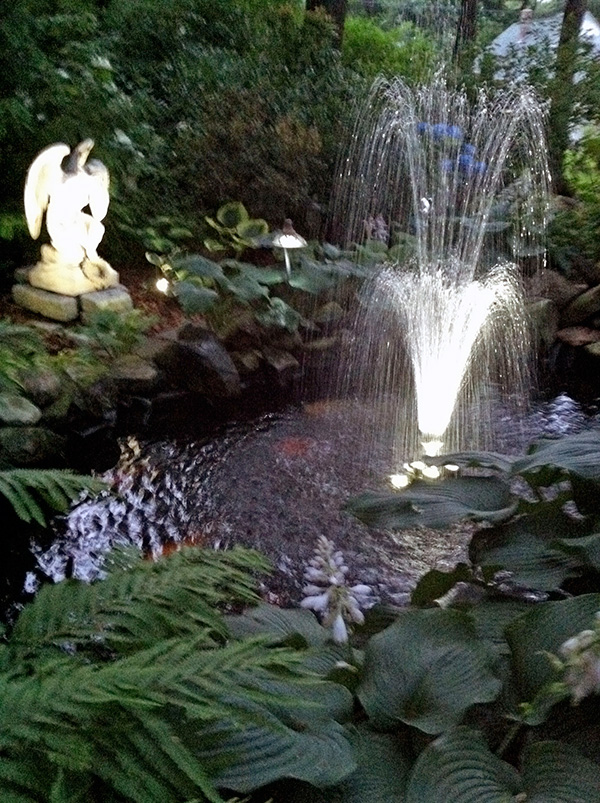 The gardens of Jim Hackett.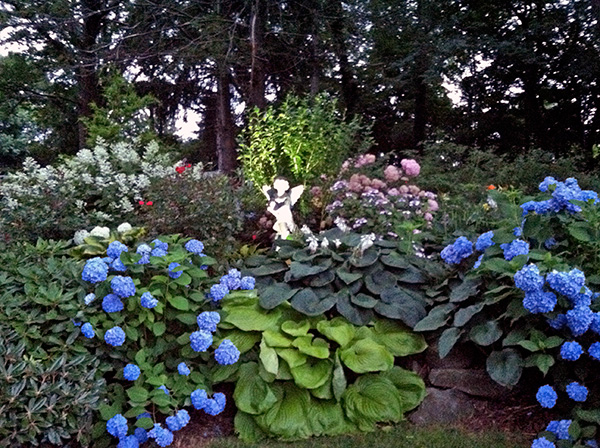 Shades of color in Jim Hackett's gardens.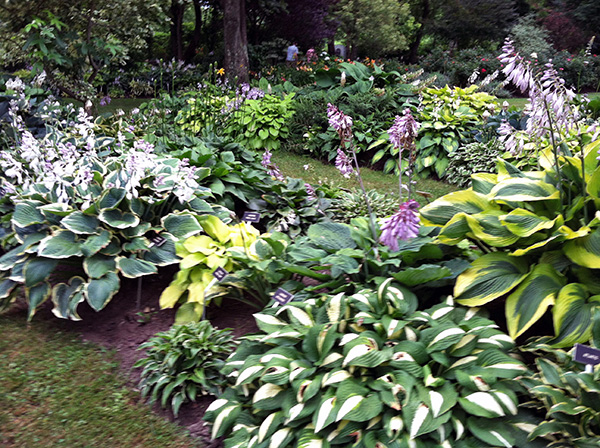 Hosta and more hosta in the gardens of Pat and Ed Traver.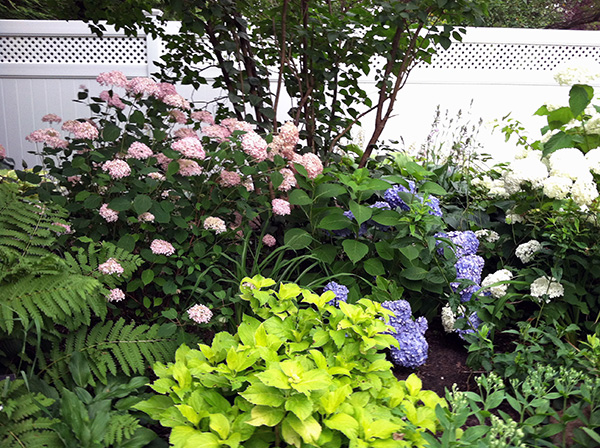 More color found in the Traver gardens.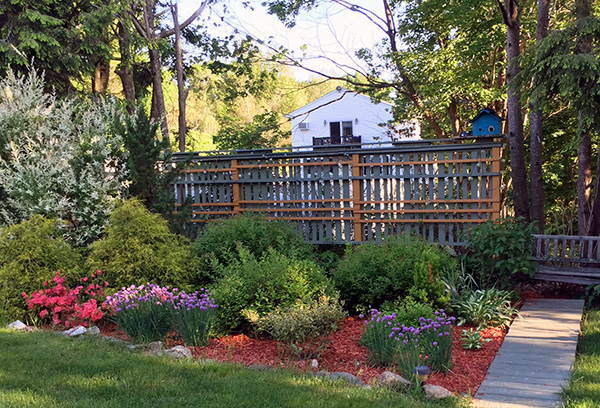 A unique fence found at Carol and Bob's home on DiSanto Drive.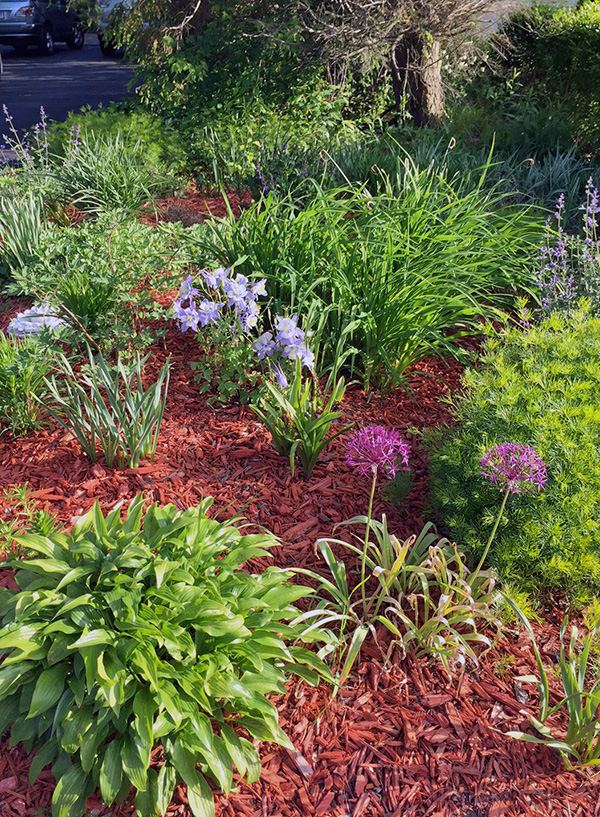 The gardens of Carol Jurzyk.
---
To view past installments of the Wolcott Historical Society News, click here.