Wolcott Historical Society News - November 2015
By Florence Goodman
Recently a former student, Tiffany Dubois asked to volunteer at our schoolhouse museum. While organizing a box of old documents for filing we came across some interesting materials. This month I will share new information about the date the Old Stone School on Nichols Road was built and recollections from a student who attended the old stone school in the 1920s.
There has always been a question on the exact date the stone schoolhouse was built because the front gable was inscribed with 1825, but historians felt it was really 1821. In a short news article that I recently discovered, John Washburne states, "Although the date carved on the front end of the building is 1825, research of old records sets the construction date of the school in 1821. It was originally a one-room schoolhouse, but an addition was built in 1898. That's when the gable ends were dated, and the wrong date was inscribed."
The second interesting document found told the memories of life in our one-room school on Nichols Road through the eyes of a former student, Nellie Rozdilski Kosko. The Rozdilski family lived on Wolcott Road just south of where the Lion's property is today. There were seven children in the family and many of them attended the old stone school. Nellie attended the school in the 1920s and I have included most of her story below.
"My parents moved to Wolcott from Waterbury and I had been going to kindergarten at Slocum School in Waterbury. There was no kindergarten at the Old Stone School in Woodtick, so I started first grade later. My teacher was from Maine. It was the 'thing to do' at that time for young teachers to go out of state to teach, so Miss Ethel Loring came to Wolcott. She later married and became Mrs. Chauncy Somes. Miss Loring was a very nice teacher. She taught eight grades in this one-room schoolhouse. She kept law and order with her 32 pupils. We feared and respected our teacher. We loved and hated her, but we learned.
We had two recesses and an hour off for lunch. Some pupils walked home for lunch, others brought their lunch. We had a 'hot lunch program.' The teacher would make cocoa, soup or baked beans to go with our sandwiches. We would line up with our big tin cups for our 'Hot Lunch.' This was made on the big wood stove in the front of the room. How good it smelled.
We walked to school every day and really enjoyed going to school. It was pretty cold those days in the wintertime. My father bought us "felt boots" for the winter. They were made of compressed felt and the boots came to the knees and we had short rubber boots over it. We never froze our toes.
We had recess in the morning and one in the afternoon. At this time we were given a flat piece of folded paper that opened out into a cup. One time all of us were sent outside to pick up the cups we had carelessly dropped on the ground all around the tall old hand pump. We were careful after that.
Lunchtime was fun time. We played all kinds of games. One was "Run Sheep Run." The boys would take off and hide and then we girls would try to find them. We had lots of woods around the school. We couldn't find the boys for three recesses. They had climbed high up among the pines and kept quiet while we searched all around them. We also played basketball and kept up a running game.
At one time the teacher had our class put their desks around in a circle. I was seated next to Jack Kruse and he was poking me with a pencil, so naturally I poked him back. The teacher caught me and I had to go up to the front of the room, hold out my hand, palm up and I got whacked with a ruler. I had Mrs. Somes for five years, and then we went to the new two-room schoolhouse down the road a bit. *
I will always remember the Old Stone School House and the things we did. Mrs. Myrtle Files from the New Haven County Extension Services introduced us to the 4-H Club projects. We did sewing, cooking and canning in our leader's home. We also beautified our school grounds and planted flowers all around. Every year there was the Wolcott Fair and we exhibited our prize artwork and penmanship papers and won cash prizes and red, white and blue ribbons.
One morning a week we had banking and we deposited 10 cents or more. We felt important with our bankbooks.
We had quite a few social evenings, and parents and friends came to see us perform on stage. We performed plays, and I was a hollyhock in one and an Englishman in another. There were speaking and spelling contests. I missed on the word hostile; I forgot the 'e.' Jesmond Nigro and I sang many duets together.
One year my sister Mary was in a float at the Wolcott Fair. She rode standing up, dressed as 'The Statue of Liberty' on the teacher's roadster and made it around the Parade Grounds without falling off.
We also had a contest to collect gypsy moth nests that were laid in the choke cherry trees and fruit trees. We spent all our time in the spring going through the trees to collect them and bring them to school where they were counted and burned. The pupil having the greatest number was honored at graduation at the Town Hall. We had five one-room schoolhouses in Wolcott. All eighth grade pupils went to the Town Hall to graduate in June, and that was an important, exciting night. We were awarded with diplomas and prizes were given for certain projects.
Our teacher, Mrs. Somes and her husband went back to Maine and we lost touch. Years later, in 1974, we found out that she was living in Mt. Desert Isle, so I sent a letter, not knowing if the address would find her, but it did. She wrote me back that she was indeed the Mrs. Somes of the Old Stone Schoolhouse. We sent letters and Christmas cards for many years... "
Nellie went on to say that in 1977 and 1984 she and her husband, Frank visited Mrs. Somes in Somesville, Maine; the town named for her husband's family. She said it was a great reunion. Mrs. Somes died in 1985 at age eighty-two. It was obvious that Mrs. Somes was a very special teacher who left a lasting impression on her students.
*The new two-room Woodtick School opened in 1930 and had indoor plumbing.
(Information for this article was taken from Recollections from Nellie Rozdilski Kosko and from John Washburne's article in the Waterbury Republican, no date, and a paper by John Washburne, "Story of the Old Stone School," a phone conversation with Helen Miglario and discussion with Paul Garland)
---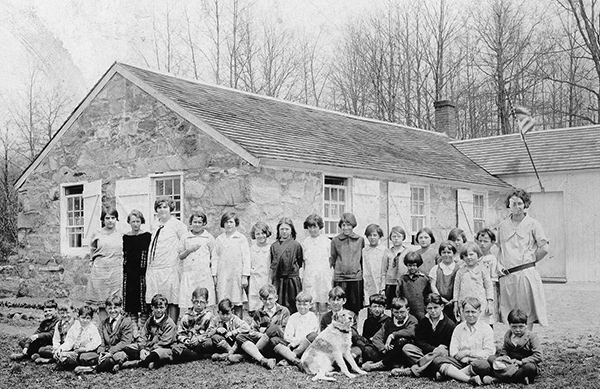 WOODTICK SCHOOL, MAY 9, 1927: FRONT ROW: (left to right) Edgar Duhaime, Richard Snow, Jesmond Nigro, Charles Snow, George Goodson, John Knise, Gregory Boulanger, Charles Sharp, Kenneth Garthwaite,, Philip Boulanger, Frank Webber, unknown, Andrew Washenko, Judson Towne, unknown. THREE IN SECOND ROW TO THE RIGHT: Thelma Boulanger, Beatrice Nigro, Anna Snow. BACK ROW: Edith Moss, Helen Garthwaite, Dorothy Moss, Nancy Goodson, Genevieve Garthwaite, Mildred Snow, Mary Rozdilski, unknown, Loretta Nigro, Violet Dingwell, Gertrude Duhaime, Nellie Rozdilski, Mary Garthwaite, unknown, Mrs. Ethel Loring Somes of Mt. Desert Island, Maine, teacher.
---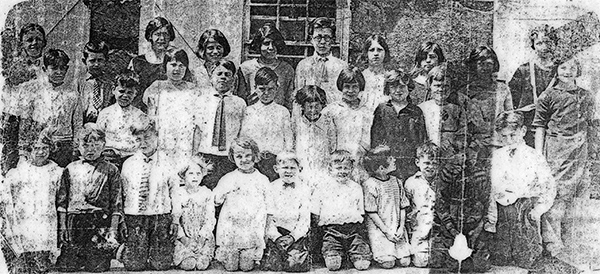 WOODTICK SCHOOL, JUNE 2, 1929: FIRST ROW:  Rosemary Goodson, Joseph Rozdilski, Walter Garthwaite, Isabel Avery, Helen Snow, Clifford German, Hubert Avery, Unidentified, Harold Golden, Harold Dingwell, Gregory Boulanger. SECOND ROW:  Jesmond Nigro, Robert Golden, Gertrude Duhaime, Edgar Duhaime, William Golden, Thelma Boulanger, Beatrice Nigro, Ann Rozdilski, Anna Snow, Nellie Rozdilsk BACK ROW:  Charles Snow, Frank Webber, Genevieve Garthwaite, Mildred Snow, Loretta Nigro, John Kruse, Mary Rozdilski, Gertrude Golden, Violet Dingwell, teacher, Mrs. Ethel Loring Somes
---
To view past installments of the Wolcott Historical Society News, click here.