Wolcott Historical Society History for May 2015
By Florence Goodman
For the past sixteen years, the month of May has been designated as Military Appreciation Month; a time to thank those men and women who serve our country. We conclude the month with Memorial Day, originally called Decoration Day, which was established to remember those who have died in the service of our country. This month, I would like to remember a former Wolcott resident and childhood friend Kevin Delaney who recently lost his battle with lung cancer caused by the toxic herbicide Agent Orange.
I met Kevin in first grade at Alcott School in 1952 and we continued our educational journey together until graduation from Wolcott High School in June of 1964. Kevin was not only bright and charismatic, but also involved in all aspects of high school activities and was our senior class president. Anyone that took French or Latin at Wolcott High in its early years probably had his dad as a teacher. Kevin lived with his parents, Mildred and John Delaney on Beach Road until graduation when he left Wolcott to attend the United States Naval Academy and after 34 years of service in the Navy he retired as a Rear Admiral.
Kevin's military journey began in June of 1968 when he graduated with a BS in Engineering as a member of the 9th Company and reported to Pensacola, Florida in July to begin flight training. He received his wings of gold as a Naval Aviator in August of 1969. In December of that year his first assignment was with the Navy Helicopter Attack Squadron 3 better known as "Seawolves" in the Republic of Vietnam. This was a land-based Navy helicopter unit charged with helping riverine forces to block the North Vietnamese Army and Viet Cong infiltration through the use of the rivers, canals and jungles that made up the region. Kevin flew 686 combat missions in support of Navy riverine forces and SEAL units in the Mekong Delta.
During his naval career, Kevin had multiple major staff assignments, served in six operational aircraft squadrons and was Air Boss on the USS Guadalcanal off the coast of Beirut. He had six command tours, which included two aviation squadrons, an aircraft wing and Naval Air Station (NAS) Jacksonville. In 1991 while under his NAS command Jacksonville was selected as the Navy's top shore installation. He also served as Commander, Naval Shore Activities, of the US Atlantic Fleet and was the first Director of Shore Installation Management on the Chief of Naval Operation's (CNO) staff. In 1998 prior to his retirement, he served as the Navy's Regional Commander for the Southeastern United States and the Caribbean. He was responsible for over 40 commands and 14 major Naval installations.
Over the course of his 34-year career, Kevin received 98 awards and decorations, 64 of which were for combat action. Kevin retired as the most decorated officer in the U.S. Navy. His honors included the Distinguished Flying Cross, the Silver Star Medal, 11 Single Action Air Medals, 26 Strike/Fight Air Medals and 6 Republic of Vietnam Gallantry Crosses. He was also awarded 4 awards of the Legion of Merit and the Navy Distinguished Service Medal.
After retirement Kevin established a consulting firm in Jacksonville, which assisted small and medium businesses, especially those that were veteran owned. Kevin served on numerous boards for non-profit organizations for nineteen years. For the past three years he served on the National Board of Directors of The Wounded Warrior Project. In 2014, the Small Business Administration honored Kevin with the "Veteran Small Business Champion of the Year" for the State of Florida. He was honored by the Jacksonville Chamber of Commerce in 2014 as the most influential veteran and was installed as the very first member of their Military Hall of Fame. Those who lived and worked with Kevin called him a dynamo and miracle worker who loved his family and his country. Kevin was married to his wife Pat for 46 years. They had three daughters Kelly, Diane and Seana and five grandchildren.
Although Kevin left our town in 1964 he did not sever his connections to friends and family he left behind. In 1994 Kevin was instrumental in helping Bill Gauthier and Charlie Robinson acquire an anchor from a U.S. Navy destroyer to honor the town's seafaring war dead. Kevin came home for the dedication at Edgewood Cemetery and some of his comments on that misty morning were as follows. "It's a very special honor for me to return home to Wolcott to dedicate this memorial to all those individuals who have fared the seas from Merchant Marines to the U.S. Navy." He also reminisced about his childhood days in our town, "When I passed by here this morning, I couldn't help but remember when I was a young boy in the Little League and Boy Scouts and participating in the annual Memorial Day Parade. We'd end up in this cemetery paying tribute to all those that made the greatest sacrifice for their country."
Kevin's cancer was a result of those 686 missions flown over Vietnam and in one of his recent emails to me he stated, "Pathology on my cancer cells shows a mutation caused by Agent Orange. Apparently it lay dormant for over forty years. Forty wonderful years denied to the fourteen men in my squadron who never came home. I am blessed with a wonderful life and family."
(Information for this article was taken from the Waterbury Republican-American, June 26, 1994 article by Robyn Adams, May 8, 1998 article in Hartford Courant by Trish Willingham, Jacksonville, Florida Times-Union article by Clifford Davis, April 8, 2015, obituary from Hardage-Giddens Chapel Hill Funeral Home, Jacksonville, Florida)
---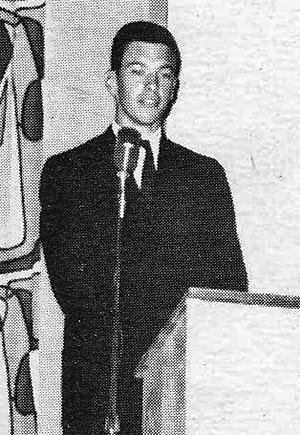 Kevin Delaney, Class President, WHS Graduation 1964.
---

Kevin receiving one of his many awards during his service to the Navy.
---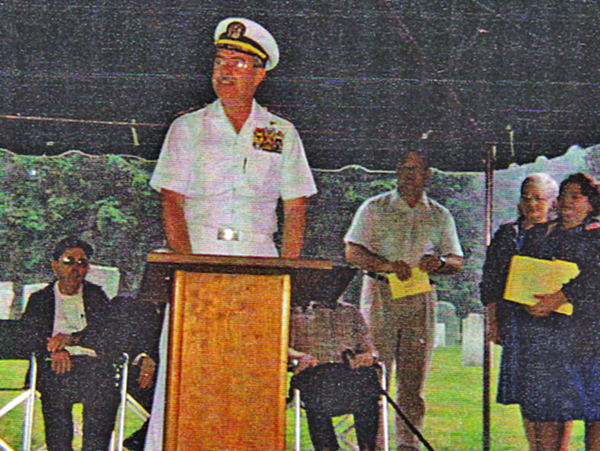 Kevin speaking at dedication of anchor in 1994 at Edgewood Cemetery.
---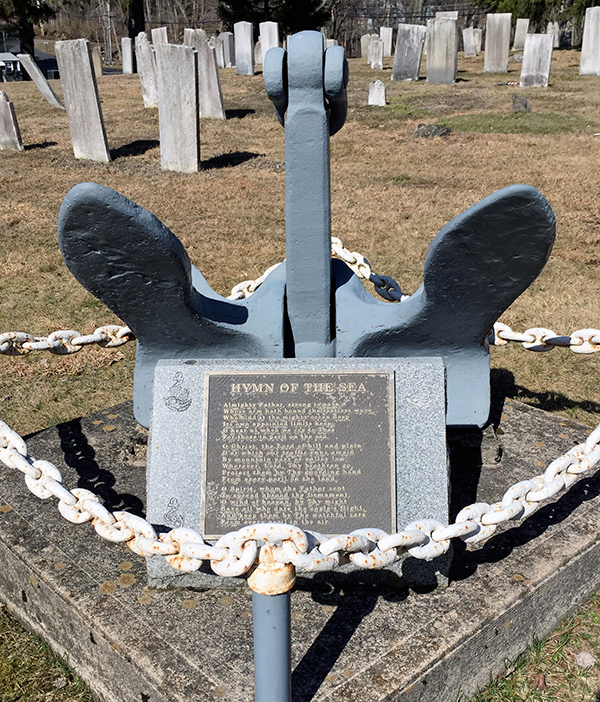 Anchor located in Edgewood Cemetery.
---
Monument next to anchor at cemetery.
---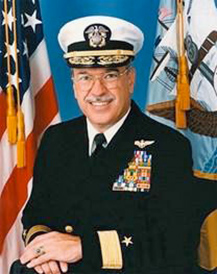 Rear Admiral Kevin F. Delaney, USN (September 23,1946 - April 7, 2015)
---
To view past installments of the Wolcott Historical Society News, click here.