Wolcott Historical Society History for September 2014
By Florence Goodman
Several months back I began writing about some local men that Clarence Atwood remembered while growing up in town. His list of thirteen men was called, "Wolcott Helpers 1930." The men on his list were Arthur Harrison [Frank Arthur Harrison], Wiley Pritchard, Cliff Millard, Edie Garthwaite, Joseph Bronson, William Klilka, Louis MacCormack, Charlie Penniman, Lester Dingwell, Harry Bergen, William Garrigus, Clark Hare and Byron Loucks. I am sorry to say that he only composed stories about five of the men on the list, so those are the ones I will share.
In July I shared his recollections of Arthur W. Harrison. This month I will share stories about two more of the five men he remembered: Clark Hare and Byron Loucks.
"Mr. Hare lived just over the Bristol town line on the east side of cedar swamp pond; in a tiny house, with his wife and son. Being handicapped, he didn't get around too well, but he was well known. He sharpened saws and lawnmowers. All mowers in those days were push type, but he had a machine for sharpening them - a job not easily done by most handymen. Of course, you were expected to bring the mower to him and pick it up in a few days. Mr. Hare loved to attend the Wolcott Fair to which he traveled in a wheeled pony cart. I'm sure it was a bumpy ride on the dirt roads of the time, but he got there and home again. He just made the best of being handicapped."
Clarence's recollection of Clark Hare was a wonderful example of a strong, hardworking man who was able overcome adversities and still enjoy life while helping others. In the 1930s, the fair grounds were located on the corner of Todd and Woodtick Roads so Clark Hare had to travel down Wolcott Road to Woodtick Road to get there. The northern section of Woodtick Road to Center Street was dirt and was called "the road to Bristol." You can be sure that his ride to and from the fair was a rough one, but in his mind, well worth it.
Next is Clarence's recollection of Mr. Byron Loukes. "Byron lived in a large house on Brooks Hill Road. The story goes that the house was originally in the area now covered with Scoville reservoir. Some enterprise bought the house and during the winter season, with the help of several teams of oxen and friends, hauled the house up the hill. A large barn was located just down the hill from the house, which was his workshop. His forge was located in one end where he made bolts, nails, braces, andirons and most anything else that needed parts or repairing. Also in the barn, he had a small gas engine that powered a lathe and band saw. Thus, he was able to completely repair a wagon, sleigh, stone boat or to construct a new one. He had an ancient truck- a white- that had been war surplus from WWI, and which he occasionally used to fetch materials for his work. He was an avid granger and was known for his monologues."
Byron's story intrigues me because I have written about the building of the reservoir and the road and farms that were lost by the flooding of the land, but I never realized that a house had been moved and relocated to Brooks Hill Road. I drove up Brooks Hill Road looking for a house that might fit the description and came up with a few, but more research needs to be done in the Town Clerk's office to find the exact location. If any of my readers know of a house on Brooks Hill Road that fits the description or has a memory of the Loukes family, please contact me.
Clarence has given us so much to think about and has added to our understanding of life in rural Wolcott in 1930, but he has also created a wealth of unanswered questions.
(Information for this article was taken from hand written stories of "Wolcott Helpers 1930" by Clarence Atwood)
---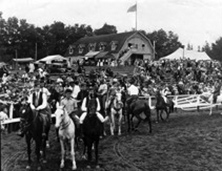 The Wolcott Fairgrounds in the 1930s.
---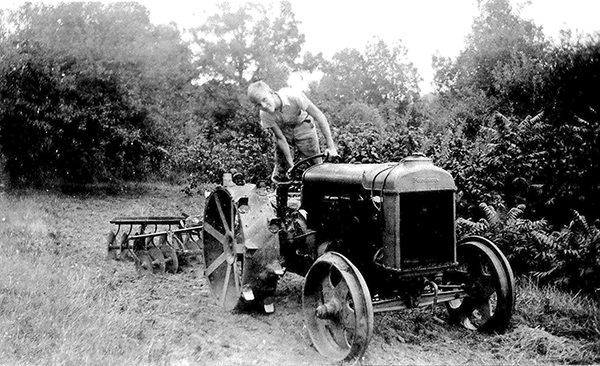 Clarence on the farm tractor 1937.
---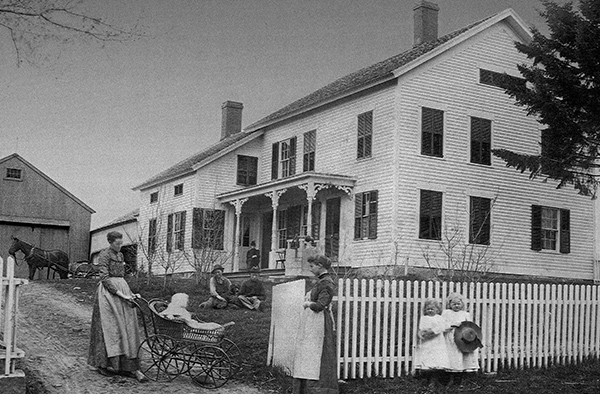 The Upson Atwood Home in 1900. It is found on Woodtick Road.
---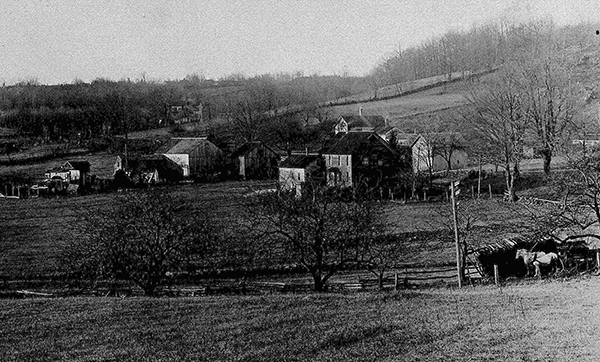 The George Cole farm was found at the intersection of Woodtick Road and Center Street.
---
To view past installments of the Wolcott Historical Society News, click here.