Wolcott Historical Society History for September 2013
By Florence Goodman
There are many reasons why I love working our Historical Society booth at the Lion's Fair, but my favorite reason is because I meet people who are interested in our local history and willing to share their stories and pictures. With that said, the information for this month's article was received from Art Gagnon, a 1963 graduate of Wolcott High School who has lived in Wolcott most of his life.
I visited with Art and his wife, Diane, at their home on Deer Run and they shared with me several interesting old photos and the stories to accompany them. Around 1939 Simon Gagnon purchased a home on Bound Line Road across from Wolcott High School and 30 acres of land that surrounded it. A good portion of the land was used for sustenance farming and Art still has the 1952 Farmall Super A tractor that his dad used on the farm. He reconditioned the tractor, painted it and even added the original decals and it looks just like new; he still uses it to plow his driveway in the winter. The Gagnon family also had horses on the property and I remember people riding them in the summer. Simon Gagnon Moving Company was owned and operated by the family for many years until it was sold to the "Gagne" family.
The Simon Gagnon family had five boys; they were Leo, Roger, Richard, Norman and Arthur. Sadly, in 1947, Roger, who was seven years old fell into the Mad River (Pritchard's Pond) and drowned when the bridge cable gave away plunging him into the water. Pritchard's Pond was located at the intersection of Route 69 and Center Street where Pat's IGA is found today. Shortly after the accident the Gagnon family moved out of town; during that time period the house was rented out. In about 1955 they returned to Wolcott, but the family had increased in size. A total of ten children lived on Bound Line Road in the old farmhouse. Art saved the beautiful old picnic table that his dad built so that the whole family could sit down to meals together. It now has a place of honor in Art and Diane's all season room. In this day and age, it is hard to imagine that a family that large existed and did so well, but hard work definitely pays off.
Another interesting story took place in the late 1950s or early 1960s. The fields where the high school was built were called Pritchard's fields and were beautiful flat fields just across Bound Line Road from Gagnon's farmland. It was here that Paul. M. Wood was forced to land his small plane. He was headed for New London from Syracuse, NY, when a dense fog covered the area and he had to land on Gagnon's property. The aircraft was able to land safely without any damage to plane or pilot, but authorities doubted that it would be able to take off in such a short space. To their surprise, the pilot was able to taxi the plane over to the high school field and take off safely from there. At that time, the high school building was much smaller and there was no football field/track on the property. Art was about seventeen and he was very happy to have his picture taken in front of the plane.
Today most of the Gagnon property is part of a development found on Simon Drive that was sold to Bill Lyga for that purpose. Around 1987, Simon gave a ten-acre plot of land on Deer Run to his sons, Arthur and Richard to divide between them; they each built homes on the property. Art and his wife Diane still reside on theirs, but Richard sold his home and property and moved to Florida. Richard's nephew and family now own the home and property. The rest of the Gagnon family has since moved out of town or state, but it is nice to know that the family will forever be remembered by the road named Simon Drive.
(Information for this article was taken from an interview with Art and Diane Gagnon, Wolcott, Connecticut in August 2013, a 1947 article from the Waterbury Republican-American newspaper, and an article from Waterbury Republican-American paper circa 1959 or 1960)
---
The Gagnon family farmhouse in 1947.
---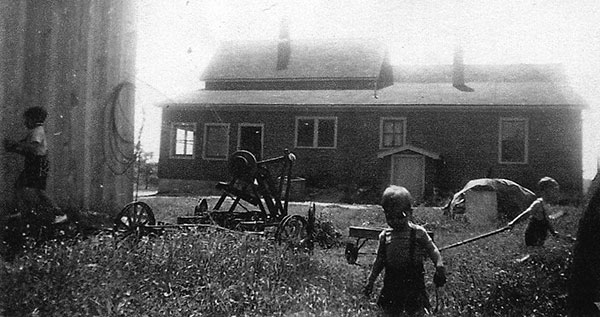 Children playing in backyard of Gagnon farmhouse.
---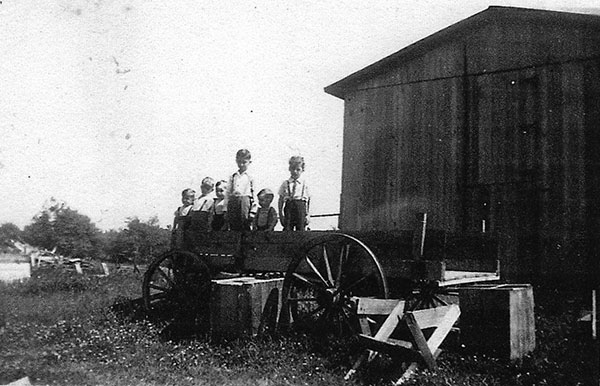 The Gagnon boys and a friend on wagon next to barn at the farm in 1947.
---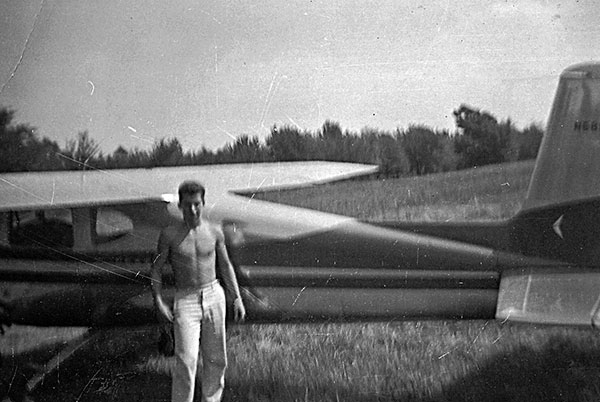 Art Gagnon standing in front of plane that landed on their property.
---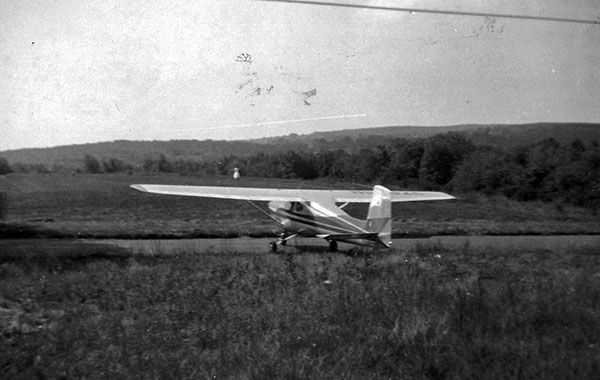 Airplane on Bound Line.
---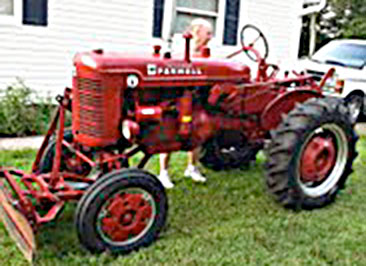 The "Art Gagnon and his dad's 1952 Farmall tractor.
---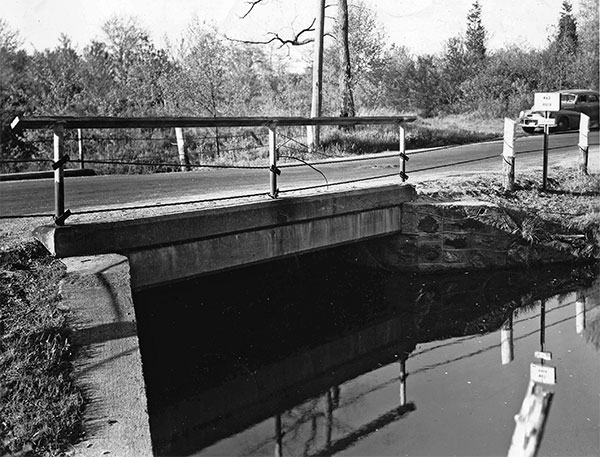 Mad River bridge.
---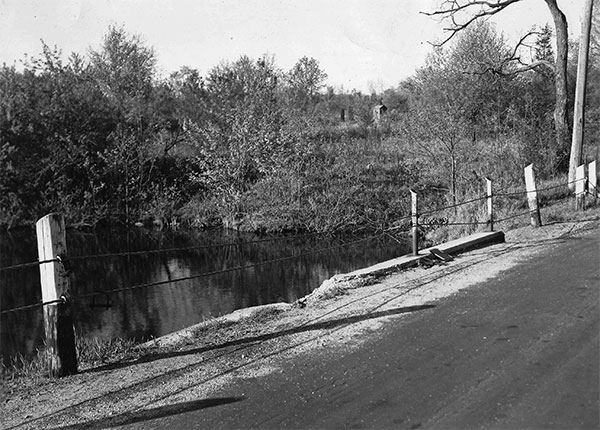 Mad River bridge.
---
To view past installments of the Wolcott Historical Society News, click here.