Wolcott Historical Society History for August 2013
By Florence Goodman
On Saturday, July 13th The Historical Society held its Seventh Garden Tour. Visitors strolled leisurely through nine hidden treasures located around town for a $15.00 donation, which supports our annual scholarship. Tickets were sold the day of the tour at our Museum on Nichols Road or by mail prior to the tour. The gardens were clustered mainly in the eastern and western sections of town; each with its own specialty, but all with a common thread of beauty, peace, and tranquility.
Just off of Todd Road you were welcomed to four gardens that placed you into a natural wonderland. As you entered the yards of Kathy and Tom Sullivan and Jim Hackett on Woodcrest Drive you were drawn into numerous shade areas and water gardens with hydrangea, lilies, daisies and a large variety of perennials and annuals vigorously blooming around you. The water gardens were filled with beautifully colored coy (Koi) and water lilies while the garden paths felt like tunnels as you meandered your way through the tall foliage with color combinations as magnificent as the flowers. Kathy and Tom utilize shade perennials to their fullest extent and as you gaze into their woodlands you see blue hydrangeas popping out all over. Jim uses huge pots to show off his tropical plant material along his house and driveway. One can meander through his yard and enjoy glorious statues and fountains in several ponds. Jim has also created a unique composting area that is hidden by thieving hydrangea and hosta. These gardeners have used their space so well that you forget where you are; this is truly a tropical paradise right here in our town.
The next two gardens were located on Shelton Avenue at the homes of Ellen and Brett Muccino and Diana and Robert Krhla. Entering Ellen and Brett's front yard you quickly realized that these gardens were created around an abundance of sun and the slope of the land, which had caused soil erosion. Therefore, they have created cactus gardens and utilized river rock for drainage to solve these problems in a beautiful and unique way. Their backyard receives less sun allowing them to be creative with shade plants and an actual brass bed that is part of their "garden bed." They also have a huge birdhouse that was shipped from California. Across the street, Diana and Robert's gardens are filled with sun loving plant materials. Their backyard welcomes you with large arrays of beebaum, coneflowers, lilies and sedum. They have divided this area into garden rooms that are tastefully decorated with watering cans, large statues, garden benches, birdhouses and lawn furniture. Robert who owns "Gardens by Robert, LLC," designs gardens for a living and it's obvious that he has talent.
Our next stop was at the home of Erin and Mike Stolfi on Simon Drive. Erin began designing her gardens ten years ago and they have evolved into a magnificent showplace. Vast amounts of ledge did not deter her plans; it just allowed another venue for her to work into the design. The swimming pool, stone fireplace and walls blend beautifully into this garden showplace. Erin's front yard has been her newest adventure. Here she has used boxwood, iris, hydrangea and evergreens in a way that allows privacy from the road, but a pleasing view from inside her home.
Pat and Ed Traver's gardens are located on Rustic Acres and a sight to see. As you approach their home you would never expect to find over 1500 hosta plants in these gardens. Ed is a member of the International Hosta Society and a "hosta authority" so if you have a hosta question, just ask Ed. Gardeners from near and far have viewed these gardens and marveled at the way Ed has arranged and named the numerous varieties of hosta. BUT, there is more; the day lilies, grasses and hydrangeas add color throughout the yard, as well as a tri-colored beach tree that adds shade. The grass pathways lead you through the gardens and into a beautiful in-the-ground pool right in the middle of this "paradise found."
Just around the corner from the Traver's gardens you enter a bird lover's paradise on Andrews Road and the home of Judy Giannetto. As soon as you walk into this yard you are immersed into the sounds and smells of a summer. No matter which way you turn you see blooms; there is lovely lucifer, with a brilliant red flower, purple liatris, and yellow coreopsis. The waist-high beebaum and coneflowers border much of the pathways. You will also find a wonderful coy pool that can be enjoyed as you walk over the bridge that crosses it. A Japanese maple tree and many hydrangeas can also be found in these magnificent gardens.
Our next garden was at the home of Flo and Terry Goodman on Peterson Lane. This historic house was built circa 1776 and is the birthplace of the famous clockmaker, Seth Thomas. At the end of this quaint little road, you are greeted by stonewalls bordering the front yard gardens. Daisies can be found throughout these gardens along with a variety of other perennials such as coneflowers, day lilies and liatris. The gardens created throughout the property were designed to give you the feeling of an endless country garden. As you stroll through these gracious gardens it is amazing to see so many flowers in bloom. The use of many small stonewalls help to accentuate the gardens found in the backyard.
Our last garden was located on Munson Road at the home of Joyce and Robert Nyren. These gardens are so well manicured that you wonder how they have the time to keep them so pristine. The Nyrens have been gardening for many years and were also in the florist business and that experience is evident in their garden plan. A mix of annuals and perennials are placed in ways that blend color and height of each plant grown here. A magnificent red coreopsis was one of my favorites. They too used their garden space to the fullest with some of their flowers and vegetables growing in pots and raised beds throughout the yard. You can even buy plant materials from them at a very reasonable price; just one of the benefits of growing perennials.
Each of these nine gardens were a delight to visit. It is obvious that these serious gardeners find working in their yards a rewarding and enjoyable experience. The Wolcott Historical Society truly appreciates that they allowed us into their gardens to enjoy the beauty.
If you had the pleasure of viewing these gardens I'm sure that you will agree that it was well worth the donation. If you have a garden large or small and are interested in allowing your garden to be part of our tour next year, please let us know by visiting our Historical Society website or calling Flo Goodman at 203-879-9818. We always love to see new gardens.
---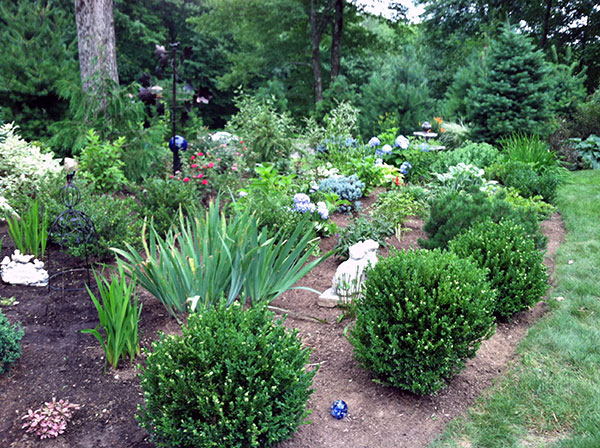 Boxwood, iris, hydrangea and pines in Erin Stolfi's garden.
---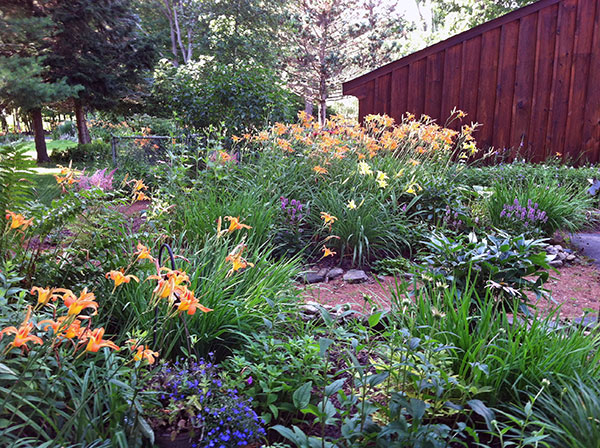 So many day lilies in Flo & Terry Goodman's backyard garden.
---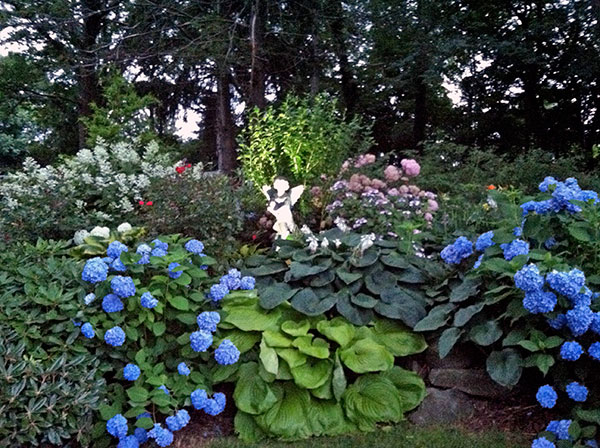 Hydrangea, hosta and a beautiful statue in Jim Hackett's garden.
---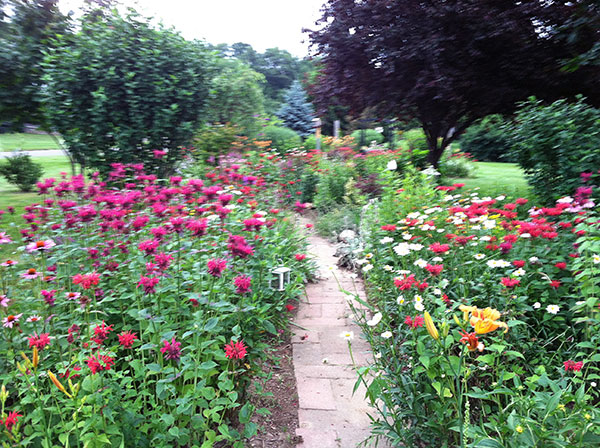 Beebaum and coneflowers in Judy Giannetto's gardens.
---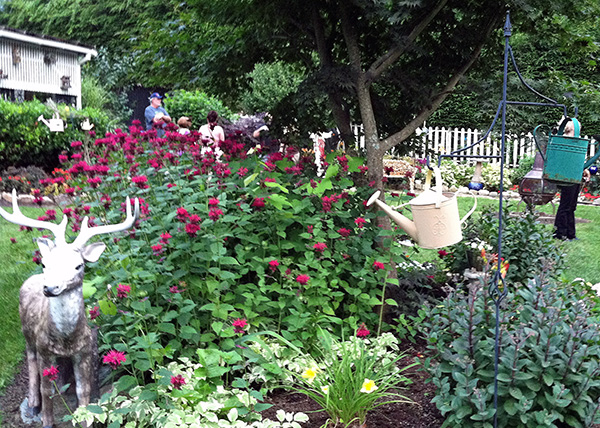 One of Diana & Robert Krhla's garden filled with beebaum and sedum.
---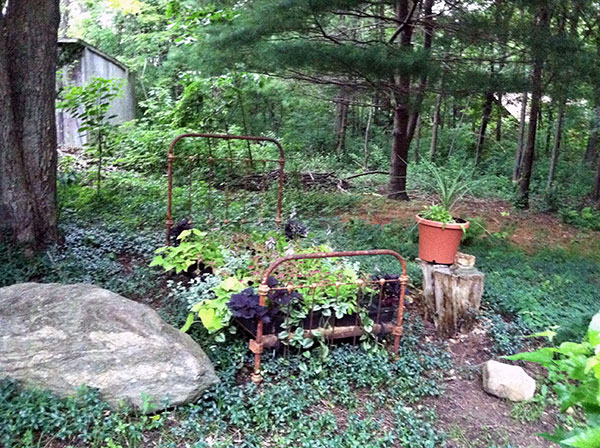 The "garden bed" found in Ellen & Brett Muccino's shade garden.
---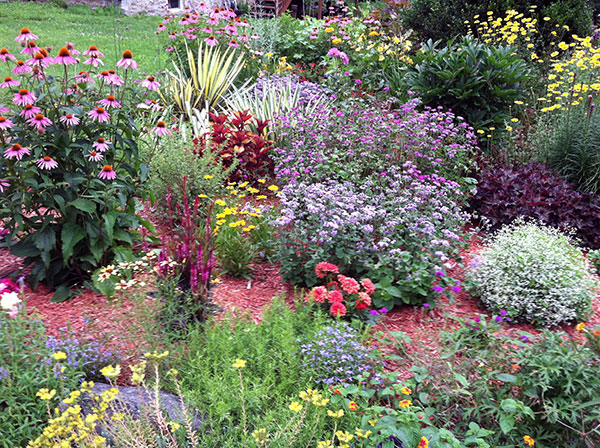 Beautiful color blends found in Joyce & Robert Nyren's garden.
---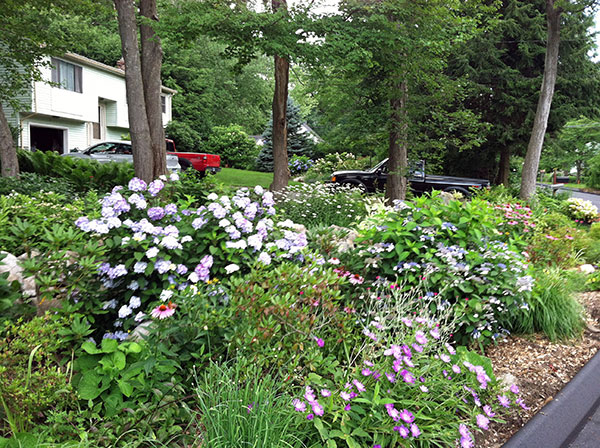 Beautiful hydrangea and stoke's aster found in Kathy & Tom Sullivan's gardens.
---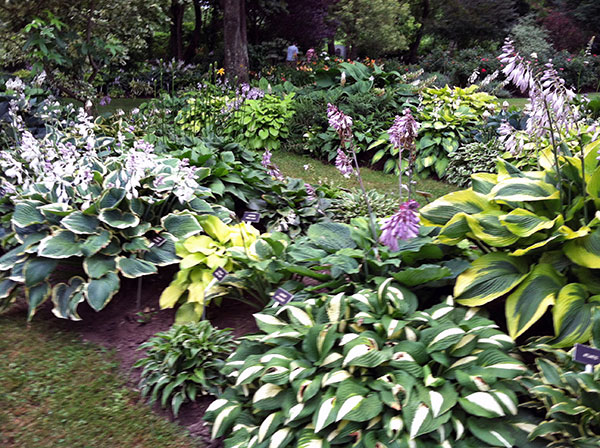 Beautiful hosta found in Ed & Pat Traver's gardens
---
To view past installments of the Wolcott Historical Society News, click here.