Wolcott Historical Society History for July 2013
By Florence Goodman
Wolcott is well known for its many high ridges and hills. This month I would like to discuss their names, locations and the history behind them.
Wakelee School whose elevation is 850 feet is surrounded by several high hills found in the northwest section of Wolcott. The first is Clinton Hill, which is one of the highest elevations in our town at 1000 feet above sea level. Clinton Hill Road was named for this hill. There was a time in our early history when Clinton Hill was called New Canaan, but it was later changed to its present name. In the days when John Alcott first settled here it was stated that on a clear day one could see Long Island Sound from Spindle and Clinton Hills.
Just south of Clinton Hill is Spindle Hill and the road named for this hill originates where North Main Street ends at the Waterbury/Wolcott line. This road winds its way through our town from Waterbury to Bristol and received its name from the "whirr" of the spindles as the women spun flax for the cords that held the weights in the clocks that Seth Thomas produced. Spindle Hill's elevation is approximately 900 feet.
The next hill located in this section of town is Beacor or Beaker Hill, which is northeast of Clinton Hill and slightly lower in elevation at about 950 feet. There is also a road named after this hill, which can be found by traveling up Allentown Road towards Plymouth.
The last hill in this section of town is Chestnut Hill and it is located south of Spindle Hill and hosts an elevation of between 750 to 800 feet above sea level. Chestnut Hill extends south towards Waterbury and into the valley of the Mad River. Chestnut Hill overlooks the Chestnut Hill Reservoir.
As you travel north on Wolcott Road from the intersection of Center Street and Beach Road up to Bound Line Road that hill is called Minor Hill, elevation 800 feet. It was named for the Minor family that owned a large amount of property in the area; the same holds true for Minor Road. In 1848 Henry Minor was elected Town Clerk, a position he held for 54 years. His father, Archibald held that position from 1815 to 1839. East of Minor Road is Wolcott High School, which has an elevation of approximately 800 feet.
At the top of Wolcott Road across from the American Legion is Lindsley Hill. There is a radio tower located on this hill whose elevation is 1046 feet above sea level, which is the highest point in New Haven County. The Lindsley family was a prominent family in this region thus the name is associated with this hill. There is some discrepancy in the location of this hill because Samuel Orcutt states that it was just another name for Rose and Pike's Hill, but on the Wolcott topographical map it shows it in the location on Wolcott Road.
Anyone that is familiar with the north and northeastern sections of Wolcott knows that it too has a very high elevation that can cause major problems in the winter. Alcott School is located in this section of town with an elevation 950 feet. Compounce Mountain is also found in this section of town running parallel to Beecher Road; its elevation is 964 feet. It received its name from an Indian chief associated with Southington legends. Pike's Hill also called Rose Hill is located here and this is where we find the first ancient cemetery bearing the same name.
There is a high ridge that runs for two miles along the southeast border of Wolcott and Southington; its elevation ranges from 650 to 900 feet above sea level. Waterbury people named this ridge Southington Mountain before the Wolcott territory was settled. This ridge ends near the Southeast Burying Ground. From the top of Southington Mountain to Todd Road there is yet another hill called Judd's Hill, which is part of the present Meriden Road. An early settler named Thomas Judd built his log cabin near the top of this hill near where Farview Avenue is today. The elevation of this hill is 650 feet.
In the center of Wolcott we find Benson's Hill, which was named for Jacob Benson. It started at the falls on the Mad River, which is where Pat's IGA is located today and ended at the town green. The early settlers called the original Congregational Church "the Church on Benson's Hill." This area was referred to as Benson's Hill until it was renamed Farmingbury. It has an elevation of 800 feet above sea level.
As we travel south of the center down Bound Line Road we approach Hogsfield Hill at the top of Coe Road. It has an elevation of 662 feet above sea level. In the early days the hogs or swine were allowed to roam freely around the forests of Wolcott because their owners clipped their ears with identifying markers. When the owners called for their animals, they would reward them with a treat of corn if they returned to the hogs field; thus the name Hogsfield Hill.
As we head further south of Hogsfield Hill down into the vicinity of Frisbie School whose elevation is 550 feet we come to Wolf Hill, which has an elevation of 600 feet. Wolf Hill Road was built to replace Fairclough Road that was covered by water when they built the Woodtick Reservoir in 1917. South of Wolf Hill on the Waterbury/Wolcott border along Woodtick Road is Bald Hill. This hill has an elevation of 680 feet.
In the southern section of Wolcott in the region of Tyrrell Middle School, elevation 650 feet, you will find Tamebuck Hill, which has the same elevation as Tyrrell Middle School. This high ridge is found west of Todd Road. This hill gets its name from a legend connected to the Harvey Upson family whose home was located on Garrigus Court. It seems that an injured fawn wandered into the farmyard and the children befriended it and nursed it back to health. The "tame buck" became a frequent visitor to the farm, thus the name of the road and the hill.
It's hard to believe that within the confines of our 20.6 square miles of land in Wolcott there could be so many high ridges and hills. I hope I have piqued your interest enough that you might drive around town and try to locate some of them.
(Information for this article was taken from History of the Town of Wolcott, Connecticut from 1731 to 1874 by Samuel Orcutt, Wolcott Facts and Legends, Wolcott topographical map, and Wolcott Connecticut 175th Anniversary 1796 - 1971 by John Washburne.)
---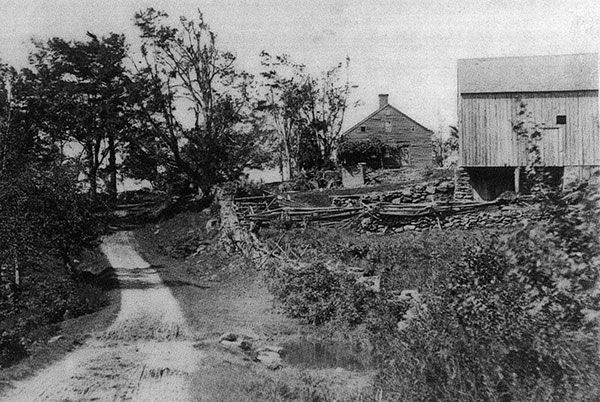 Beach Road approaching Spindle Hill; the Alcott house and barn are on the right.
---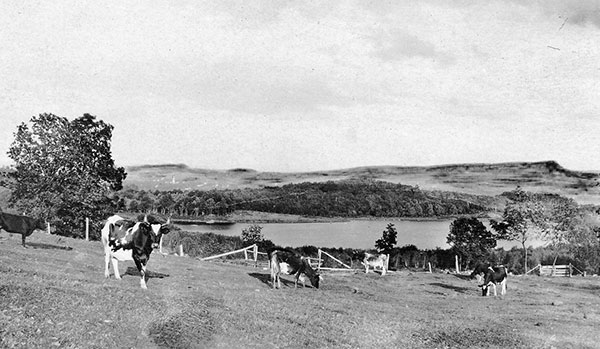 East Street overlooking Southington Reservoir from Wolcott's high ridge.
---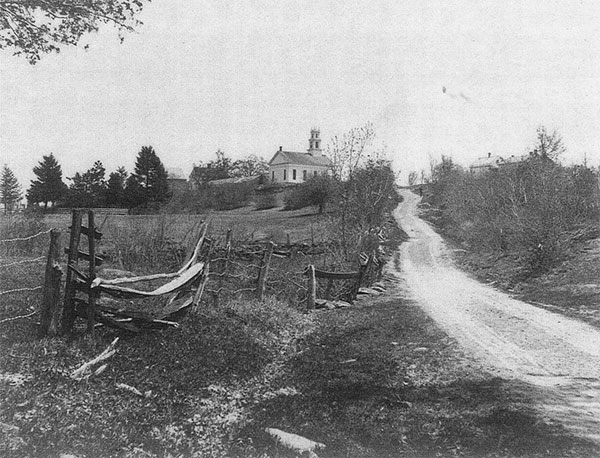 Looking up Center Street to Benson's Hill. The Congregational Church is at the top of the hill.
---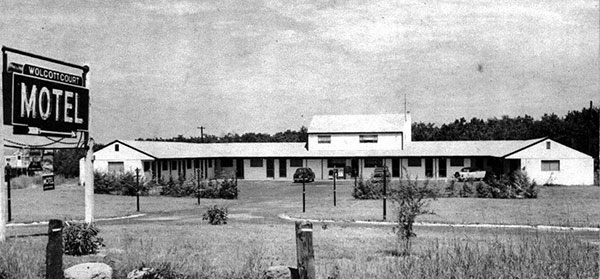 The original motel on Route 69 next to the American Legion and across from Lindsley Hill.
---
To view past installments of the Wolcott Historical Society News, click here.