Wolcott Historical Society History for June 2013
By Florence Goodman
I recently received part of an old friendship quilt from Beverly Young who lives in Wernersville, Pennsylvania. Most of the squares were dated 1848 and one was dated 1844. Beverly explained to me that many years ago she found the squares that had been discarded for rags, and her plan was to incorporate them into a new quilt, but never did. She did some research on the names and towns listed and found that they originated in the Wolcott area and contacted me to see if I wanted them for our Society's Museum. I was happy to accept, so she mailed them to me. These twelve squares are in amazingly good shape for their age. Three of the squares are from Wolcott, eight from Plymouth and one from Bristol. This month I would like to share with you more information about these squares and revisit an article I wrote in June 2011 explaining friendship and autograph quilts.
Quilts have been around for hundreds of years, but during the mid-1800s a particular type of quilt, the friendship quilt, became very popular for several reasons. First, as settlers began to move away from their hometowns a friendship quilt was given to them as a remembrance of their friends and family. Secondly, they were cherished gifts from friends and families during a nostalgic time in history. Friendship quilts came in two forms: the signature quilt and autograph quilt. Both were usually made of a single quilting pattern, which meant that each square was the same design and made up of different scrap materials. Usually one person sewed each square together to form the large quilt.
The difference between the signature quilt and autograph quilt was what was put on the squares. The squares of the signature quilt contained only the signature of the person who made that square while the square of the autograph quilt had a short verse as well as their signature. All of these signatures and verses were written in indelible ink. Judy Anne Breneman, a researcher of historical quilts, states, "Friendship quilts took time collecting fabric or blocks from each person, piecing them together and quilting the layers. Individual blocks on a quilt may have been made over several years and sometimes they were not put together into a quilt until years later. No matter how they were made they all had the same purpose, to record memories of cherished friends and family members."
Presently, our Schoolhouse Museum is the home of two friendship quilts. One is a 150-year-old signature quilt donated in 1985 by Hazel Pierpont. The quilt belonged to Beatrice Garrigus Pierpont of Maple Hill Farm on Pierpont Road in Waterbury. Her mother, Saphronia Elizabeth Upson Garrigus, gave the quilt to Beatrice. There are thirty-seven names signed on this quilt. The second quilt is an 1848 autograph quilt, which was a donated by Margaret Hall Carpenter, a long time resident of our town, who now resides at the Masonic Home in Wallingford. Margaret's grandfather was Ransom Hall. The quilt is in excellent condition for its age, but more importantly it is like reading an old autograph book. It was made for Lucelia Merrill who was born and lived in Wolcott from March 30, 1831 to October 7, 1908. Each square on the quilt has a message for Lucelia from her friends.
These twelve newly acquired squares will compliment the two quilts explained above. Hopefully, I will be able to find out more information on the names from Plymouth and Bristol, but for now I will share what I know about the three squares from Wolcott and the names of the quilters from Plymouth and Bristol.
I know the quilt was made for Mary Ann Hagar because one square states, "The property of Mary A Hargar, Plymouth 1848." There is another square that states, "From your sister Sarah Jane Harger, Plymouth, Conn." There is also a square from Benjamin Hargar, Plymouth Ct, Nov 15th 1848, age 46 and it states, "Mary Ann, I giv the I give the warning of leave to be mindful of thy creator above." This may be her brother, but I am not sure.
One square from Wolcott states, "Mrs. Lydia Pond, Wolcott 1848." Lydia Pond was married to Col. Moses Pond, a soldier of the War of 1812. They are both buried at the Northeast Cemetery off of Beecher Road. The second Wolcott square states, "To Mary Ann, Remember me when far away, A friend I am a friend will be, Live to friendship friendships due, Remember me and I will you. Heziah L. Pond, Wolcott, 1848." The last square doesn't say it is from Wolcott, but my research leads me to think it might be. It states, "Hannah C. Bartholmew, Guard well your thoughts, our thought are heard in heaven." There was a William Bartholmew listed in Samuel Orcutt's genealogy section of his History of Wolcott book and it shows that he married Hannah C. Bronson in 1811 and they lived in Wolcott about a mile south of the center. Both William and Hannah Bartholmew are buried in the Edgewood Cemetery so that is why I believe this is also a Wolcott square.
Hannah Warner created the Bristol square in 1844 and we had many Warner family members living in Wolcott. Mary Ann's friends from Plymouth made the rest of the squares and their names are as follows: Candace F. Smith, Mary B. Clark, Jane P. Potter, Mrs. Olive Lewis and Emily A. Talmage. (I am not sure of this name because it was hard to read.) These too are family names that are found in Wolcott.
If you are familiar with any of these names or can shed some light on the history of these squares, please contact me at fjgtdg@gmail.com or call me. If you would like a closer look at these squares or our two friendships quilts, which are all beautiful works of art, please make an appointment to visit our Museum on Nichols Road.
(Information for this article was taken from from Womenfolk.com by Judy Anne Breneman, New Pathways into Quilting History by Kimberly Wulfert at www.antiquequiltdating.com, and History of the Town of Wolcott, Connecticut from 1731 to 1874 by Samuel Orcutt)
---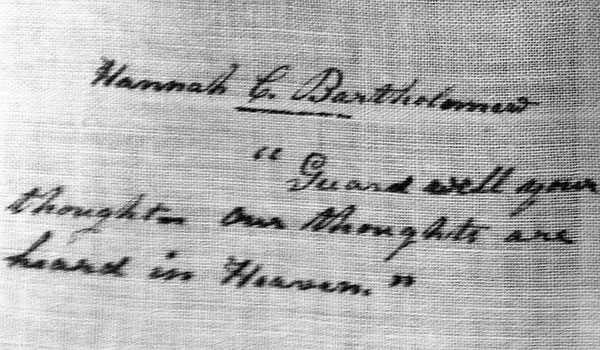 Hannah C. Bronson married William Bartholmew in 1811. They are buried in Edgewood Cemetery in Wolcott.
---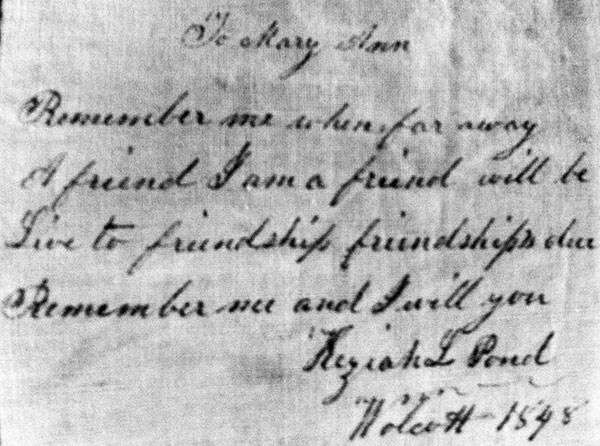 Heziah L. Pond, Wolcott, 1848.
---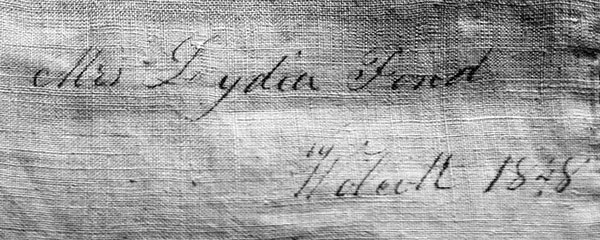 Mrs. Lydia Pond, Wolcott 1848.
---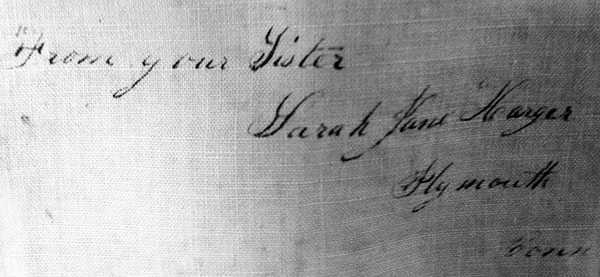 From your sister Sarah Jane Harger, Plymouth Conn.
---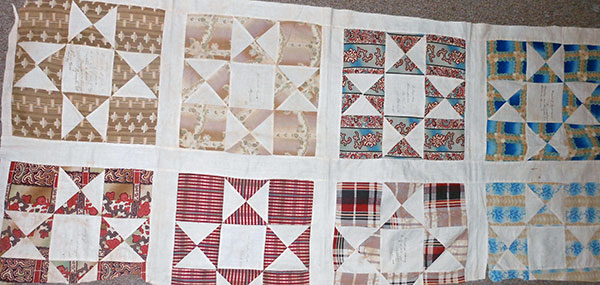 This piece has 4 complete squares and 4 partial squares, but the writing on all 8 squares is visible.
---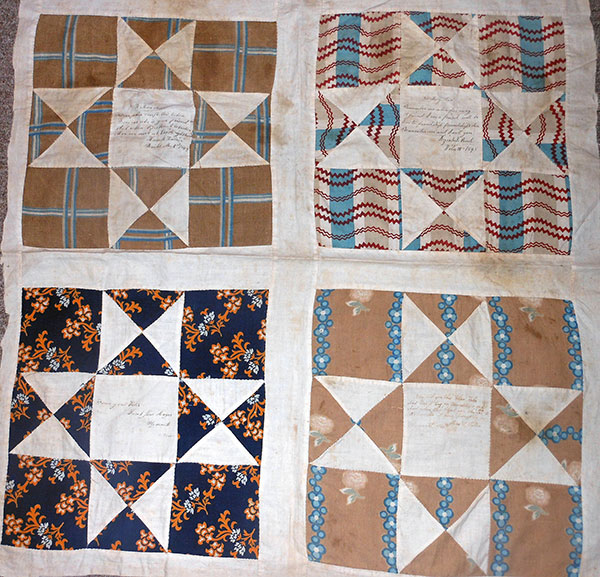 This piece has 4 complete squares with the writing on each square visible.
---
To view past installments of the Wolcott Historical Society News, click here.