Wolcott Historical Society History for March 2013
By Florence Goodman
I recently received an old photograph of the Josiah Atkins House from Kathy Washburne Shea. This house, which is, located at 49 Center Street has an interesting history; thus, I thought my readers would enjoy learning more about this historically significant home.
This one and one-half story Colonial period cape with a central chimney and saltbox wing was built prior to 1777 for Lt. Josiah Rogers who was one of the founders of the Farmingbury Society. His family settled in Wolcott as early as 1724. In 1774 he was elected Deacon of the church, a position he held for 29 years. Lt. Josiah Rogers was also an officer in the Farmingbury Militia. He died in 1803 at the age of 70.
On April 17, 1777 Lt. Josiah Rogers sold 1-¼ acres of land to his son-in-law Josiah Atkins for "eight pounds". It is believed that the house was included in this sale as a gift from father to daughter; the house became known as the Josiah Atkins House
Josiah Atkins was born in 1749 in the part of Farmington, which later became Bristol. His family moved to Wolcott (Farmingbury) in 1759 where his father was an important man in the establishment of the Farmingbury parish. In 1770, 1771, and 1772 Josiah taught school in Farmington. Later, he had a blacksmith shop in Wolcott. Josiah Atkins's wife Sarah Rogers whom he married in 1777 died in 1778.
In 1779 Josiah Atkins married Mary Gillet. It was said that Atkins was a remarkably strong, hard-working man who could mow, reap or chop more in one day than any man in town.
In January of 1781 Josiah Atkins enlisted in the army, but his time serving was cut short; he died in Virginia on October 26 or 27 of that same year, a Revolutionary War hero. During his time serving he kept a journal and recorded some of the battles that eventually led to the end of the war. Josiah Atkins's original journal is housed in the library of the New Haven Colony Historical Society. The journal is called The Journal of Josiah Atkins of Waterbury Farmingbury Society in Ye State of Connecticut N. England 1781 and was printed in 1954 for the Mattatuck Historical Society in Waterbury. The Wolcott Historical Society had not yet been established at the time of the printing.
Another well-established family in our town, the Pritchard family, also owned the Josiah Atkins House and property surrounding it for about one hundred years. Roger Pritchard came from England and settled on the Wolcott/Waterbury border where Sharon Road is today. Orcutt states, "He was a very stout, fearless man and was chosen leader to keep the Indians from attacking." It was his great grandchildren that settled in this section of Wolcott. In 1870 Pritchard's holdings included the land from Wolcott High School on the west side of Bound Line Road to the Edgewood Cemetery. Pritchard had planted a large apple orchard on this property; hence Orchard Lane was a fitting name for the road just past the high school on Bound Line Road. From the high school down Minor Road all the way to Center Street to Wolcott Road was also owned by Prichard. In fact as early as 1751 a Pritchard owned a sawmill at that intersection over the Mad River. Willey Pritchard who was born in 1863 later owned that sawmill which was in existence until April 16, 1944 when it was destroyed by fire. During this time period, the Atkins House and property was referred to as Pritchard's Farm.
In the mid 1950's Katherine and John Washburne purchased the Josiah Atkins house and property on Center Street, which included two barns and a smoke house. They lived there with their children Jack and Kathy. Mr. and Mrs. Washburne were very active in the Wolcott Historical Society and John authored many articles and booklets about Wolcott history that I reference frequently. Today, their daughter, Kathy and her husband Dave Shea own the property.
If walls could talk, I bet we would hear some great stories and adventures about the interesting families that have lived in this quaint, historic house.
(Information for this article was taken from, The Journal of Josiah Atkins of Waterbury Farmingbury Society in Ye State of Connecticut N. England 1781 Number 21 printed in 1954, 175th Anniversary 1796-1971 by John Washburne, History of the Town of Wolcott, Connecticut from 1731 to 1874 by Samuel Orcutt and a conversation with Kathy Shea.)
---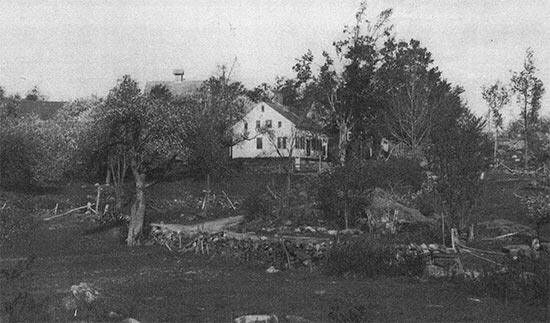 This photo from Kathy Shea shows the Josiah Atkins House on Center Street; the large barn in the background is no longer standing. There is still a smoke house in the back yard. Kathy noted that they found a sign on the property that says, "Pritchard #11," which was probably the owner's name and house number. Notice where Center Street ends; the road it runs into might be Minor Road since Wolcott Road was not in existence at the time.
---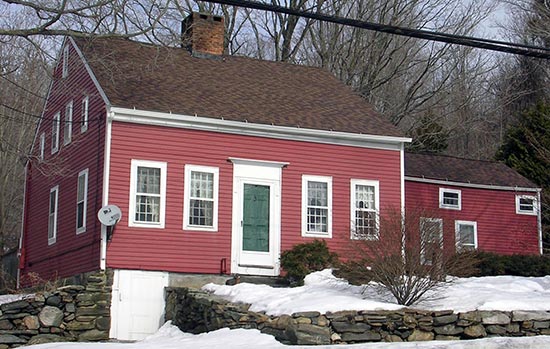 Present day picture of the Josiah Atkins House at 49 Center Street.
---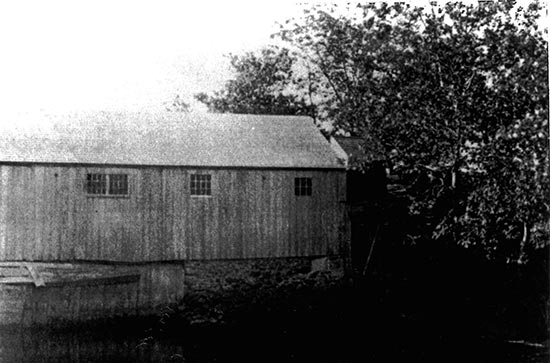 The Willey Pritchard Sawmill that was located on the Mad River at Center Street.
---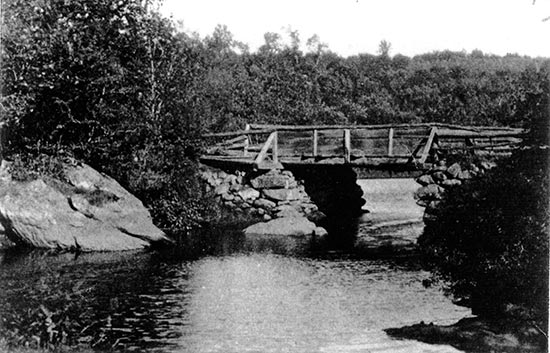 The old wooden bridge crossing the Mad River on Center Street.
---
To view past installments of the Wolcott Historical Society News, click here.