Wolcott Historical Society News - January 2013
By Florence Goodman
Hiking historic areas can be intriguing as you try to imagine how the land originally looked. The landscape of our earth changes over time with nature or man causing these changes. As you hike over these areas and look at the remains, it's hard not to imagine the people that lived and worked the land. This month I will share some information about the trails that wind through the property along old Beecher Road as well as a genealogy of the Beecher family who lived on the land.
Originally the lower and upper ends of Beecher Roads were connected and extended down into Bristol. This was the old North South Highway that early settlers used as a main source of travel. Since the Beecher family owned much of the property along the road the name changed to Beecher Road. Today the New Britain Reservoir and the Bristol Fish and Game own the land. This is private property, but the Blue Trail (Tunxis Trail) runs through this area and hikers are allowed to travel on it. There is an interesting website that gives some information about these trails, it is: http://www.ctmuseumquest.com/?page_id=1815.
Hiking this area can begin in three ways; you may start at the end of upper Beecher Road off of Long Swamp Road, on Woodtick Road across from Wilson Road, or at the end of lower Beecher Road. If you begin your hike on Woodtick Road, the trail takes you past the first cemetery laid out in this region, Pike's Hill circa 1774. This trail ends at the bottom of the hill on the north side of the Northeast Cemetery on Beecher Road. This hike is under a mile, but the trail is eroded in many sections and the return trip is steep so you need to be careful. If you use upper Beecher Road, this trail is easier to travel and the terrain is not as steep, but this is Bristol Fish and Game property and you might want to check with them to access it. This trail takes you to the same places, as I will mention next.
If you choose to begin at the end of lower Beecher Road, the trail is easier to travel, but covered with large gravel stone because the town maintains this road. There is a trail off to the right just past the power lines, but I have never hiked it. Once you pass the Northeast Cemetery, which will be on your left, you will come to a fork in the road. If you bear to the left, it will take you back up to the northern end of the paved Beecher Road and down into Bristol. If you bear right, you will eventually come upon the New Britain Reservoir and/or the summit of Compounce Mountain. Hikers will find old stonewalls and foundations, as well as, an old well along the way. I'm sure this land holds many interesting stories from the past, but I can only tell you about the family that lived here and the trails that were left behind.
As early as 1671 the Beecher name appears in early New Haven records. Joseph Beecher, 3rd was born in 1731 in New Haven, but sometime before 1770 Wolcott records indicate that Joseph Beecher, 3rd married Esther Potter and settled in northeastern Wolcott where they acquired a large amount of land. Samuel Orcutt states, "He was a reliable and active man in the Society and church for many years." Orcutt also states that church records from 1778 indicate that Captain Joseph Beecher was among the first officers of the first military company in the Farmington part of Farmingbury. Captain Joseph Beecher had five brothers two of which, Abell and Amos also lived in Wolcott. This is the beginning of a long heritage of the Beecher family living in the area.
Joseph and Esther Beecher had seven children from 1756 to 1781 that were born and raised in town. They were John, Nathan, Sybil, Joseph, Hezekiah, Esther, and Sylvester.
Their first child, John married Susanna Alcox whose family (Alcott) had large land holdings in this area too. John and Susanna lived on or near the Beecher family homestead and raised eight children from 1793 to 1809. These children's names were: Lyman, John, Julia, Leonard, Delight, Jesse Lyman, Esther Potter, and Henry. As these children grew into adulthood many married and started their own families. These adult children and their families also settled on or in this vicinity.
John Beecher 2nd who was the son of John and Susannah (Alcox) Beecher had four children. Their first child, Ellen Augusta was born in 1827 and married Rufus Norton in 1845. They had a farm on the upper part of Beecher Road near where Glen Road is today. That farm was still in existence in the1950s.
Leonard, son of John and Susannah (Alcox) Beecher, married Polly, daughter of John Frisbie and they too built a home near the family home; they had two children.
When Joseph Beecher 3rd died in 1821 at the age of 90 he left a huge family. He and twelve of his family members are buried in the old Northeast Cemetery, which is located on the road bearing his family name. If you look over the remaining tombstones in this cemetery it is obvious how many of these family members were buried there.
Another interesting fact for hikers is that the old one-room Northeast School was located on the upper end of Beecher Road across from the Pikiell farm property; today the Bristol Fish and Game own the Pikiell property. You must drive to the end of Beecher Road from Long Swamp Road to find the foundation at the end of the road. It was on the left side of the road looking toward Southington. This school was in use until 1930; it was sold in 1931, but it later burned down.
My last bit of information that I'd like to share and also QUESTION readers about is something called, "The Cradle of Beecher's Field." I want to know if anyone has ever heard of this and if so, is it a fact or a legend. Back in the 1990s when I was teaching sixth grade at Alcott Middle School, one of my colleagues, Rich Plantier gave me some photographs, a diagram and a map about this. There was no explanation, but the young man that gave the presentation would be about 28 to 30 today. He and his aunt had hiked this area that I have been discussing and I would love to know more about it. Some of his pictures are in this article.
Once the snow melts and the weather warms up grab your hiking shoes and explore this very interesting area of our town and if you know anything about "The Cradle of Beecher's Field," please contact me at fjgtdg@gmail.com or call me.
(Information for this article was taken from Samuel Orcutt's The History of the Town of Wolcott, Connecticut From 1731 to 1874 and A Salute To Two Centries of Education in Wolcott, Connecticut.)
Our Schoolhouse Museum, which is usually open in the fall on Sunday afternoons, will be closed for several months this fall and winter because of painting. You may visit the Museum in the spring when it reopens by calling Carl Hotkowski 203-592-8237 or Flo Goodman 203-879-9818.
---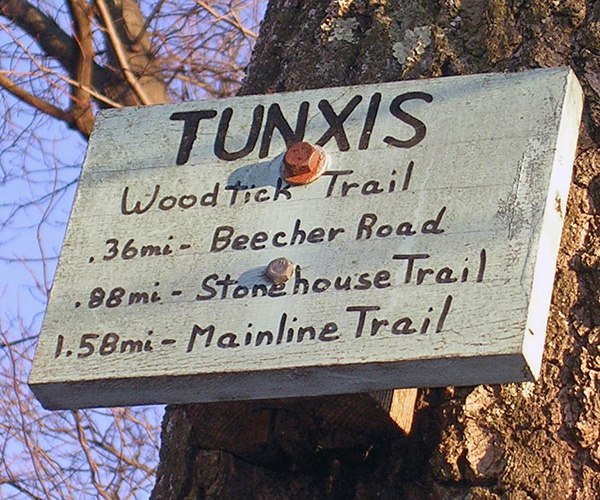 This sign was located on-Woodtick Road, but has disappeared.
---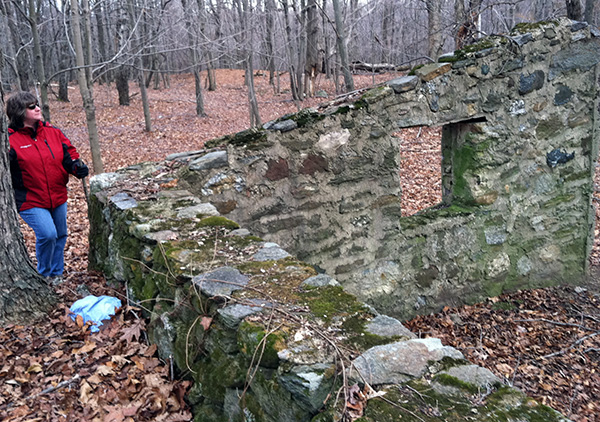 Marylou Miele at an old foundation along the trail.
---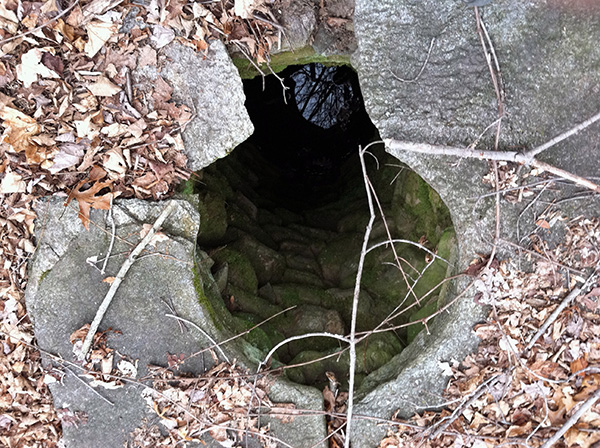 An old well at another site.
---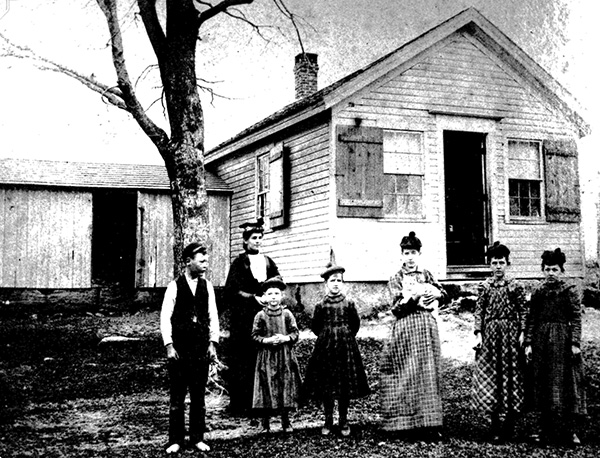 Northeast School was located at the upper end of Beecher Road.
---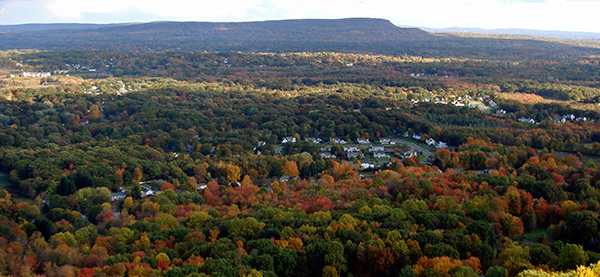 View from the summit of Compounce Mountain.
---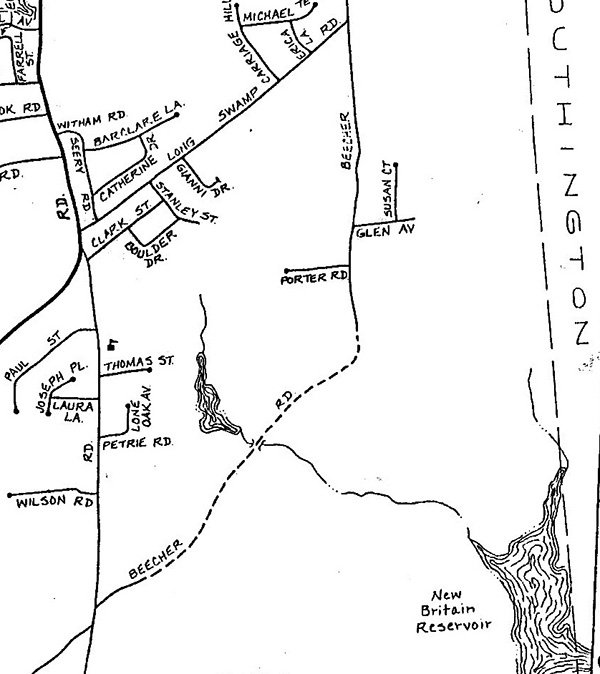 Map of area showing how the Beecher Road connected.
---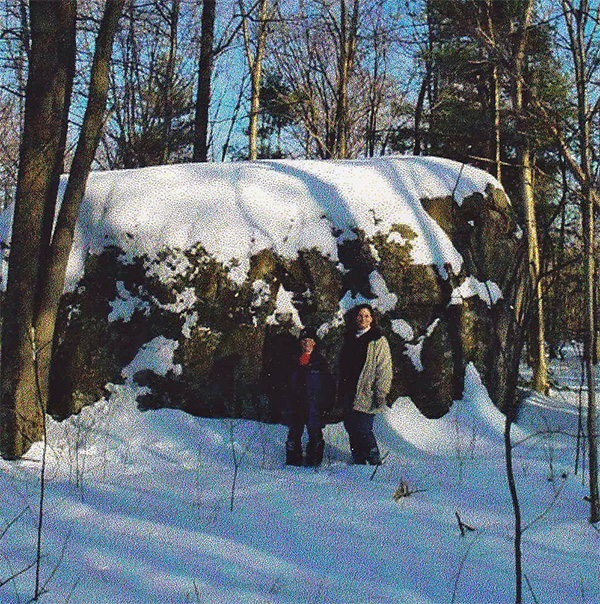 Student and his aunt on the trail many years ago.
---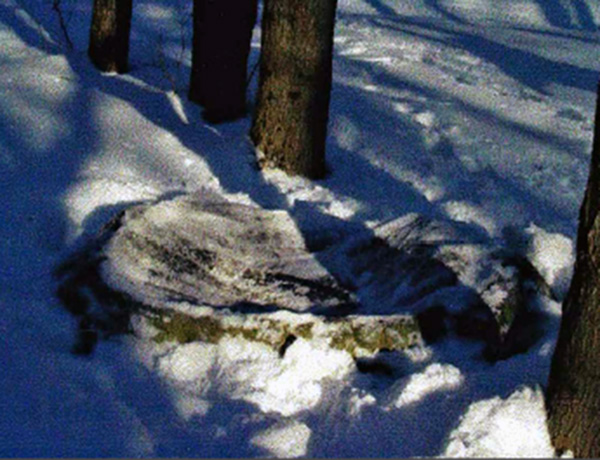 Student's picture of the cradle.
---
To view past installments of the Wolcott Historical Society News, click here.