Wolcott Historical Society News - July 2012
By Florence Goodman
About a year ago someone asked me, this question. "Why we don't have a Wolcott flag and wouldn't it be fun to have a contest to design a flag for our town?" My response to them was, "We do have a Wolcott flag, but no one seems to know what happened to it." That started me on a tedious search to find our town flag. I called several people, but came up empty handed.
I remembered seeing the flag hanging in the gym up on the wall along with our "School of Excellence" sign while I was teaching at Alcott Middle School. After we moved to Tyrrell Middle School in 2000, I could not remember if I saw the flag at any time in the new building. I mentioned the missing flag to Arline Tansley, my colleague and walking partner of twenty plus years and she agreed that the flag was hanging at Alcott while we were there and said she would make a few calls to see if she could find the flag. She asked Tyrrell's head custodian, Artie Lerz to search that building, but the flag was not there. Next she called Artie Lerz, Jr., head custodian at Alcott School and told him about our dilemma so he joined in on the search.
It took some time and a lot of "luck," but Artie Lerz, Jr. came to our rescue. It was months later while he was cleaning out a closet at Alcott School and low and behold at the back of the closet was the Wolcott flag. It seems that while they were painting the gym at that school someone had stored the flag in the closet, but forgot to hang it up again when the job was completed.
I was delighted to see that old flag after so many years, but my next question was, "Why isn't it flying at various buildings in our town?" So I called the Mayor to discuss the possibility of having some flags made for the schools, the library, Town Hall and maybe a few other places in town. Along with the help from the Wolcott Historical Society and the Mayor, we were able to purchase several new flags that will be flying around our town in the near future. In fact, the Mayor will have a "Special" flag raising ceremony for our newly made Wolcott flag on Sunday, July 22nd at the Town Hall as part of the Annual Town Picnic and everyone is welcome to come.
Now to the actual history of our flag and how it came about; a former Wolcott teacher, Irene McLean, designed our flag in 1971 for the town's 175th Anniversary. As part of the town's celebration, a contest was held and Irene's design was chosen. Our flag consists of our Town seal set on a white star, which is surrounded by a sea of blue, a similar blue as our state flag. The original flag was embroidered and appliquéd, but that process is now very costly so we decided to go with a dyed flag design, which is much more cost effective.
So if anyone asks about our town flag, you may now say, "Yes, we have one and it is flying in various places around town." Be on the look out for the flag in the near future and thank you to everyone who helped to get the flag flying again!!
Our Schoolhouse Museum is open by appointment only; you may visit the Museum by calling Carl Hotkowski 203-592-8237 or Flo Goodman 203-879-9818. Our meetings are held on the first Thursday of each month at the Old Stone School on Nichols Road at 6:30 P.M. Visit our WebPages at (http://www.wolcotthistory.org/).
---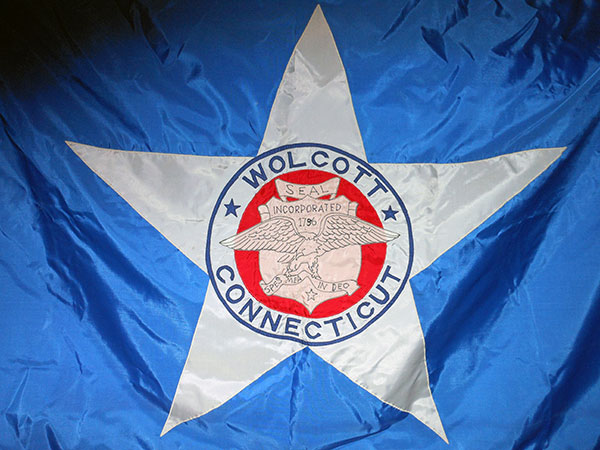 The original 1971-embroidered / appliquéd flag designed by Irene McLean.
---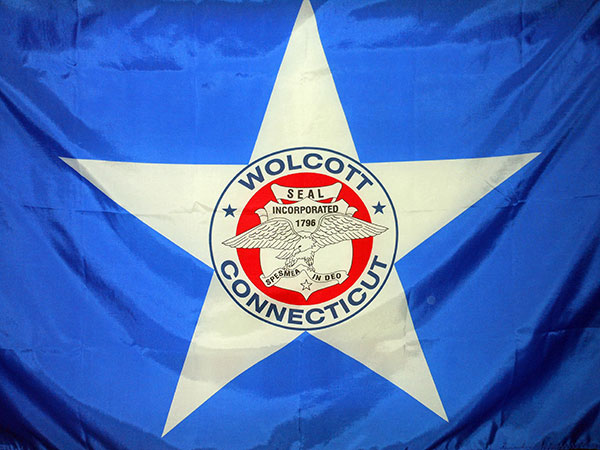 The new more cost effective dyed flag design.
---
To view past installments of the Wolcott Historical Society News, click here.