Wolcott Historical Society News - June 2012
By Florence Goodman
Two memorable disasters took place in our town in 1962. Last month.s article dealt with a tornado that damaged a section of Wolcott and its affects on our residents. This month I will discuss a barn fire that affected one family, but indirectly it had a much greater impact on residents whose milk delivery came from that local dairy.
It was the evening of January 15, 1962 around 10:00 P.M. when fire broke out in the large dairy barn at the Peterson Dairy on the corner of Mad River and Spindle Hill Roads. High winds fueled the fire that destroyed the 100-foot barn along with forty-two years of dairy farming for the Peterson family.
Howard and Marian Kraft, relatives of the Peterson's who lived just west of the barn and were the first to see the fire and quickly called the Wolcott Volunteer Fire Department. All three companies responded with a total of seven pieces of equipment. They had to relay water from the Mad River about a half-mile down the road by using a tanker-pumper truck, but by midnight the hay and debris in the barn were still burning. The firemen were able to save the barn's lower level and a newer milk house addition. Fire Chief, Fred Megin, Sr. reported, "the building was gone before they got there." He estimated the damage to be about $10,000.
Mrs. Hilma Peterson, owner of the dairy was thankful that no lives were lost in the fire, but feared that several animals died in the blaze. She stated that there were ten or eleven cows, several calves, and a bull in the barn, but in the darkness they were uncertain if all animals were led to safety. Farm equipment was also lost in the blaze; a farm tractor, milking machines and a milk cooler were burned. The Petersons reported that the barn would probably never be rebuilt; there were several other barns on the property.
The events of the evening went as follows. Martin Powell, long time farm hand, stated that all was well around 7:15 P.M. when he completed his chores in the barn; he had even pulled the plug on the radio when he left. At 9:20 P.M. Mrs. Peterson's daughter-in-law drove by the barn and saw no signs of a fire then. At 10:00 P.M. Howard and Marion Kraft discovered the fire and called the fire department. Farm hand, Powell later stated that when he heard the report of a fire in the barn, he looked out the window and noted that the flames were in the area of the electric power service.
The following is an excerpt from Marion Kraft's journal of that evening. The first and last names of the people mentioned in the journal are: Howard Kraft, Sharon Kraft, Hilma Peterson, Martin Powell, Kathy Washburne, Joyce Peterson, and Doris Peterson.
"About 10 pm as I was putting out milk bottles, I caught an unusual yellow-orange light toward the farm. The barn was afire. Sharon screamed into her clothes + Howie slower put on his. I headed for Aunt Hilma, passing Sharon + Kathy Washburne in the yard, and Martin who said "I don't care so much about the barn -- if only they can get the cows out." And I said, "Without hurting the men!" Kay Washburne was with Aunt Hilma who just sat in her TV chair, staring blankly. So I went out again. Keep out from under the wires, said a fireman, so we got a crying Kathy + Sharon off to one side. Joyce came + Doris. Kay W. was out with me. Kathy had seen the fire from her bedroom window + they drove up the hill + were surprised to be the 1st on the scene; and had a terrible time getting Aunt Hilma to open the door. Doris called the fire dept + was annoyed at the red tape questions before they got the message. Washburnes called too + I was furious because I couldn't find the fire dep't number in finder or book! About 10:30 Mary Hallock + I decided perhaps we'd better be Red Cross-minded + get some hot coffee + donuts "for the boys" (like you see in the papers, I thought -- only this time it was us!). So we did. I made a pot + a pitcher, Kay went + rounded up 7 doz donuts (!) and from 11 to 1 a.m. we had a steady stream of customers on her front porch. We used most of my [blank] oz jar of (Art) Yubal Inst. [coffee] + Aunt Hilma made 2 pots + Mary Byrnes brought a gallon jug with her, about 12 or so (got lost). We re-used our paper cups + when those got lost Aunt H. sent out all her broken handled ones. Mary, + Kay brought new paper ones. Got home about 1:30 [am] after Howie, Fred Megin, Ken Benoit (?) had gotten stories from Aunt Hilma + Martin, discussed insurance, etc. The 3 men were looking over the ruins of the milk room when I left, pulling the blue wagon of coffee and "--. Howie came in right after me + we tucked in at 1:45. He had had to have oxygen -- got too much smoke at one point. One smile was at the height of the coffee business on the porch when Aunt H. + Art insisted on dripolator coffee + Kay + I made 3 pots of Instant + served it while they made one pot of drip! As I was leaving, up galloped a newspaper photographer."
[next day, prayer topics] Aunt Hilma + the boys + Martin, readjustments as to farm; milk came -- from co-op; "no more raw milk," says Aunt H[ilma] -- she used to put it up for us + others, herself."
This property has had a very long history to it, which is worth reviewing. James Alcott originally built the saltbox style house in 1774. James was the son of John Alcott, one of the early settlers to purchase a large amount of property on Spindle Hill. The area where the James Alcott farm was located was referred to as Sunnyside. Alcott owned the property until the late 1800s, when Evelyn Upson purchased the farm and lived there until his death in 1918. In 1902 Mr. Upson served as a delegate to the State Constitution Convention to revise out existing Constitution. Each delegate was given a small pin oak as a memento for this special occasion. They were to take it back to their towns and plant it in a prominent location. Upson planted the tree next to the barn on his property on Spindle Hill Road and intended to move it at a later date to the Town Green, but that never happened. The Constitutional Oak survived the barn fire and still proudly stands along the road today.
In 1918, Carl and Helma Peterson purchased the farm at 621 Spindle Hill Road, the Seth Thomas house at 36 Peterson Lane and about 150 acres of land along Spindle Hill and Mad River Roads. They established the Peterson Dairy Farm in 1923 and it was in operation until a fire destroyed the large dairy barn in 1962.
(Information from this article was taken from the Waterbury American, Tuesday, January 16, 1962 and a journal entry from Monday, January 15, 1962, The Diary-Journal of Marian N. Kraft transcribed by her son, Robert Kraft.)
Our Schoolhouse Museum is open by appointment only; you may visit the Museum by calling Carl Hotkowski 203-592-8237 or Flo Goodman 203-879-9818. Our meetings are held on the first Thursday of each month at the Old Stone School on Nichols Road at 6:30 P.M. Visit our WebPages at (http://www.wolcotthistory.org/).
---

Upson farmhouse about 1900.
---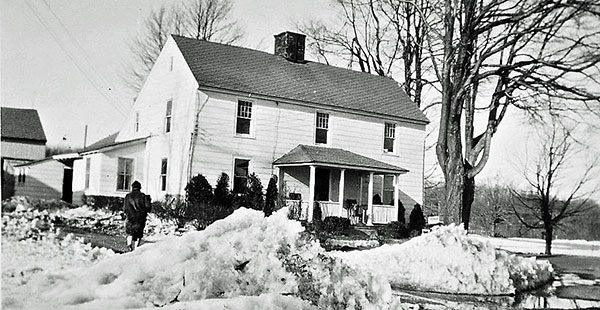 Peterson Farm, 1941.
---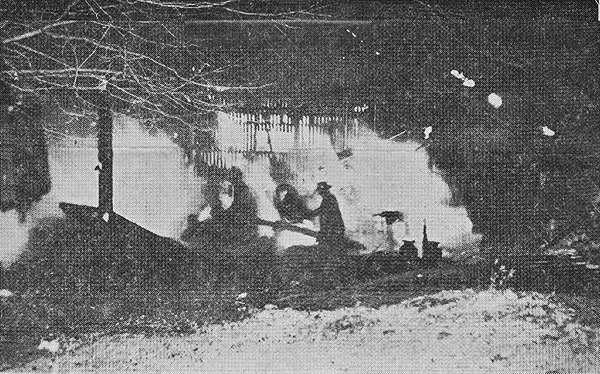 Peterson barn fire, 1962.
---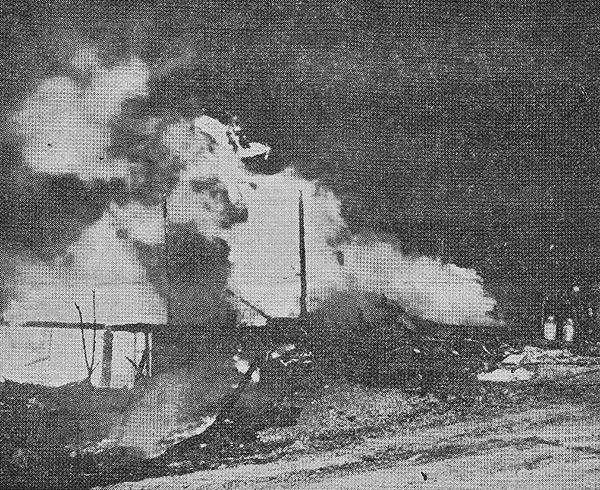 Peterson barn fire, 1962.
---
To view past installments of the Wolcott Historical Society News, click here.