Wolcott Historical Society News - July 2011
By Florence Goodman
This month, I will introduce you to a bit of quilting history.
Quilts have been around for hundreds of years, but during the mid-19th Century, a particular type of quilt, the friendship quilt, became very popular for several reasons. First, as settlers began to move away from their hometowns, a friendship quilt was given to them as a remembrance of their friends and family. Secondly, they were cherished gifts from friends and families during a nostalgic time in history.
Friendship quilts came in two forms: the signature quilt and autograph quilt. Both were usually made of a single quilting pattern, which meant that each square was the same design and made up of different scrap materials. Usually one person sewed each square together to form the large quilt. The difference between the signature quilt and autograph quilt was what was put on the squares. The squares of the signature quilt contained only the signature of the person who made that square, while the square of the autograph quilt had a short verse as well as their signature. All of these signatures and verses were written in indelible ink.
Judy Anne Breneman, a researcher of historical quilts, states, "Friendship quilts took time collecting fabric or blocks from each person, piecing them together and quilting the layers. Individual blocks on a quilt may have been made over several years and sometimes they were not put together into a quilt until years later. No matter how they were made they all had the same purpose, to record memories of cherished friends and family members."
In 1985, Hazel Pierpont Jacoby donated a 100-year-old signature quilt to the Wolcott Historical Society. The quilt belonged to Beatrice Garrigus Pierpont of Maple Hill Farm on Pierpont Road in Waterbury. Her mother, Saphronia Elizabeth Upson Garrigus, gave the quilt to Beatrice. The quilt was donated to the Society in October of that year and has been on display in the Museum ever since.
There are 37 names signed on this quilt and they are as follows: Mrs. Mark Castile, Mrs. H. Bement, Sarah E. Jason, Selina Carter, Emma J. Odell, Nancy Hall, Jeanette Higgins, Lucelia Merrill, Mrs. Sarah Frisbie, Sarah J. Warner, Harriet G. Norton, Mary M. Carter, Hattie G. Bronson, Mrs. Sheldon Lewis, Martha A. Bronson, Anna A. Hough, Arliden M. Tuttle, Hattie J. Grolls, Emogene E. Minor, Jennie Carter, Emorett Miner, Mary Harrison, Polly W. Miner, Marcia Pritchard, Emily Hough, Sylvia Parker, Ida J. Pritchard, Thankful Bartholmew, Jalome W. Jason, Vesta Byington, Juliaette Merrill, Mary W. Harrison, Hattie E. Downe, Lucy S. Bronson, Emma A. Upson, Sarah E. Upson, and Sarah J. Miner.
In October of 2010, the Society received another quilt donation. This quilt was an 1848 autograph quilt, which was a donation from Margaret Hall Carpenter, a long time resident of our town, who now resides at the Masonic Home in Wallingford. Margaret's great grandfather was Ransom Hall. The quilt is in excellent condition for its age, but more importantly, it is like reading an old autograph book. It was made for Lucelia Merrill, who was born and lived in Wolcott from March 30, 1831 to October 7, 1908.
Each square on the quilt has a message for Lucelia from her friends. Several of the verses are as follows:
"To Lucelia, when this you see remember me. Harriet J. Hall, March 11, 1848."
"To Lucelia, Friendship sincere most ardent and true, such friendship dear girl I feel for you. Harriet Nichols."
It is interesting to note that as you look at each of these quilts, you will see many of the same family names and even some of the same women who worked on each quilt. For example, Lucelia Merrill, for whom the autograph quilt was made, also signed the signature quilt. If you want a closer look at these beautiful works of art, please make an appointment to visit our Museum on Nichols Rd.
(Information for this article was taken from Womenfolk.com by Judy Anne Breneman, New Pathways into Quilting History by Kimberly Wulfert at www.antiquequiltdating.com, information given to the Society by Margaret Hall Carpenter and a letter from Hazel Pierpont Jacoby with information about her donated quilt)
Our Schoolhouse Museum is open by appointment only; you may visit the Museum by calling Loretta Leonard at 203-879-4310 or Flo Goodman at 203-879-9818. Our meetings are held on the first Thursday of each month at the Old Stone School on Nichols Road at 6:30 P.M. unless snow cancels them in the winter season.
SAVE THE DATE: Our annual Garden Tour is July 9th. Please support us in this fundraising event. For more information call Flo Goodman at 203-879-9818.
---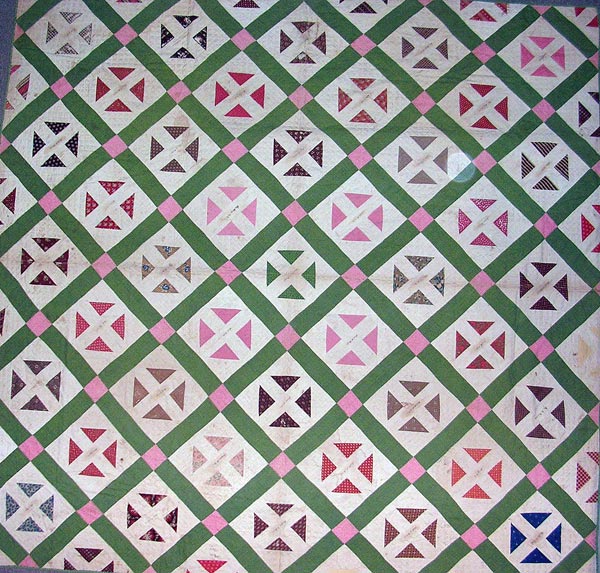 1885 Signature Quilt.
---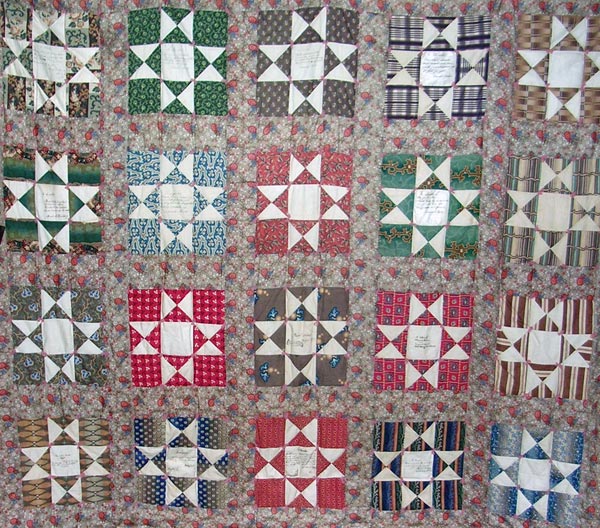 1848 Autograph Quilt.
---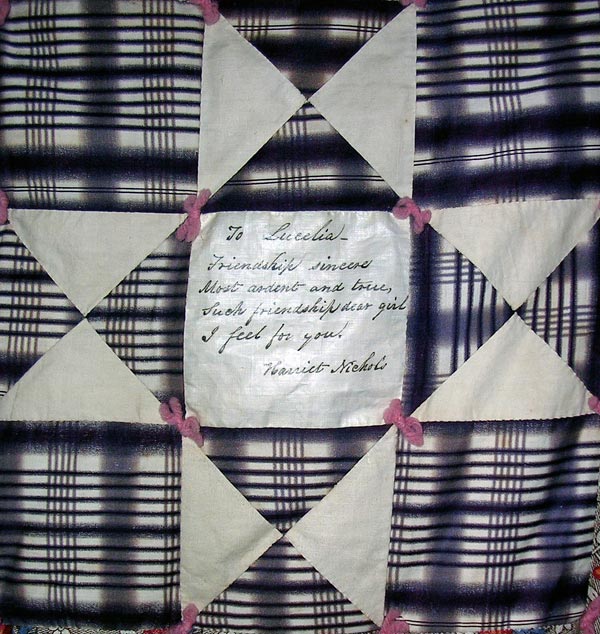 Harriet Nichols - one square of autograph quilt.
---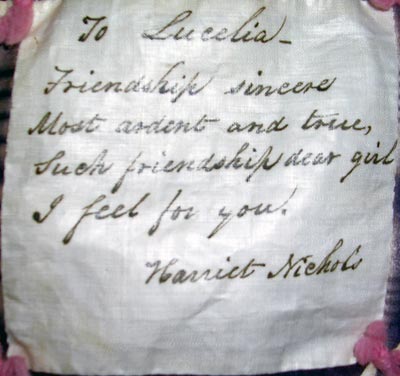 Harriet Nichols - close-up of verse and signature.
---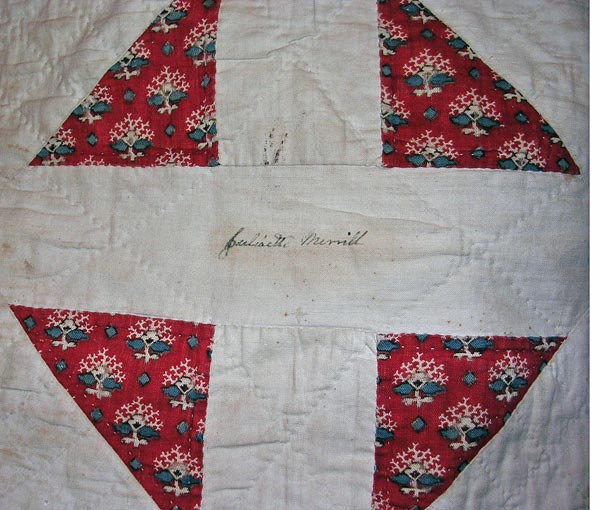 Juliatte Merrill - close up of one of the signature squares.
---
To view past installments of the Wolcott Historical Society News, click here.