Wolcott Historical Society News - December 2010
By Florence Goodman
This month I will break from the farms stories to share the accomplishments of Steve Lago's Eagle Project, which has helped to preserve one of our early town cemeteries in the northern section of town, Pike's Hill Burying Ground.
This cemetery was laid out circa 1774 in the northeast section of town when Wolcott was still called Farmingbury. This burying ground, which was also referred to as Rose Hill, was used for about 30 years and contained only a small number of graves. Many of these graves were removed and placed in the larger Northeast or Beecher Cemetery in 1805 when the town voted to purchase a larger piece of land for the new cemetery.
There are still six stones remaining in Pike's Hill today, but they are in very poor shape and it is very hard to read the names on the stones. Reverend Samuel Orcutt listed the six stones in his book History of the Town of Wolcott From 1731 to 1874. Three of the monuments were made of brown stone and three were made of blue stone. The three brown stones read as follows: "In memory of Mrs. Rachel Brackitt, who died October ye 17th, 1776, in ye 22nd year of her age." The inscription stated: "While you are blooming young and spry, perhaps you think you ne'er shall die; but here's a witness of the truth, that you may die when in your youth."
The next stone read, "Here lieth interred the body of Mr. Mathew Blakslee. He departed this life May ye 28, A.D. 1776, in ye 61st year of his age."
The third stone read, "In memory of the widow Rhoda Blakslee, the wife of Mr. Mathew Blakslee. She departed this life March 12th A.D. 1781, in the 63rd year of her age."
The three other blue stone monuments read as follows: "In memory of Abner Blaksly. He died Nov. 27th, A.D., 1791, in the 51st year of his age."
The next stone read, "Ithamer, son to Jesse and Patience Alcox, died Aug. 9th, 1778, ae. 3."
The last stone read, "Lyman, son Jesse and Patience Alcox, died Nov. 17th, 1781, ae. 16."
Note that the spellings of names changed through the years and especially when one is looking at old tombstones that have been warn down from erosion and human destruction some letters are hard to decipher. The Alcott's (Alcox) and the Blakeslee's (Blakslee) were related through marriage. Patience Blakeslee married Jesse Alcox. Mathew Blakeslee married Rhoda Beach.
This small cemetery was hidden in the woods amongst the overgrown trees and shrubs and needed much tender loving care. The project began in March of this year when Steve and his family met me at the cemetery to discuss what he might do to improve the looks of this forgotten burial ground. By late April, Steve had written his work proposal for the site and in May, the District Scout Master approved the project.
Steve then met with Mayor Dunn for permission to work on the site and the project was on its way. Steve, his family, and Scout workers were able to clear the undergrowth, remove numerous large rocks, and cut down of several large trees to make room for a new fence that was installed by Joe Paulo. The Town provided the money for the fence through a fund allocated for historic cemetery improvements.
Steve received a donation from the American Legion Auxiliary to purchase a sign that he placed at the entrance of the cemetery on the gate. Steve, his Mom, Dad, and sister also became very interested in the way the stones were placed and noted that each stone had a headstone as well as a smaller footstone. They were able to match each for most of the remaining stones.
I am pleased to say that Steve has recently finished his Eagle Scout Project and I can't thank him enough for his wonderful efforts that have preserved yet another piece of our history. Service projects such as these are invaluable and we are fortunate to have such hardworking young people in out community to complete them.
If you want to view this cemetery, you may access it off of Woodtick Road just across from Wilson Road. You will see a sign on a tree that says "Tunxis Trail." If you hike the Tunxis Trail in about a quarter-mile, you will see the cemetery on your right. The short walk is well worth it!
Thank you again to Steve Lago and his family for their hard work and dedication to this project. Since the project was finished this fall, Steve will wait until spring to plant grass and an ornamental tree.
(Information for this article was taken from The History of Wolcott, Connecticut from 1731 to 1874 by Samuel Orcutt, from Steve Lago, who completed the project, and from Steve's mother, Cheryl, who completed the genealogy for the remaining graves in Pike's Cemetery.)
---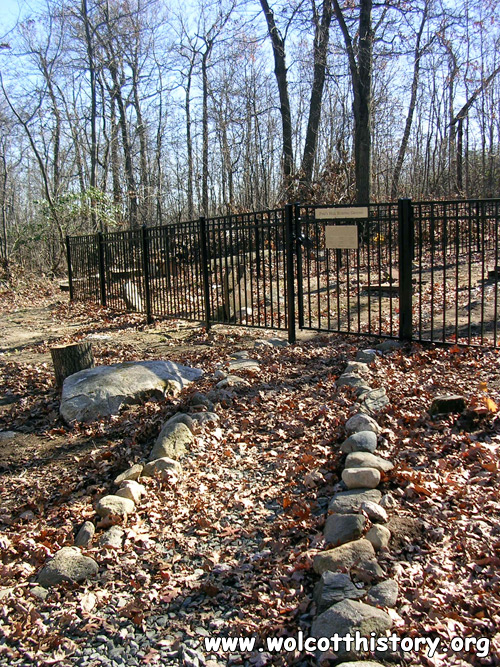 Pike's Hill Cemetery
---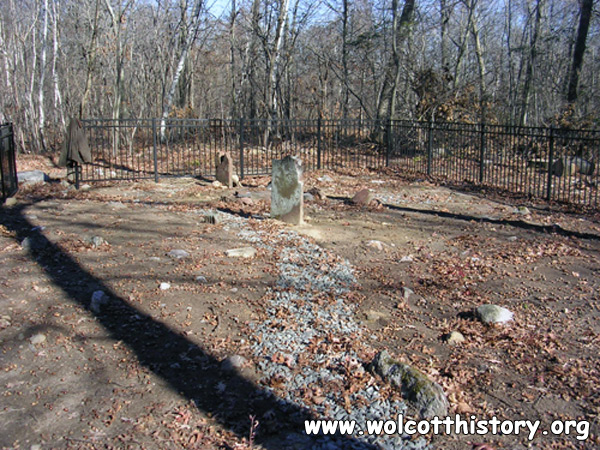 Pike's Hill Cemetery
---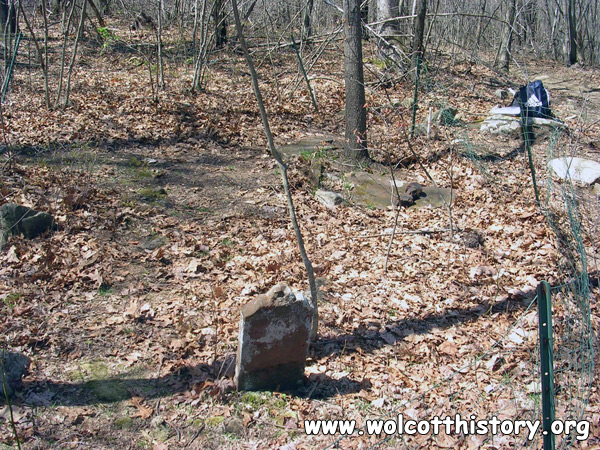 Pike's Hill Cemetery
---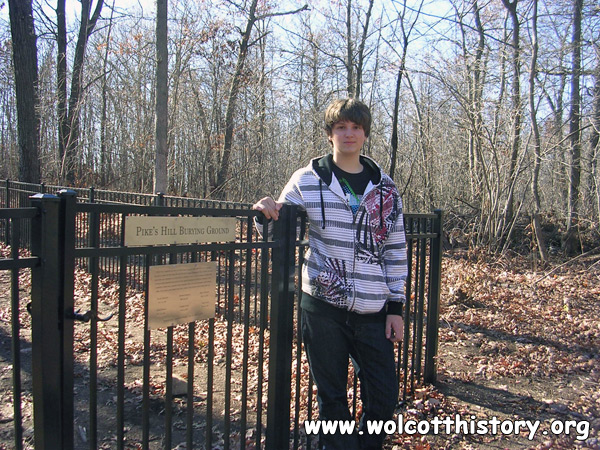 Steve Lago
---
To view past installments of the Wolcott Historical Society News, click here.